Hivos is proud to announce the release of a moving documentary about the lives of three transgender people. The film, titled m/f/x, premiered at the Amsterdam Pink Film Days. It follows the lives of a transgender woman in Honduras, a transgender man in Vietnam and a transgender non-binary person in the Netherlands. Three unique people, each fighting their own battles. m/f/x was funded by contributions from private Hivos donors in the Netherlands.
Hivos previously worked with the film's director Koen Suidgeest on the documentary Out & About. This film looked at the experiences of a lesbian and two gay persons from Indonesia, Russia and Kenya through the eyes of their families. "Film is the perfect way to touch people's hearts and stimulate public debate," says Karen Hammink, program manager of Sexual Rights and Diversity at Hivos. "And in the case of transgender people, that is badly needed. They are faced with misconceptions, discrimination, and exclusion – even violence – on a daily basis. By showing this film all over the world, we are contributing to more understanding, openness, inclusiveness, dignity and recognition."
Never change a winning team
Hivos supported the foundation Human Rights in the Picture to produce m/f/x. This foundation connects artists to human rights issues, with thought-provoking results. "Often in the form of film, but the artists we work with also use new media and other forms of visual art," says Nadja Houben, director of Human Rights in the Picture.
Film is a powerful tool that greatly increases visibility and understanding
Karen explains why Hivos and film are such a good match. "Film is a powerful tool that greatly increases visibility and understanding. It can strengthen the community and create a critical mass of supporters. We use film to reach groups who may not be our friends yet, but who are open for change. For example, we seek ways to start conversations with religious leaders who have a lot of influence in some countries. Or, we reach out to people who are leaders in society and who have an influence on public opinion, in the entertainment industry for instance. They help to initiate social change."
Opening doors
"By using the label "LGBTI," it sometimes seems if as we're talking about clearly defined groups," says Nadja. "But it involves so many different people. Transgender people have to deal with other issues than gays or lesbians, for instance. Their struggle is not about who you fall in love with, but about who you are. That is essentially different. If m/x/f opens the minds of people who never thought about transgender rights, then that is valuable."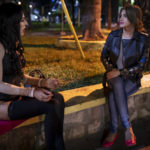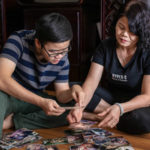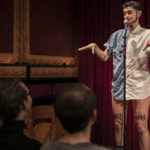 In Vietnam, health care is a key problem," Nadja continues. "The transgender man you meet in the film explains what it means to buy hormone therapy illegally. Or, what is means not to have psychological support. Fortunately, the documentary also shows that the trans-community is getting stronger. That is hopeful. Honduran society is violent and transgender people are not safe. They are beaten up and even murdered. Transgender people are not seen as people. That dehumanization lies at the basis of violence. And yet, we found a transgender woman who wanted to contribute to the film. Out in the open. With conviction. Because, just like us, she wants to show that we are all human."
Reaching people
Out & About premiered in 2016 and has been screened in almost 50 countries. But this is not always possible in theaters or in public. Nadia explains how they get around this: "A consul at an embassy tells us, 'You can't show this in a cinema, but go talk to this group of mothers of gay youth who gather to drink tea every week.' Or, we speak to someone who knows a doctor who isn't afraid to speak out. We always ask members of local networks for advice. That has proven to be the best method to reach people. In Kenya, a young man recently told us he had never dared to talk about his homosexuality with his parents. But, he did watch the film together with them; a first step towards his own coming-out. I find that very special."  
Photo exhibition
During the production of m/f/x, the crew was able to find many courageous people willing to share their stories on camera. Almost too many. "We talked with so many people whose stories didn't end up in the film, that we decided to create an accompanying photo exhibition about them," explains Nadia. "It's not only a tribute to their courage, it also enriches what we have to offer with this project. When we travel the world showing the film, we can now also organize an exhibition."
What drives Nadja and her foundation? "Our projects are all about human rights. Human rights violations are unacceptable. Time and time again, I am impressed by the courage and resilience of people who stick their neck out. Fortunately, that happens a lot!"