The climate crisis is a political, social and ethical issue, rather than a purely environmental one. It is caused by an unsustainable economic model that unequally distributes wealth and power in the world. At the same time, it exacerbates this inequality by affecting those who are least responsible the most. Peoples and countries with low incomes and long histories of oppression are the ones facing the worst impacts of climate change, despite having contributed the least to causing it.
We must speed up our efforts and work with people and organizations everywhere to effectively combat the climate crisis. Hivos believes that locally-shaped climate solutions can bring about the transformational change necessary to turn the tide.
Our vision:
Justice, equity and human rights are at the core of global climate action, which is grounded in the priorities and agency of those disproportionally impacted by climate change and responds to their needs.
Our approach
Influencing local, regional and international climate policies starts with linking and empowering groups that are disproportionally impacted by climate change. Although they often lead change in their climate-stricken communities, they are rarely heard in climate decision-making. These women, Indigenous peoples, youth, urban poor, and small farmers must own, participate in and benefit from climate action. Therefore, we focus on building a strong movement of civil society organizations that represent a wide range of constituencies and are willing to unite behind a common climate agenda. We use an inclusive and rights-based approach and recognize the importance of care and respect for all forms of life.
Our Climate Justice programming has three focal areas:
1. Reshaping climate narratives
Reshaping climate narratives at local, national and international levels. Created by the voices and movements of key rightsholders, these narratives connect to peoples' emotions and inspire behavioral change. This focus area harnesses the power of diverse citizen and civil society stakeholders to change dominant or mainstream narratives that legitimize the status quo and existing power dynamics. By working on strategic communications targeting popular culture, and amplifying diverse rightsholders' voices, we aim to "move the middle," mobilize people across the world, and strengthen the global climate movement.
2. Just distribution and local solutions
Ensuring a just distribution of resources and strengthening local solutions by promoting equitable access to climate finance, technology and markets. Climate finance and decarbonization plans and policies must swiftly, adequately and fairly support the people and communities most affected by climate change and enable effective climate action at local levels. This means we have to target both the transparency and accountability of current climate finance flows, as well as influence the global climate finance architecture so that priority rightsholders and countries can access it. Simultaneously, we will promote investment in local climate solutions driven by priority rightsholder groups in the Global South, and stimulate job creation within countries' and regions' transitions to climate-compatible development pathways.
3. Building political power and influence
Building political power and influence by bringing diverse rightsholders and movements together so they can pressure governments and the private sector, engage in decision-making processes, and hold duty bearers to account. This includes work in movement building and advocacy, and supporting those most affected by climate change in their efforts to access and utilize the legal system, promote changes in policies, plans and practices, and establish transformational legal precedents. This focus area underpins the first two and builds on and synergizes with Climate Justice advocacy work in our other impact areas.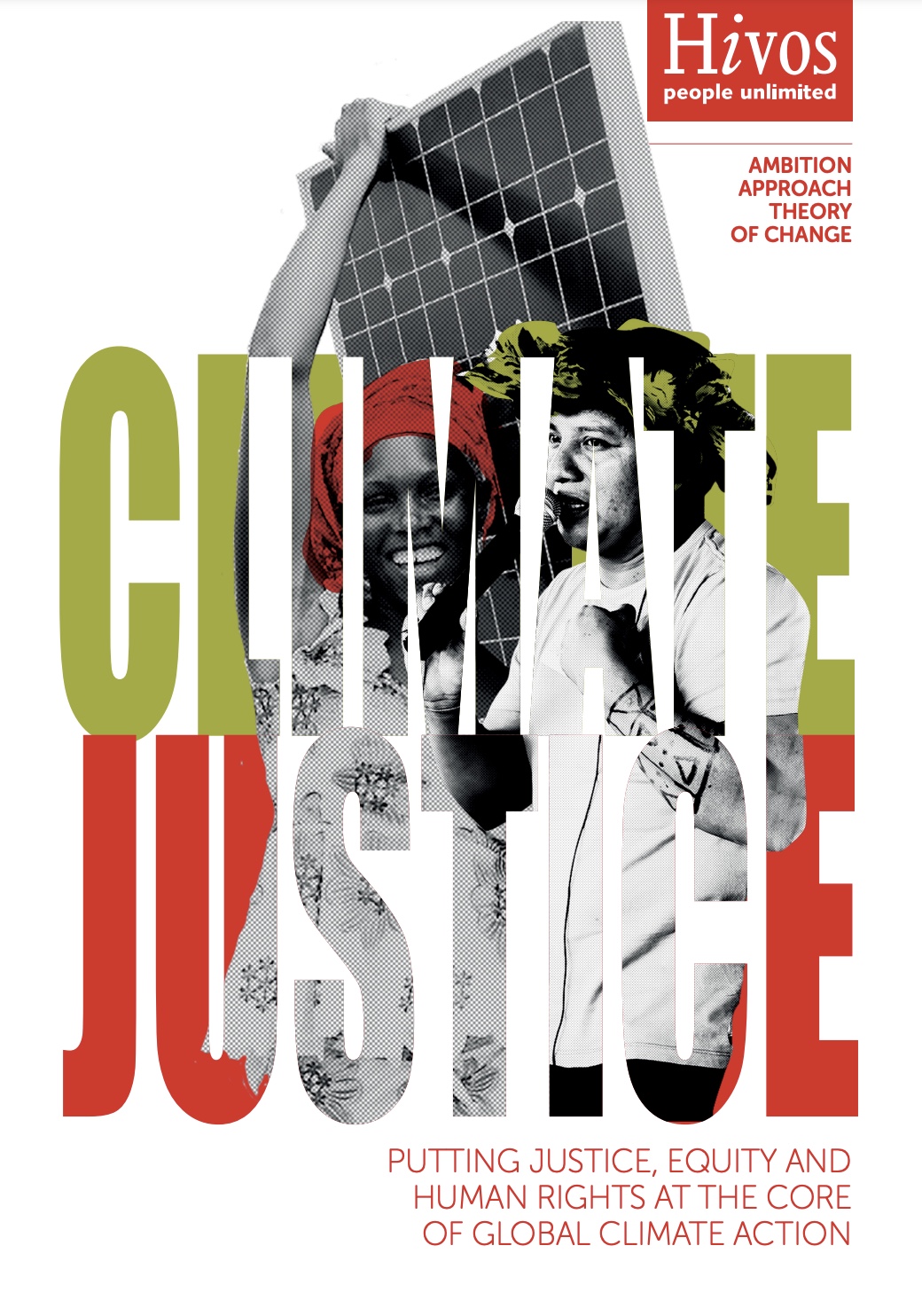 Key Climate Justice programs
Hivos has a long track record of promoting climate justice and renewable energy solutions to benefit groups that are disproportionally impacted by climate change. These are our key programs at present:
Find a full overview of all our Climate Justice programs here.
Climate Justice and Hivos
Climate Justice demands at the very least that we reduce our carbon footprint. Unfortunately, it took the Covid-19 crisis to show us we can still implement our programs without frequent face-to-face meetings and flying. So Hivos will not return to our 2019 levels of air travel. We cut our flights by 40 percent in 2021, followed by a further reduction in 2022. The decentralization of Hivos' programs to our regional hubs and partner organizations, started in 2021, is also helping us achieve this goal.