Zambia is being hard hit by climate change, which is causing more frequent and severe droughts, flash floods and changes in the growing season. One of the reasons Zambia is so vulnerable to climate change – particularly droughts – is because 300,000 hectares of trees are being lost to deforestation each year because of charcoal production.
These impacts are most felt by already marginalized groups such as women, differently-abled people, and young people, who are rarely in decision-making positions. The agriculture sector, which supports the livelihoods of half the country's population, especially women, has been one of the hardest hit.
Lucy's story
Lucy Dende is a 40-year-old smallholder farmer in Chongwe District, Lusaka Province. She is also living with a disability after an accident in 2007 that left her quadriplegic. In 2018, Lucy moved out of the city to rural Chongwe where she hoped to improve her overall health by growing her own food on a one-hectare farm.
That's when the reality of climate change hit her. A lethal combination of severe drought and chemical fertilizers that ruined the soil made it almost impossible to grow anything. It was at this point that she met a supportive group of women in her community with whom she helped form the Kasenga Tiyende Pasogolo Women's Club.
We aren't talking about problems, we're showing you that we have our own solutions.
The club became a space for women to improve their farming yields together. Helped by other local organizations, the club facilitated training in traditional, organic ways of farming. With the shift to organic farming, Lucy's 2020 maize yield increased and she saw a marked improvement in the quality of her soil.
Enter Voices for Just Climate Action
Hivos' Voices for Just Climate Action (VCA) program supports local civil society and underrepresented groups to take on a central role as creators, facilitators and advocates of innovative climate solutions. The women of Kasenga Club, now feeling empowered, saw VCA as an opportunity to help them do something about another main concern of theirs: the alarming rate of deforestation in their area, where charcoal production is rampant. So they joined the VCA program in 2021.
They also want to do more to raise awareness about climate change. Through Hivos' local partner, Green Agriculture Youth Organization, the VCA program is supporting these women with training on climate change adaptation and access to seedlings for tree planting and vegetables.
A joint effort to fight climate change
"Joining VCA has changed the game for us. We are now more knowledgeable about climate change, very aware of our environment, and busy planting trees to tackle deforestation," Lucy says.
Through the VCA program, the club is also exploring local solutions for climate change. One of them an innovation to discourage tree cutting for cooking fuel: the rocket stove. Lucy successfully built a low-cost ZMW30 ($1.70) model that uses only concrete bricks and twigs, and she is teaching other club members how to make them.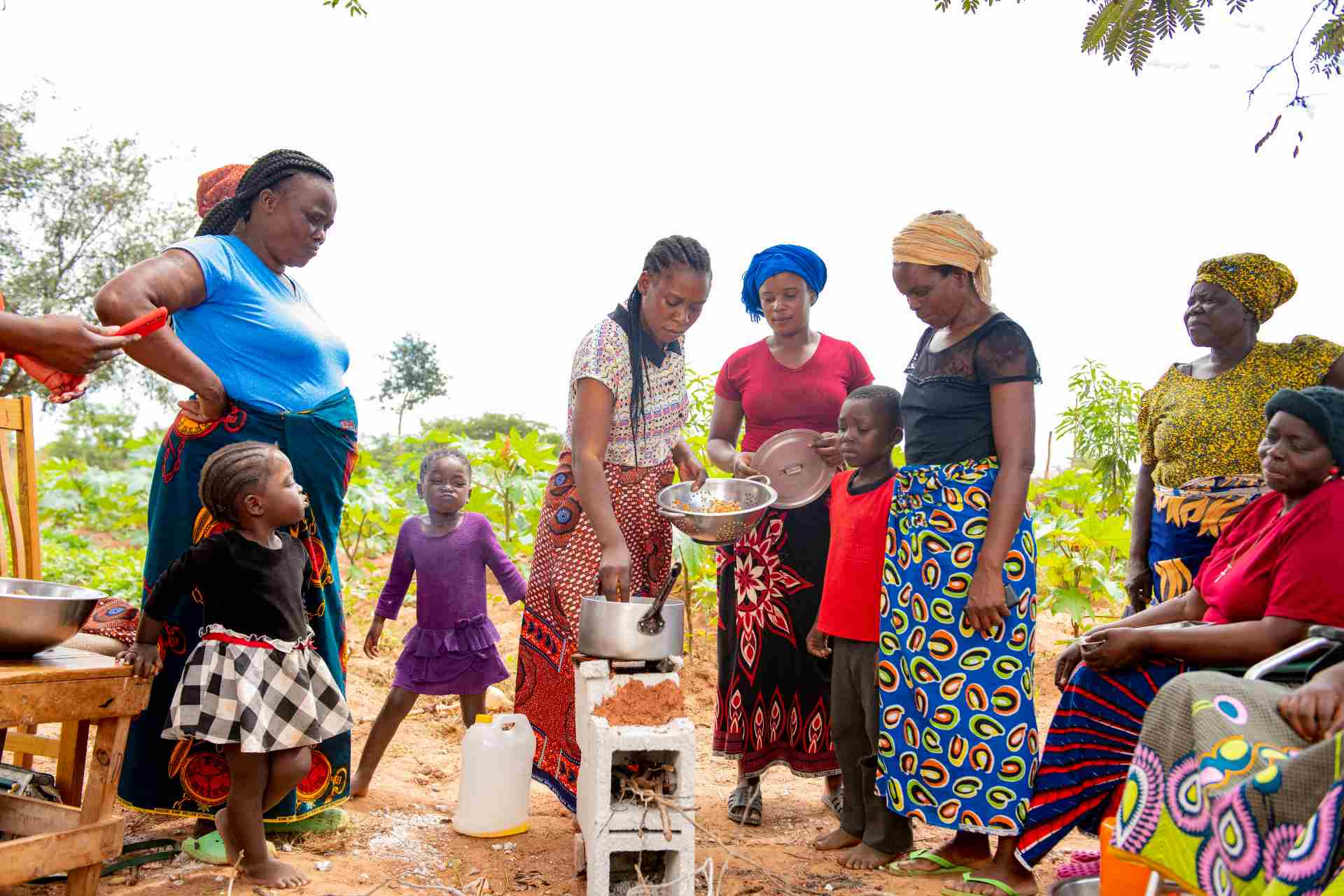 The training given by Green Agriculture Youth Organization has also encouraged the club to try out other ways of climate change adaptation, like agricultural diversification and crop rotation. Lucy's farm is now growing a variety of crops: sweet potatoes, Irish potatoes, groundnuts, and various vegetables. The women combine this with chicken and pig farming, whose droppings they use to produce organic manure. This way, they can bolster their resilience to climate change while also keeping their tradition and culture alive.
Expanding
Lucy has bought more land in the Kasenga area and is using her initial one-hectare farm as a demo plot to teach others organic farming and for the club to produce its own organic fertilizers. Organic fertilizers offer an inexpensive way to balance the soil ecosystem, which has helped the club members produce healthier food. The women are also reintroducing indigenous seeds to increase food security.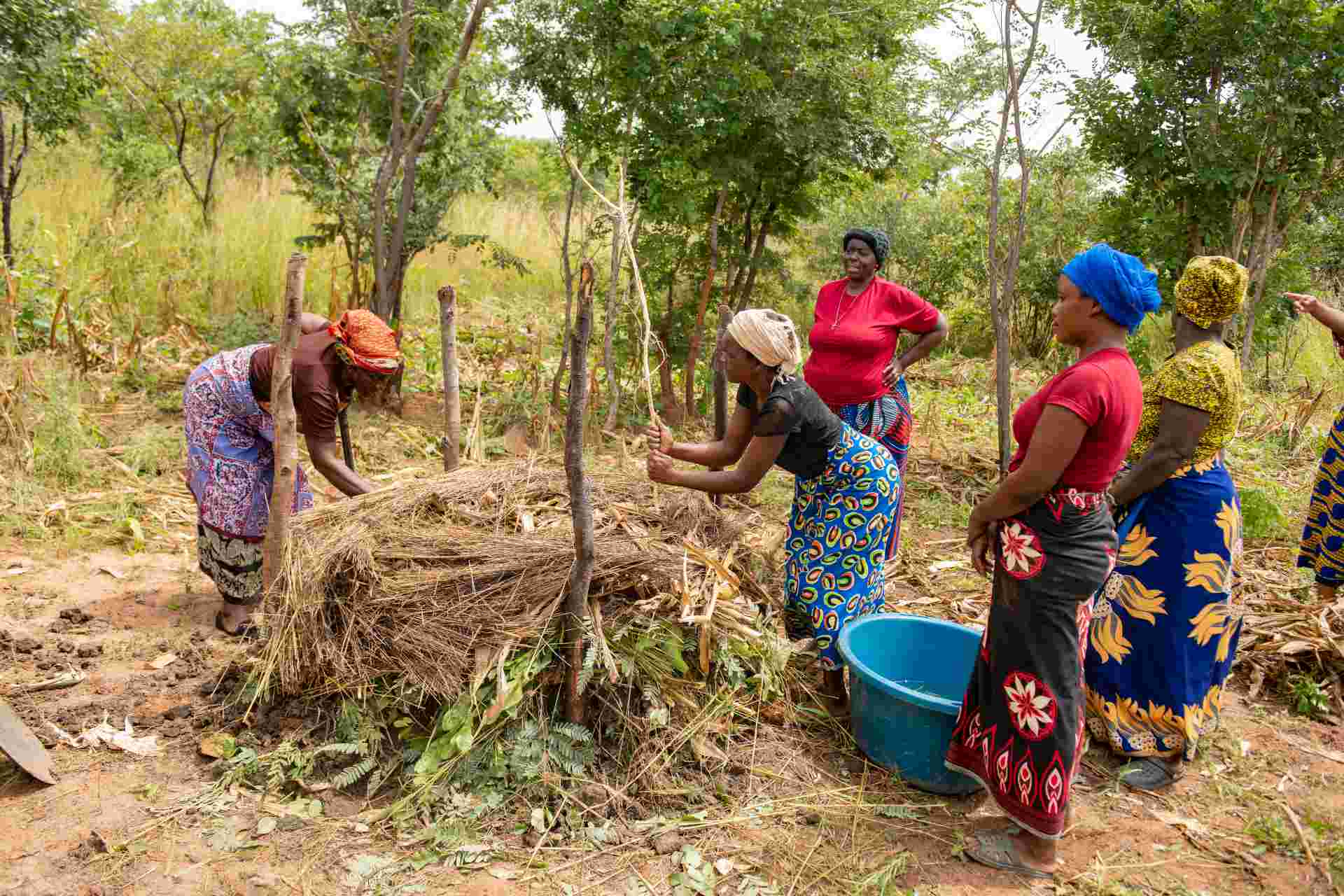 New solutions, new challenges
However, the ambitions of Lucy and other club members are not without challenges. Limited access to water makes farming difficult, especially for those who can't afford their own boreholes, and pest infestations are on the rise.
Convincing other community members to try organic farming isn't easy either because the results take longer to see. And getting people to stop cutting trees is a challenge as charcoal production brings in profits fast. The lack of access to small-scale funding also makes it harder for people to try alternative livelihoods. And it remains a sad fact that women face unique challenges – gender inequality and discrimination, gender-based violence, and sexual abuse – that prevent many of them from participating in club meetings and activities.
Confident despite the odds
But Lucy is confident that partnering with the VCA program will help the club scale up the work they are doing. Their next plans are to offer climate awareness classes at Chongwe's community school and sell their organic manure to fund local climate awareness initiatives. "We aren't talking about problems, we're showing you that we have our own solutions, but we need help implementing them," she says.