As the impacts of climate change increasingly threaten human life, wildlife and the environment, decisive climate action is of the highest urgency. According to IFAD, by 2050 the mean temperature in Zambia is expected to increase by at least 1.8°C. The country uses hydropower, so the consequent drop in water levels, combined with rising demands for electricity, has led to an unprecedented electricity supply deficit.
But Zambia is privileged to have a number of organizations in this fight, and Hivos Southern Africa in Zambia is one of them.
"VCA is actively engaging young people to help shape Zambia's climate change agenda with innovative, locally-relevant and viable solutions."
Concerted climate action
Due to the magnitude of the challenge, Hivos is not going it alone, but has joined other organizations to form a consortium called Voices for Just Climate Action (VCA). It is made up of five local and international organizations: Hivos, WWF Zambia, Akina Mama wa Afrika, South South North (SSN) and Slum Dwellers International (SDI). The Alliance's works to make civil society heard and respected and capable of influencing and co-creating locally-led, inclusive climate solutions for Zambia as part of the larger global response.
VCA is actively engaging young people to help shape Zambia's climate change agenda with innovative, locally-relevant and viable solutions. In February this year, VCA picked Chalimbana University in Chongwe in Lusaka Province as a critical launching stage. Hivos organized an event for students to start building a movement of young people to propel local climate solutions. For these students, majoring mainly in Geography and Environmental studies, climate change is extremely relevant. So they welcomed this effort to get them to join the movement for climate action in Chongwe, where the climate change crisis is having devastating effects.
Young people's valuable ability to innovate
William Chilufya, Country Engagement Manager for VCA, who spoke at the event, said that young people's ability to innovate was of enormous value and would be fully supported. "We are here at Chalimbana University to inspire students to help build a movement for climate action. We believe the unfettered minds of young people have the most potential to succeed, especially when they can see for themselves what is happening to their surroundings," Mr. Chilufya said.
Hivos in Zambia has also enlisted an influential creative to help them come up with ideas. Pilato is a young and talented Zambian musician known for his artistic – at times controversial – music. He also has a history of campaigning internationally against inequality, and climate change is one of his targets. For the students, it was a double treat: meeting a popular and inspiring musician and learning how they could put their own talents to use fighting climate change.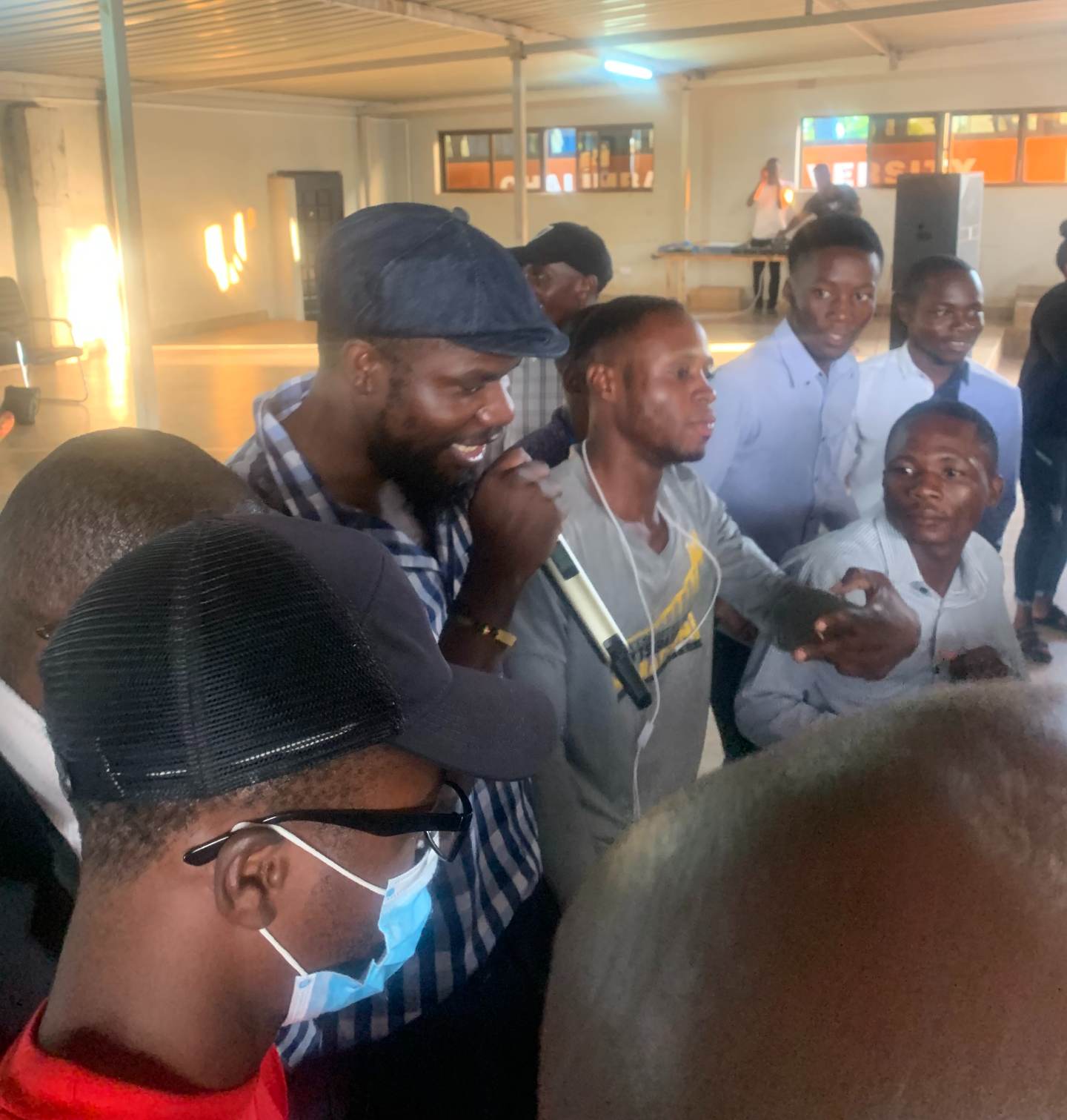 An influencer's challenge
Fumba Chama, Pilato's real name, challenged the over 250 students to join hands and work hard to stem the tide of climate change. "Imagine 20-30 years from now what the environment will be like if we continue allowing trees to be cut indiscriminately for charcoal. You, I, and our children will have a dry and mostly dead environment," he said.
"This conversation about climate change should be a young person's problem and concern," he continued. "You are the ones with a future and so the best thing you can do today is preserve, protect and secure your future. The same reason why you're studying for that diploma or that degree – that is also why way you should be concerned about your environment's future," the artist urged.
Inspired to act
The students were inspired to form a new group amongst themselves of environmental activists and pledged to join VCA's advocacy efforts. One of them, Alvin Simanengu, said it was squarely on young people to come up with climate solutions. "We have to stop climate change as it is hurting us and will even hurt us more in the future if we do not act now. So, now is the time for us to get involved in progressive efforts to better both the planet and society," he stated.
University management were also pleased that an initiative targeted at securing a safe future was attached to their learning institution.
"From our end, we are going to mobilize the students so that they come up with innovative projects. We want to work with Hivos to be part of the solution to climate change – not only in Zambia, but globally," said Chalimbana University Deputy Vice-Chancellor Dr Miyanda Simabwachi.
A youth climate justice movement is born
At the close of the event, William Chilufya thanked the attendees, who were also inspired to form a Youth Climate Justice Movement to be led by Chalimbana University students. "We believe we have gotten into your DNA. You've made us confident that you'll deliver – because you, too, will not be spared the effects of climate change," he said.
The Youth Climate Justice Movement will be coordinated by students with assistance from the University administration and guidance from Hivos as part of the VCA consortium.