How Hivos helps LGBTIQ+ activists in need worldwide
Thanks to the financial support of individual donors, Hivos can help LGBTIQ+ activists out of life-threatening situations worldwide. We do this with the Bessy Ferrera Fund: a fund that bears the name of a courageous trans rights activist who was murdered in Honduras in 2019.
LGBTIQ+ activists are all too often the targets of hateful political campaigns and face discrimination and violence. Yet they dare to fight for a fair society even in the most difficult of circumstances. But that doesn't come without risk. Activists not only have to deal with threats and physical violence; digital hacks and legal prosecutions also frustrate their work and endanger their safety.
30 times in action
The Bessy Ferrera Fund is an emergency fund for direct aid that can mean the difference between life and death. We are therefore extremely grateful to our donors. Thanks to their support, we have assisted around 30 people and organizations in Africa, the Middle East, and Latin America since the start of the fund in 2020. We're very happy that our donors are again making it possible for us to keep the fund going in 2023.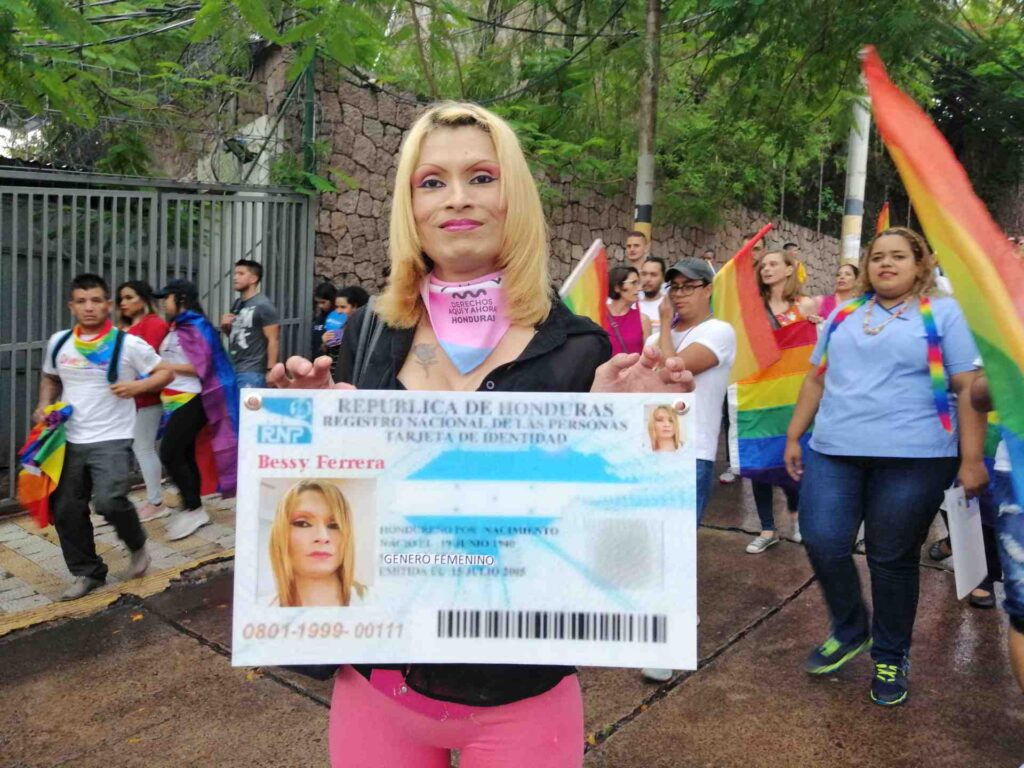 Requesting support
The Bessy Ferrera Fund is managed by our Digital Defenders Partnership. The fund covers, for example, support for medical costs after physical attacks, legal support, psycho-social support, and training in safety and security. The criteria for a successful application include:
The financial support – or grant – is used by an LGBTIQ+ activist, organization or group who, due to their advocacy and work, are facing immediate threats.
The emergency is recent (i.e, not older than three months)
The requested funds cover activities directly related to the emergency.
Medical and psychological help
In July 2022, the home of a trans rights activist* was broken into in eastern Africa. This courageous woman had long faced accusations of "propagating homosexuality." She was beaten and left for dead, and her laptop was stolen, which contained sensitive information about the LGBTIQ+ people she helped with her work. Thanks to a contribution from the Bessy Ferrera Fund, we were able to pay for her medical costs, get her psychosocial support, and help protect her network. We also provided a new laptop so she could get back to work later.
Offline and online safety
Another activist from West Africa is active as an influencer on social media. He shares stories of LGBTIQ+ people and tries to convince religious leaders to let people live their lives the way they want. His goal was important: to slowly but surely move public sentiment about sexual minorities in the right direction. However, his family did not accept him or his work. They had him kidnapped and forcibly committed to a psychiatric institution. After the intervention of a Hivos partner, he was let go. The Bessy Ferrera Fund then helped him stay in a safe place for a few months, provided psychological help, and trained him in digital security.
A temporary shelter
LGBTIQ+ people are more exposed to domestic violence because their family members often reject them violently. Thanks to the fund, we were able to support the important work of someone whose organization cares for victims of domestic violence. When she helped a trans man stay at a safe house last summer, things went wrong. His family found out about the location, which endangered not only himself, but also the care provider and her network. The fund helped them both by renting a new safe location for a few months and providing psychological help.
How do we work?
If emergency aid is needed, we must act as quickly as possible. To do this, Hivos uses an enormous network in dozens of countries. We work with large and small LGBTIQ+ organizations that are in close contact with our colleagues. This way the lines are short and we find out quickly if someone is in danger.
This happened, for example, in 2021 in Costa Rica. We had been working there for years with Transvida, an organization founded by and for trans women. Through them we heard that a trans woman from their network had been assaulted in a hotel. The perpetrator hit her several times, seriously injuring her eye. She needed urgent care, but as an illegal migrant from Nicaragua with hardly any money in her pocket, her options were limited. Because we were able to liaise quickly with Transvida, we managed to arrange hospitalization for her and reimburse the costs.
How we support rightsholders in their efforts to claim the power, agency, and leadership necessary to drive change.
Equal rights and fair opportunities
Thanks to the Bessy Ferrera Fund we can assist LGBTIQ+ activists in need. In addition, Hivos works to get new legislation passed to combat exclusion and discrimination in many countries. We also try to change public opinion, for example by setting up local campaigns that aim to increase acceptance and understanding. And in one of our largest programs, we work to improve the socio-economic position of LGBTIQ+ people. Because inclusive societies do better – and that calls for equal rights and fair opportunities.
* Hivos does everything it can to guarantee the safety of activists. That's why in most cases we don't share the names of the activists we help with the Bessy Ferrera Fund.