A year ago today Bessy Ferrera was murdered. Bessy was a brave trans woman and activist from Honduras. She dared to stand up for her human rights in a society that systematically violates them. A society that excludes and discriminates against LGBTIQ people. Instead of respect and recognition, she got bullets. And she is not the only one.
Natalia, the national coordinator for Right Here, Right Now (RHRN) in Honduras, explains what makes the country so dangerous. "In Honduras there is a toxic combination of poverty, poor education, ignorance and fear of everything that deviates from the heteronormative norm. There is a culture of hatred and violence that especially targets trans women. Bessy's murder is an example of this." RHRN works with partner organizations to help activists in need. But she says there are far too many, "Unfortunately, we can't help everyone who comes knocking at our door."
Emergency fund for acute cases
In the Netherlands, Hivos' RHRN project manager Anna came up with a solution for the most acute cases. "I approached the Digital Defenders Partnership, a Hivos program that deals with holistic safety and security for activists," she tells us. "My idea was an emergency fund for instant support that can mean the difference between life and death. I'm delighted we could make it happen so fast. Today Hivos is launching the Bessy Ferrera Emergency Fund."
Right Here, Right Now has been in place for almost five years, running in parts of Africa, Asia and Latin America. Anna sums up the goal of the program: "To ensure all young people, and LGBTIQ youth in particular, get good sex education and inclusive sexual health care. So they know what choices they can make, including family planning, for example. We put young people in the driver's seat by training them to lobby for their rights."
An emergency fund can mean the difference between life and death.
But sometimes immediate action and support is needed. "This is particularly true for LGBTIQ activists," Anna says, "because they are under threat and need shelter, or in hospital with a gunshot wound. Somebody has to pay the bill. That can't wait. I mean, there is simply no time to fill out an application. We have to be able to act quickly when people and organizations we know are in this kind of emergency."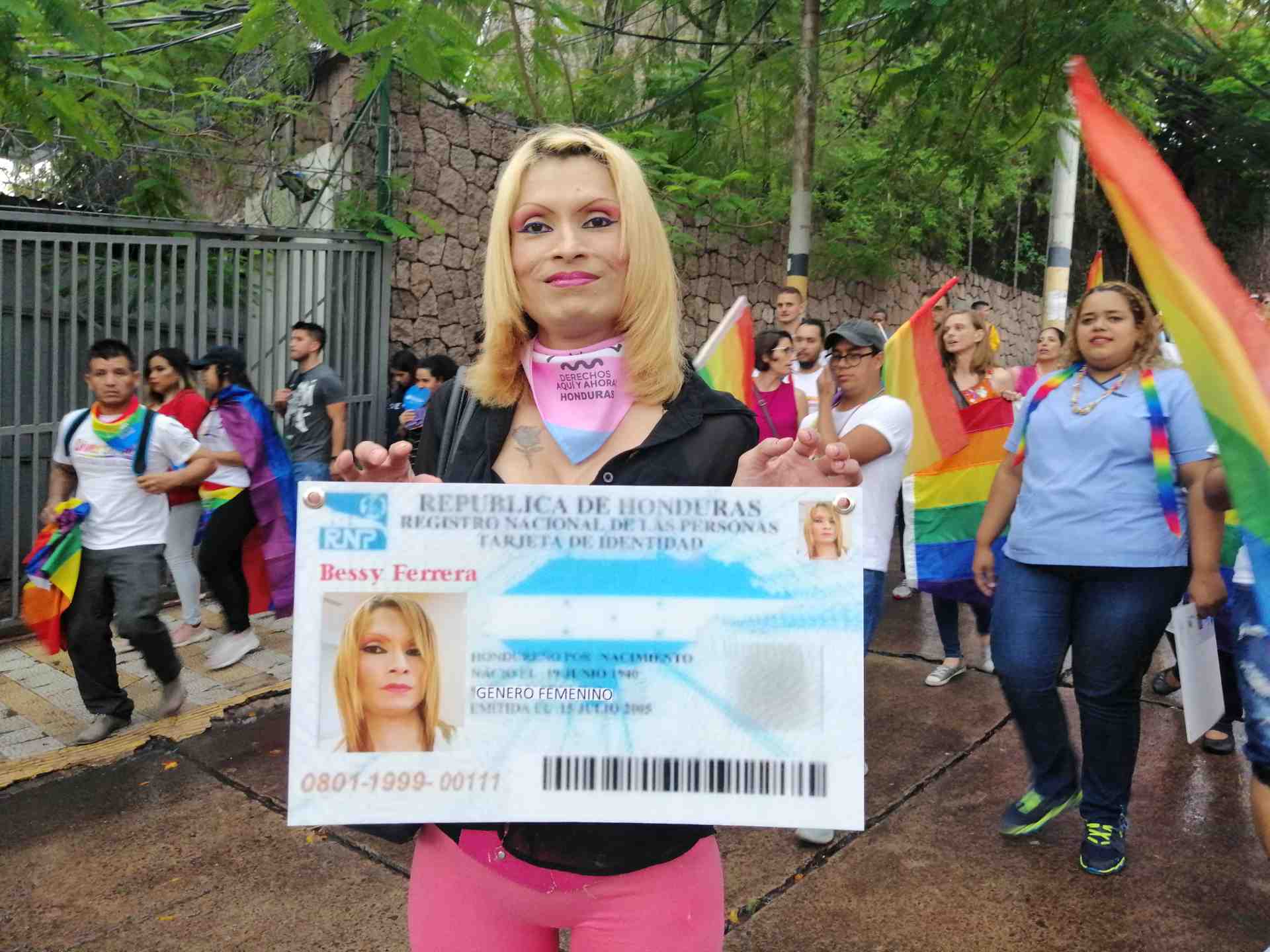 Transgender people in danger
Natalia knew Bessy. "She was a champion of HIV and trans rights. A very brave woman, who, like almost all trans women in Honduras, was excluded, threatened and attacked. Many trans women are rejected by family and friends and often end up as sex workers on the street because they can't get other work. They aren't seen as human, but as freaks – the lowest of the low."
Transgender people have an extra hard time in many countries. Because of their transition, they cannot get a valid passport. And without papers they receive no benefits, no insurance, no health care, no work. The corona crisis has only made things worse because LGBTIQ people are blamed for the pandemic. People see it as punishment for their sins. And this fuels existing hatred even further.
Bessy's murder
"Bessy had been threatened before, but on July 8, 2019, things got completely out of hand", Natalia recalls. "Bessy and another woman were hit by a man in a car. The other woman managed to escape, but Bessy had a broken foot. She couldn't run with the cast. The man started shooting and she had no chance whatsoever. Bessy was slaughtered in the street, a few steps from the building where she worked as an HIV and trans rights activist. And the culprit? He wasn't even charged with murder. Only with illegal possession of arms."
Bessy was a champion of HIV and trans rights. A very brave woman.
Natalia is now 32 and has been active in the human rights movement since she was 17. "People say the most terrible things," she sighs. "Church leaders, politicians, opinion leaders from all walks of life say outright that it's okay to attack, blackmail, exclude, and torture LGBTIQ people. And yes, even to kill them!" She admits it's difficult at times to keep her spirits up and go on fighting for dignity and respect. "I can only do it because I'm working with a great team. We carry the load together."
Saving lives
"The Bessy Ferrera Emergency Fund gives us hope again," says Anna." It'll help us save more people. For example, by getting them out of the country when they're threatened. Because we know from experience that trans women who get death threats in Honduras don't have long to live."
To illustrate her point, Anna tells the story of a person RHRN managed to save in the past. This was a Honduran trans woman, activist and sex worker who had undergone horrible experiences. "After receiving lots of threats and suffering extreme forms of violence, one night she was chased and shot at. Even with a bullet in her leg, she managed to get away and reach a hospital. But staying in Honduras was too dangerous. She needed help right away. We were able to get her out thanks to the support of our friends and network. And now she's in a safe place."
A budget of €100,000 for the next year and a half will allow the Bessy Ferrera Emergency Fund to provide emergency aid to LGBTIQ activists and organizations that Hivos works with. "The gap between what people need and what is offered is enormous. But this fund will go a long way to helping many more people and organizations when there's not a moment to lose," Anna concludes.