At the end of 2019, we had the chance to witness the work of Right Here Right Now (RHRN) platforms in Honduras and the Caribbean. This is the second in a series of stories about brave people and grassroots organizations who fight to promote human rights.
Osman Cárcamo works for the Honduran Right Here Right Now (RHRN) platform. When we visit him at home to learn more, we see the whole house is full of materials he uses in the workshops he gives to dozens of young people from the northern and western parts of the country.
"They learn from me, while teaching me," laughs Osman, inspired by those who at such young ages already have extensive experience fighting for the rights of youth, women, Indigenous and Afro-descendant people, sexual diversity, the environment and more.
At these workshops Osman and the RHRN team develop leadership skills and foster spaces for dialogue for young people representing various communities and groups. They discuss the rampant inequalities they endure and learn how to deal them. One of the activities invited youth from the North to look face-to-face at their counterparts from the West in silence for a few minutes, going from being strangers to acknowledging each other with their gaze.
During the exercise, which we filmed, we met Kory. She is in charge of communication at Right Here Right Now Honduras. After years of experience in human rights organizations, she developed a fondness for technology and found a new calling. And as a student of graphic design, she's putting all her new skills to use at RHRN.
It's always a privilege to meet inspiring people like Osman and Kory who have great stories to tell. It is also fortunate they are still alive in a country where living as a LGBTI person poses an immediate threat to their safety.
In 2019, 40 people were killed for the sole reason of being lesbian, gay, bisexual, trans or intersex (LGBTI). There have already been 355 of these hate crimes in Honduras since 2009: three per month!
It was not normal anymore
"'The tomboy' – that is what I was called by my family, at school, and in the neighborhood," Kory says of her childhood in La Ceiba, in the Honduran Caribbean. "My dad did know that I was different. But he was never bothered by a girl who wanted to wear shorts, caps, play with toy cars, or go to soccer matches."
Kory's father passed away when she was ten, and other people took charge of her upbringing. "They treated me well, but they made me wear dresses, earrings and makeup to suppress what I was." Even at home she had to wear skirts and heels.
"My first memory of discovering my sexuality was in first grade when I fell in love with my teacher. That's when I thought this wasn't normal for a girl," Kory confesses.
Feeling abnormal as an LGBTI person is not strange in a country like Honduras, where school and the family play a key role in promoting fear and hatred of the LGTBI population.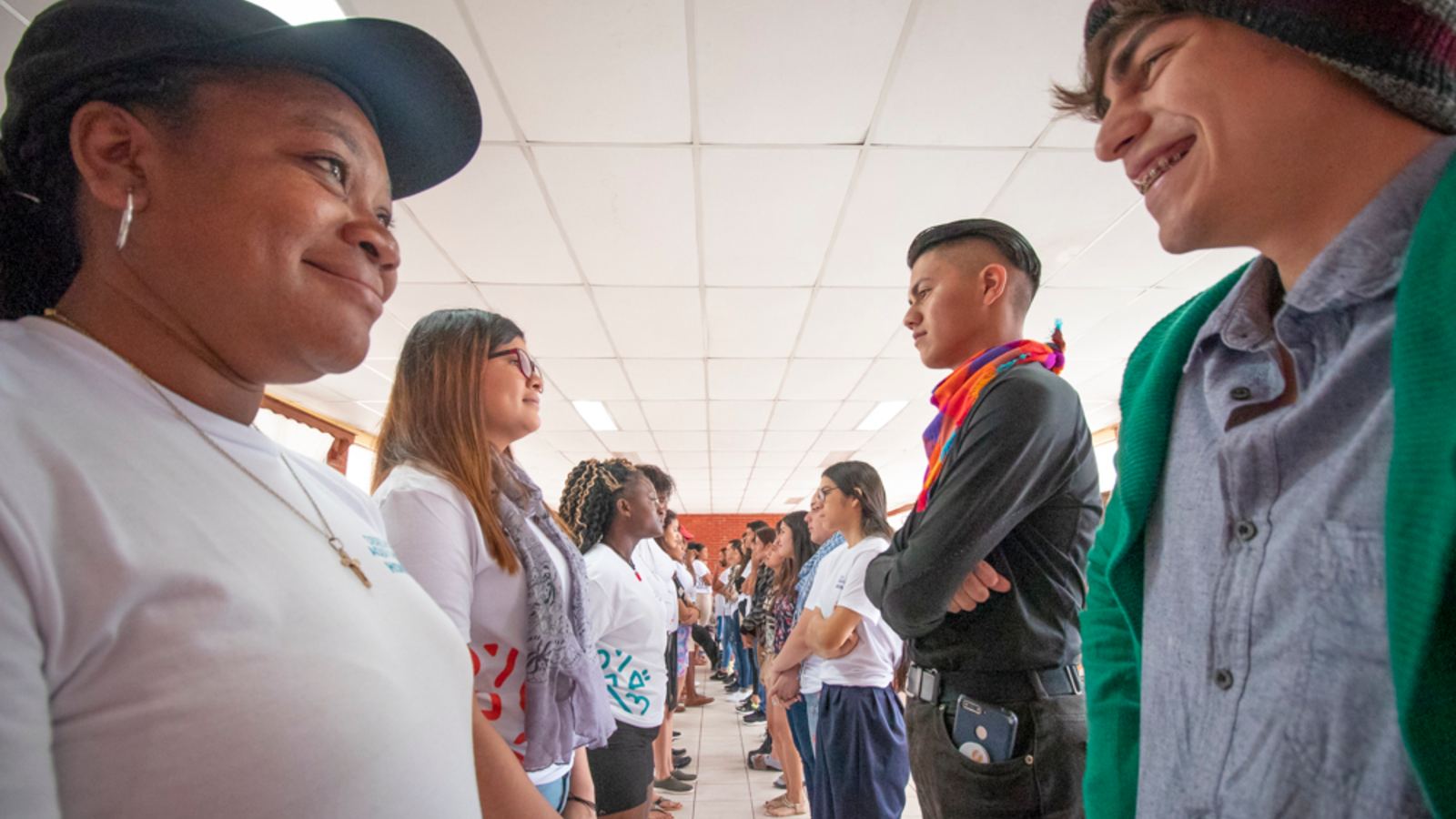 Institutionalized phobia
Osman, too, recognizes having a sense of abnormality growing up in San Pedro Sula. "I wanted to be what my family expected: a good married man with a family." Osman grew up in a very conservative family, linked to the government and the military. "If I ever told them about this, I feared the worst because they taught us it was a sin, that I was going to go to hell," he explains. Osman tried to suppress who he was by going to church, but that was just another source of discrimination that went far beyond sermons. Catholic and evangelical churches in Honduras have joined forces to deny legal incorporation of LGTBI organizations and have managed to modify the Honduran Constitution to forbid same-sex marriage.
In Honduras, even the police can arrest whomever they want for "violating modesty, morals and good customs." This charge is used to justify illegal arrests of LGTBI people, and it encourages physical, psychological and sexual violence by the police themselves. "I'd rather face the gangs than them," Osman exclaims.
Mistrust in the authorities is more than justified: in Honduras more than 90 percent  of hate crime cases go unsolved. "If something happens to us, we just become a file swept under the rug," Osman sighs.
A way out
Both Osman and Kory left their native cities and headed for the capital, Tegucigalpa. Here is where we find the highest rate of violence against the LGTBI community, but also the highest concentration of organizations that report it. For people like Osman and Kory, it is a place to be visible; a place to exist.
One of these organizations is Casa Arcoíris – a safe haven both Osman and Kory quickly found when they arrived. Osman became an active member. He represented Arcoíris and the LGTBI community on national television during a debate with a congresswoman and an evangelical pastor when he described his experiences growing up gay. Making a gesture with his hands, he says, "I went there with claws bared to defend us all."
Activism pulled him out of the depression caused by constant bullying – even from relatives. "I had to prove to myself that I was not everything they said. That I was a nobody just because I was gay. I was not going to be that 'little faggot'."
The coordinator of Arcoiris, Donny Reyes, had a profound influence on both of Osman and Kory's lives, even giving them a place to live at first. If he hadn't, they would have ended up on the street.
A pandemic that makes everything worse
That is the case of so many LGTBI people who suffer rejection and expulsion from their homes and communities, mainly in areas far from the capital. And now, this situation has been magnified by a pandemic that makes having a roof a matter of life or death.
As communication officer for RHRN, Kory uses technology so the platform can reach thousands of screens inside and outside Honduras with important messages, but especially those deep inside. One of these initiatives, which involves youth from all over the country, is the virtual campaign "Promoting from Home". Kory tells us how important it is "to see them in their spaces, still promoting human rights."
She vehemently explains: "It reflects the diversity of struggles on the platform, and shows we are not only in quarantine, but we are using our networks to mobilize political speech."
They know all too well how the current pandemic is aggravating discrimination against sexual minorities and women. RHRN supports many people stuck in confinement with video conferences and virtual academies.
As Osman aptly puts it, "This pandemic, like the others, will pass. But there is one that we have yet to solve: LGBTI-phobia."
The T in LGBTI
The case of the T in LGTBI is not any different: in fact, trans people (transsexuals, transgender and transvestites) are even more exposed to hate crimes than others in Honduras because their gender identity is more visible.
Osman speaks for all LGBTI people when he says, "When we say good-bye to someone and say 'see you soon', those are just words of habit because we know that anything can happen to us on the way home."
Announcing the murder of friends
When Osman was in charge of Arcoiris's external communication, he had to report the murder of a friend and colleague. Being a murder made it so difficult: "I didn't know what to say to people. You can't say 'rest in peace' when that was not the case, when it wasn't a peaceful death."
The same was true of Vicky Hernández's farewell and that of Bessy Ferrera, a member of the RHRN platform. All three, human rights defenders, were murdered for being trans women. None of these crimes have been solved.
But as Osman rightly says, all of this encourages them to advocate for policies and demand that the government no longer sweep these files under the rug, but find and prosecute the killers.
Osman thinks of Vicky and Bessy like brave medical staff fighting the coronavirus, fearlessly fighting off a deadly pandemic so new generations won't have to. It is impossible for him not to remember the end of the Honduran national anthem:
"There will be many, Honduras, your dead,
but they will all fall with honor."
To honor the fall of Vicky and Bessy and the tens of LGBT people murdered every year in Honduras, we bring our colors out with pride to celebrate diversity and fight for our rights. We realize our fight will not end here, but together with brave people like Osman and Kory we are one step closer.
About Right Here Right Now
Right Here Right Now (RHRN) is a five-year program implemented by Hivos in Latin America and the Caribbean, in alliance with Rutgers. The program advocates for access to sexual health and reproductive rights of women, young people and the LGBT+ population. Its main focus is the social inclusion of sexually diverse populations and minorities.