LGBT+ people hardly play a role in Guatemala on TV or in other media. So Gaby Castillo decided to change that by shooting two short films with the LGBT+ community. Her mission is to make the community visible and show how much creative talent it has.
Gaby Castillo is the first Guatemalan trans woman to produce LGBT cinema. She is 35 years old and a human rights activist leading the Diversity Organization: Friends, Always Friends (ODASA in Spanish). With the support of Dutch Hivos donors, she has produced the LGBT-themed short films "I love you Marissa", the story of a Guatemalan trans woman who falls in love, and "Whispers", the story of a young gay man who is deaf. Odasa TV, the organization's YouTube channel, is where her films and projects are posted online.
Increasing respect for the LGBT+ community
We caught up with Gaby at a small office in a simple but attractive co-working space. Several actors from her films were also there, which gave us a good idea of ​​the diversity of Odasa's supporters.
Guatemala is a conservative, religious country where many people believe that LGBT+ people aren't entitled to the same rights as "straight" people. This makes it difficult for them to be accepted, and many have a hard time getting an education or a job. At Odasa, Gaby uses photography and film to increase respect for the LGBT+ community.
Reality becoming part of fiction
Gaby wanted her films to show what LGBT+ people in Guatemala face every day. Even while shooting the films, reality and fiction intertwined as harsh realities became part of the production. When filming on the street, passers by would insult the actors. Filming wasn't allowed in many locations because people didn't want to be associated with their subject.
The films were made by the LGBT+ community itself and are the result of teamwork, friendship and a strong belief in the mission. Despite setbacks and a tight budget, everyone worked together to prove something like this could be done. Many Odasa employees worked voluntarily, and some even gave money to complete the films. It was that important to them.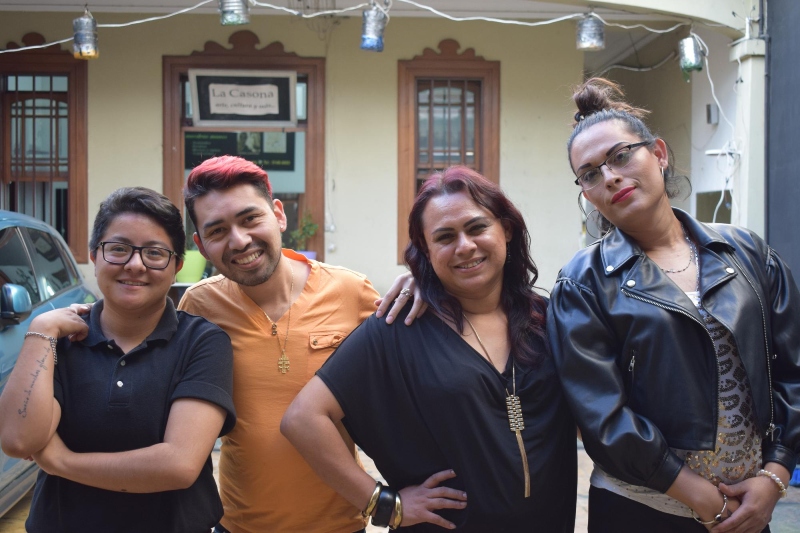 Conversation starter
In February 2019, the two films premiered in the Lux Theater, a well-known cinema in Guatemala City. Together with an audience of 400, actors, crew members, friends and family members also filled the auditorium. Online, the films have a modest following, with a few thousand views. But they are also used by other LGBT organizations during public information sessions or to watch at home with friends and family. And that works. The films are an important way of starting conversations about identity and sexuality and are slowly creating more understanding.
Developing talent
For Gaby, it's not just about the movies' reach. Producing the films brought self-confidence to the entire community. Everyone who participated got the chance to showcase their talents, on camera and off. The next step in Gaby's dream is to further develop that talent by providing film and photography training for the LGBT+ community. That way, they'll have a greater chance of finding a job in the media industry – as actors or camera operators who just happen to be LGBT.
For a long time, there wasn't a single openly LGBT TV presenter in Guatemala. It took a scandal for that. When a famous newsreader was secretly filmed in a gay bar, the video went viral throughout the country, causing an uproar. Imagine – a gay man presenting the news, which even children could watch. Shameful! Unacceptable!
Fortunately, the presenter had the courage to use the moment to come out openly as gay, and he continued to present the news. The was an important first step towards more diversity on national TV.
Both Gaby's films show the vulnerability of the LGBT+ community in Guatemala and the daily discrimination that exists. You can watch them here:
Whispers (Susurros)
I love you Marissa (Te amo Marissa):