Helping Egyptian youth turn their passion into income
"The greatest concern of many families here is whether their sons and daughters can find a job." Khalid Yasser, a 26-year-old entrepreneur from Egypt, has made it his life's mission to address that concern. In his hometown Tanta, located between Cairo and Alexandria, he's leading a silent but very effective employment revolution. Khalid changes the way young people look at getting a job by introducing concepts like entrepreneurship, freelancing and remote working. The secret of his success? Albeit, the coworking space he started four years ago.
Curious about that secret, we asked Khalid to tell us about his work and the way Hivos supports Albeit. We were struck by his inspiring sense of urgency. "I want young people to find their passion, but also to turn that passion into a revenue stream," he explains. That hasn't been easy in Tanta. Before Albeit, there were basically two employment options: factories or family businesses, and they don't tend to invest in young people. "We are not known for our tech industry," he understates gently.
Most of the talented youth are moving away in search for better opportunities.
Tanta's brain drain
The lack of opportunities has a devastating effect on cities like Tanta. "Young people don't want to be a cog in the wheel, competing for a limited number of low-paid jobs. That's why most of the talented youth are moving away in search of better prospects," says Khalid.
If anything gets him down, it's when people ask him why he, too, doesn't move to Cairo or even leave the country. "Every time I hear 'If you left Tanta you'd have a much better life,' I refuse. Why do we have to live in Cairo – or even abroad – to earn a decent living? I want the same opportunities for more disadvantaged places like my town."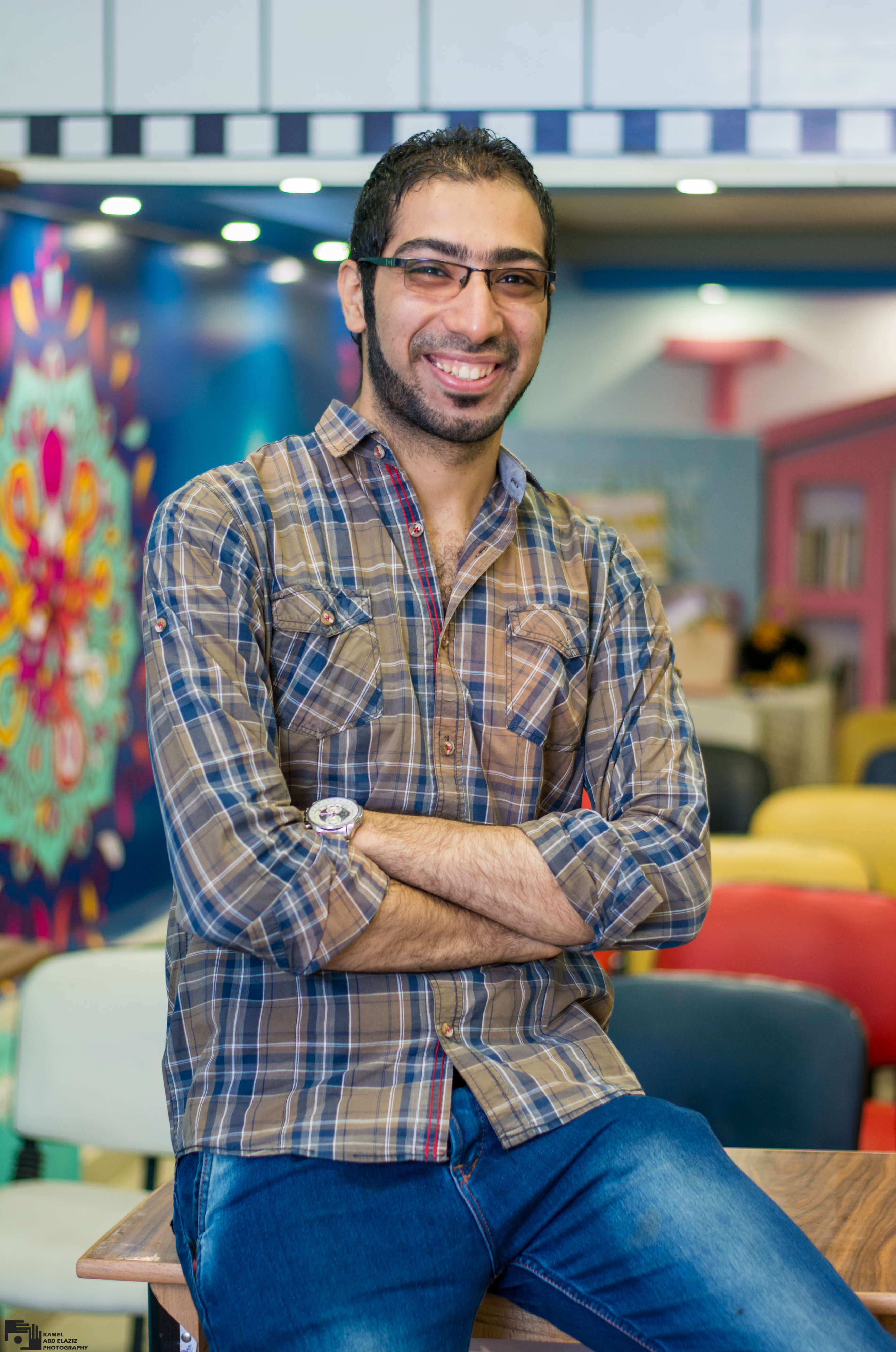 Starting the Albeit community
Khalid is a graduate from the faculty of commerce and holds a business administration major. But it's practical knowledge that gets you anywhere in Egypt. He started his first company nine years ago and traveled to Cairo frequently. There he noticed that young people from his own Nile Delta region did have something to offer. "Many successful start-ups in Cairo were founded by talented youth from my area."
That realization made Khalid start Albeit (home in Arabic) Business Hub. Like so many other new Egyptian business owners, he faced many challenges. The most important was introducing the concept of social entrepreneurship in Tanta. "We had to convince investors, and even our relatives, to help us start a coworking space. At the time it wasn't financially stable, and we had to explain to people it wasn't a café, a library or a school," Khalid recalls.
 Social entrepreneurship represents the future.
Introducing social entrepreneurship
When enough investors were finally on board, Albeit was launched as a traditional coworking space: a place where young people could work together and expand their network. That changed in 2017 when Khalid was invited by Hivos to attend the Coworking Summit. "I still remember the first slide of the presentation. It said that coworking spaces could reshape the continent. It was astonishing. I couldn't believe we could be doing something that great."
Khalid left the summit inspired and determined to change Albeit's focus to social entrepreneurship which, according to him, "represents the future." Adding, "We have two ways of improving the quality of life in Egypt: wait for the government or start doing it ourselves."
Hivos and Albeit: a perfect match
Hivos' encounter with Khalid turned out to be the beginning of a successful partnership. We started supporting Albeit through our BOOST program, which enables grassroots social entrepreneurs to create positive change for their communities.
There are many problems in Egypt that need solving. No one is better equipped than local citizens to do that.
Both Hivos and Albeit believe that social entrepreneurship can play a crucial role in communities. For Khalid it's not only a way to tackle Tanta's unemployment figures; it also puts people at the center of societal change. Or as he puts it, "There are many problems in Egypt that need solving. No one is better equipped than local citizens to do that. They know what causes the problems; they understand the culture of these communities."
Another element of the match with Hivos is how Albeit is contributing to women's empowerment. Khalid says that 60 to 70 percent of all space users are girls and women. "They have the eagerness to improve their lives," he explains. "Here in Tanta we have cultural barriers that discourage women from traveling to other cities. That's why Albeit tries to help them through our programs here at home."
Training young entrepreneurs
To make the transition from a traditional coworking space to an innovative business hub, Albeit introduced two new programs to stimulate social entrepreneurship. The first is an incubation program for start-ups. "We've seen many start-ups fail within a very short period of time," Khalid explains, "so we've designed a program specifically for young entrepreneurs."
It focuses on preparing the ambitious entrepreneurs themselves. "We are certified SEED-trainers, which is a social impact program from the UN. That's how we can offer an internationally recognized curriculum with practical workshops and continuous mentorship."

Success story: Egy Creators
Albeit's incubator has already trained 40 entrepreneurs and was instrumental in founding 15 start-ups companies. One of these is Egy Creators, run by the 18-year-old  Mohamed Salem. "We consider him as our son," Khalid proudly states. Egy started as an editing studio. With training, mentorship, networking and help in accessing funds from Albeit, Egy was able to shift its business model. Now, the company supports many Egyptian content creators on YouTube with videography, editing and campaign designing. Mohamed has his own office at Albeit.
Mohamed Salem, owner of Egy Creators. Photo: Kamel Abdelaziz
The job generator
Albeit's second new program is a true reflection of Khalid's strong sense of purpose. In three months' time, young people are trained to find their passion and turn that passion into profit. But Khalid is not the person to do anything half-heartedly. He knows that young people often need help in connecting their passion to an actual job that can pay the bills.
That's why, before the program starts, Albeit conducts a survey in and around Tanta to see what kind of jobs are needed. Then, students are selected to start a month of training adjusted to actual employment needs in the region. During the second month, students are placed at start-ups or Small or Medium-sized Enterprises (SMEs) to get practical experience. The final month is dedicated to networking between the students and companies. Even Khalid is surprised by its success. "We have trained about 150 young people, and at least 80 of them found a job!"
Success story: Hunters
Hunters, an affiliate marketing company, is another great Albeit success. Affiliate marketing, a technique to increase traffic and sales for online retailers, was new to the region. Albeit realized there was a market in Tanta and decided to include it in the training program. When the training started, its young participants bonded quickly. Mohamed Torky and Ammar Morsy didn't wait for the training to end to start up their own marketing business.
Proudly passionate
When urged to reflect on his own role, Khalid says he has a nickname. "They call me 'the passionate one'. I'm like the father of Albeit. These young people we're working with, I don't deal with them as a business owner, but as someone who can help them out." That means Khalid devotes a lot of his time to making Albeit a success. "I'm always there for them. I spend more than 10 hours a day in the coworking space."
We have been able to change people's lives.
Talking about Albeit's alumni makes Khalid both proud and humbled. "Most of them work in very decent places. I get messages thanking me on a daily basis. People saying thank you for changing my life. Thank you for making me start my own business or for landing me this job." This outpouring of gratitude shows that Khalid's job-creating journey and his efforts over the past four years haven't been in vain.
"There were many times when I couldn't find people or organizations to help me. Now, I want to be the one helping this generation. We need to believe in the capabilities of young people. Thanks to Hivos we have been able to change the entrepreneurial scene in Tanta. We have been able to change people's lives. And many more will follow!"