LGBT+ people in Guatemala are frequently discriminated against in their daily lives. Most political parties do little to change that. In the battle for votes, they call out loudly in favor of the "traditional family" as defined by the conservative Christian majority. They have no problem with the fact that they're excluding and stigmatizing parts of the population they should be representing. In the run-up to national elections earlier this year, Marco Vinicio Loarca, director of the local organization SOMOS, set out to try and counter that attitude.
The SOMOS building is located on a quiet side street in Zone 2 of Guatemala City. A large rainbow banner hangs on the facade with the words "free, strong and proud" written on it. So everyone knows where SOMOS is. Marco welcomes us in to talk about their "colorful elections" project. This project has already achieved great results thanks to contributions from Dutch Hivos donors.
Two flags next to each other
For some years now, Marco has maintained close contact with the Tribunal Supremo Electoral (TSE), the official organization responsible for overseeing elections in Guatemala. SOMOS' activists decided to take advantage of this relationship to make the June 2019 elections more inclusive of the LGBT+ community. This is how the "colorful elections" project came about.
An important result was achieved as soon as the project started. Marco shows us a photo of a press conference at the TSE office. There, in a large meeting room, the Guatemalan flag hangs fraternally right next to the rainbow flag. An unprecedented sight in an official government building! Symbolically, at least, this was as important as the rest of the photo: an agreement being signed between TSE and SOMOS to make the elections more diverse.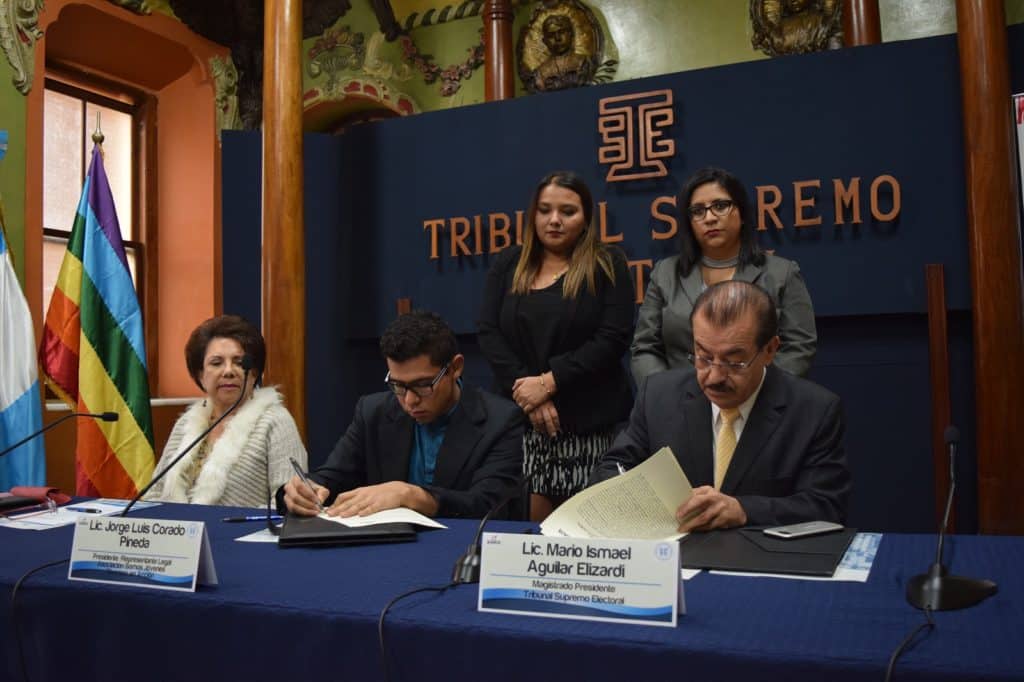 Elections are for everyone
The signal was clear. As far as the TSE was concerned, elections are for everyone, regardless of your sexual orientation or identity. An they made this known through publicity campaigns. As expected, public reaction was divided. While the TSE received congratulations for achieving this milestone, they were also heavily criticized, with some people even calling them out as traitors.
SOMOS organized activities around election time as well. Marco and his fellow activists went around informing polling station workers of the rights of all Guatemalans to vote, regardless of their sexual orientation or identity. SOMOS likewise ran campaigns to encourage LGBT+ people to register for and vote in the elections, and held talks with political parties to share the experiences and needs of the LGBT+ community. On June 16, election day, trained volunteers visited 21 polling stations to detect possible abuses. All in all, the 2019 elections in Guatemala were more "colorful" than ever before!
International follow-up
Others have also noticed the approach taken by SOMOS. For example, Marco was invited to a conference in Colombia to tell representatives from various Latin American countries about his work. He is an example for others, and his approach might be reproduced in other countries.
Marco turns emotional when he talks about the results achieved. It's clear that everything the organization does comes straight from the heart. He misses the project now that it's over, but has plenty of ideas for the next elections. Marco's biggest hope is that LGBT+ citizens will not only vote more, but will also run for election as well.