Hivos will be joining forces with over 1000 impact-makers at the 4th edition of ImpactFest in The Hague from November 5 to 7. Powered by ImpactCity and in partnership with Investing for Impact, this event showcases innovations that make the world a better place to live. ImpactFest also aims to show that social impact and economic success can go hand in hand.
MEET UP: Investing Opportunities in North Africa
Hivos is hosting a "Meet Up" at ImpactFest on November 5 with some of the grassroots social entrepreneurs from North Africa we help become "investment ready" through our BOOST program. These young and promising companies from Tunisia and Egypt will be meeting prospective investors and can also provide them with relevant contacts, insights and inside knowledge from the North African start-up scene.
Think-it: unlocking human potential with technology
One of the purpose-driven start-ups Hivos has invited to ImpactFest 2019 is Think-it: an engineering collective on a mission to unlock human potential through technology. The company aims to form a collective of software engineers to solve humanity's greatest challenges. Their goal? To become one of the world's most inclusive and highest-performing hubs of human-centric tech excellence.
Joscha Raue co-founded Think-it together with Mehemed Bougsea and Amel Abid in 2017 after they found synergy in their respective backgrounds of high-tech, socio-economic development, and entrepreneurship. They bonded over an opportunity they spied between two realities. First, GitHub, the online collaboration platform for software developers, doesn't check your passport. And secondly, solving our toughest challenges with groundbreaking technology will require unlocking human potential all over the world.
So, they joined forces to help more people get a seat at the virtual table, starting with North Africa – a prime emerging talent hub and home (in Tunisia) to both Amel and Mehemed. They designed Think-it to take advantage of the future directions of learning and work: independent, blended, and continuous learning, combined with highly engaged and inclusive talent management.
We had a chat with Joscha to find out more about his start-up, why he's at the ImpactFest, and what the next steps are for Think-it.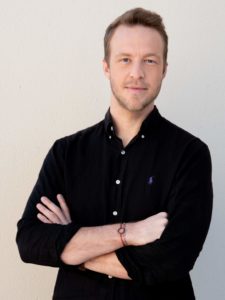 In what way does Think-it have a social impact?
Our social impact is two-fold. Did you know Tunisia is one of the biggest emerging tech talent pools in the world? So, that's the first thing: we are putting Tunisia on the map as a digital innovation hub with brilliant and affordable talent. We invest heavily in bright youth, so they can leave their mark on the global tech community, while building their local economy at home. This creates skill building and national talent retention, but also results in a knowledge transfer and the inspiration of digital innovation within the country itself.
In addition, we are committed to working with both for-profit and not-for-profit partners who build impact-driven and people-centric solutions to advance the UN SDGs. Sometimes we take an active role in project-based fundraising so our team can solve problems we believe are most important. Our goal is to help these innovative partners amplify their social impact with hard-to-find technology skill sets, and build a movement to make North Africa a hub for impact-driven technology.
We're excited to be growing, but as long this aligns with our values as a collective. That means favoring partners who explicitly work towards the UN SDGs. For example, we're currently developing a natural language processor for Arabic that will be used to identify and analyze hate speech directed at migrants and refugees in the MENA region. We're also collaborating with partners on using data to provide better insights for larger non-profit-organizations into their decision making and impact measurement.
Finally, we are deeply committed to diversity and inclusion in our own team, our partners' teams, and our investor networks. And we're very proud that our team is composed of 30 percent women and represents eight nationalities.
What was your turnover last year, and how many employees do you have now?
2018 was our first year in operation, and we grew by 30 percent month-over-month. So far, 2019 has also been an incredible year. We serve partners across four continents, grew the team to 40 full-time Think-iteers, and are on the verge of profitability.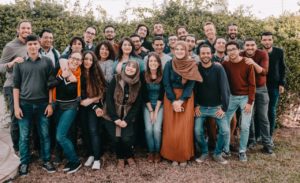 Why is Think-it coming to ImpactFest, especially if you're doing so well?
ImpactFest is a very relevant and exciting opportunity for us. We're coming to explore new technology use cases, bond with other impact-driven founders and teams, and make sure that our tech communities are diverse and inclusive of all bright minds — no matter where they're from.
How has the Hivos BOOST program supported Think-it? 
Hivos' BOOST program has supported us in scaling our team and providing the necessary expertise to expand our operations and prepare for our next chapter of growth. It has also supported us through mentoring and opening up new networks that play a vital role for our business.
The next steps for Think-it – where are you going, and when?
A key goal for 2020 is to reach and operate at profitability early in the year: a milestone we'd be very proud to reach.
We'll be adding technical specializations to our team, including reinforcement learning and cyber security, and aim to continue growing our team and revenue sustainably. Also, we're going to launch an open-source learning project. It's still under wraps, but we'll announce more details soon!
I am humbled daily by the awesome human beings I get to work with
2020 will see us emerge from the most challenging early-stage days as a team. We then hope to work more closely with other forward-thinking people from business, academia, and the non-profit sector, especially those committed to impact technology like X-Prize Foundation or UN Global Pulse. Actions speak louder than words, so we'll be showing with our own business decisions that sustainable growth and global collaboration is key to humanity thriving in the 21st century – with North Africa as a key regional contributor.
What inspires you personally most about Think-it?
The journey itself – both what we've accomplished as a team, and the tremendous amount of individual growth everyone's had along the way. We are still at one percent and only scratching the surface of what's possible, and I am humbled daily by the awesome human beings I get to work with. They're all smarter than me – so we're doing something right!
How can people find you online?
Through our website www.think-it.io, LinkedIn or watch our pitch on Youtube: