The 10th session of the World Urban Forum is underway, where innovative approaches to sustainable urbanization are showing how we can achieve inclusive, safe, resilient and sustainable cities. RUAF partners, including Hivos and FAO, are there to present ways of planning food systems in urban and peri-urban areas that emphasize systemic thinking and the importance of dialogue and partnership within local governance mechanisms – especially involving citizens.
The link between urbanization and climate change
Cities are highly vulnerable to disruptions in critical (food) supplies, and climate change makes this worse. Urban economies suffer when rural agricultural production is adversely affected by storms, floods, shifting seasonal patterns, droughts or water scarcity. The same goes for food production, processing and distribution along the entire food supply chain.
Cities are major contributors to the causes of climate change.
In this way, climate change disproportionally affects the urban poor and vulnerable groups, many of whom live in informal settlements in flood-prone areas. They have precarious food and nutrition security and limited access to decent work. Furthermore, the effects of climate change on (productivity in) certain rural areas can spur migration into cities, leading to an accelerated growth of slum areas. More than 50 percent of the world's population already lives in urban areas, and by 2050 this figure is projected to rise to nearly 70 percent (UNPF, 2018).
Cities are also major contributors to the causes of climate change. They are responsible for 70 percent of global greenhouse gas (GHG) emissions and consume 80 percent of food produced by a sector that is the third largest contributor to global emissions. Based on the best scientific evidence, we have until 2030 to reverse catastrophic climate change trends.
Addressing cities' vulnerability to climate change – and their contribution to the underlying causes – are issues that require urgent attention.
Cities can take action
Cities have the capacity to take scalable action. Over the past decade, many local authorities have acknowledged their potential to influence both the causes and consequences of climate change and contribute to national and international climate change strategies. The New Urban Agenda (NUA), adopted in 2016 at the Habitat III Conference in Quito, deals with the development and sustainable design of cities, including climate change considerations. It also recognizes that dependence on distant sources of food can cause supply disruptions, and emphasizes the need for cities to strengthen food system planning.
Building more sustainable and resilient food systems in a city requires three important processes.
mitigation through an integrated, ecosystems-based approach with strategies to reduce GHG emissions
adaptation, e.g. by reducing the vulnerability to climate change
development – such as poverty alleviation, income generation and food security
Urban and peri-urban agriculture and forestry would be suitable areas where we can address this triple challenge.
In addition, the following measures could be taken by city governments to strengthen the sustainability of their peri-urban food system and its and resilience to climate-related shocks and stresses, particularly exploiting the potential of urban and peri-urban agriculture.
1. Conduct a risk assessment of the peri-urban food system's resilience to climate-related shocks and stresses that identifies vulnerable components and stakeholders.
2. Integrate urban food security and urban agriculture into climate change adaptation and disaster management strategies.
3. Maintain and manage agriculture projects as part of the urban and peri-urban green infrastructure.
4. Identify open urban spaces prone to floods and landslides, and protect or develop these as permanent agricultural and multifunctional areas.
5. Integrate urban agriculture and forestry into comprehensive city water(shed) management plans, including social housing and slum upgrading programs.
6. Develop a municipal urban agriculture and food security policy and program.
These measures are already being adopted in some cities around the world.
City Region Food Systems (CRFS)
The RUAF Global Partnership (of which Hivos is a member), the Water Land and Ecosystems programme (WLE) and the FAO have joined forces to call more attention to resilience and adaptation to climate risks under a "City Region Food Systems" (CRFS) approach. We are developing a toolkit to assess risk and are working with local governments in various cities to develop action plans to increase resilience.
RUAF worked with the capital of Madagascar, Antananarivo, to improve the food security and income of the urban poor. Also to integrate urban agriculture into urban land use planning in order to reduce the impacts of climate change, notably flooding. Currently, the concept of "city region food system" is being assessed to develop further policy. Urban farming is seen as an adaptation mechanism that helps secure people's ability to provide themselves with fresh locally produced food, while reducing transport-related GHG emissions.
RUAF partner Quito published its resilience strategy in 2017. It includes the need to develop a solid food economy, alongside other measures to reduce vulnerability to natural hazards, and proposes developing a plan to strengthen the city's food system.
Another RUAF partner, Toronto, includes urban and peri-urban food production in its city climate change action plan. Actions include the financial support for doubling the existing tree canopy, community-based projects like community orchards and gardens, home gardens, etc., and promoting composting organic wastes and rainwater harvesting
It also includes the reduction of the city "food print" by requiring shipping distance on food labels, promoting regional products, supporting farmers' markets, and preferential procurement of locally-produced food.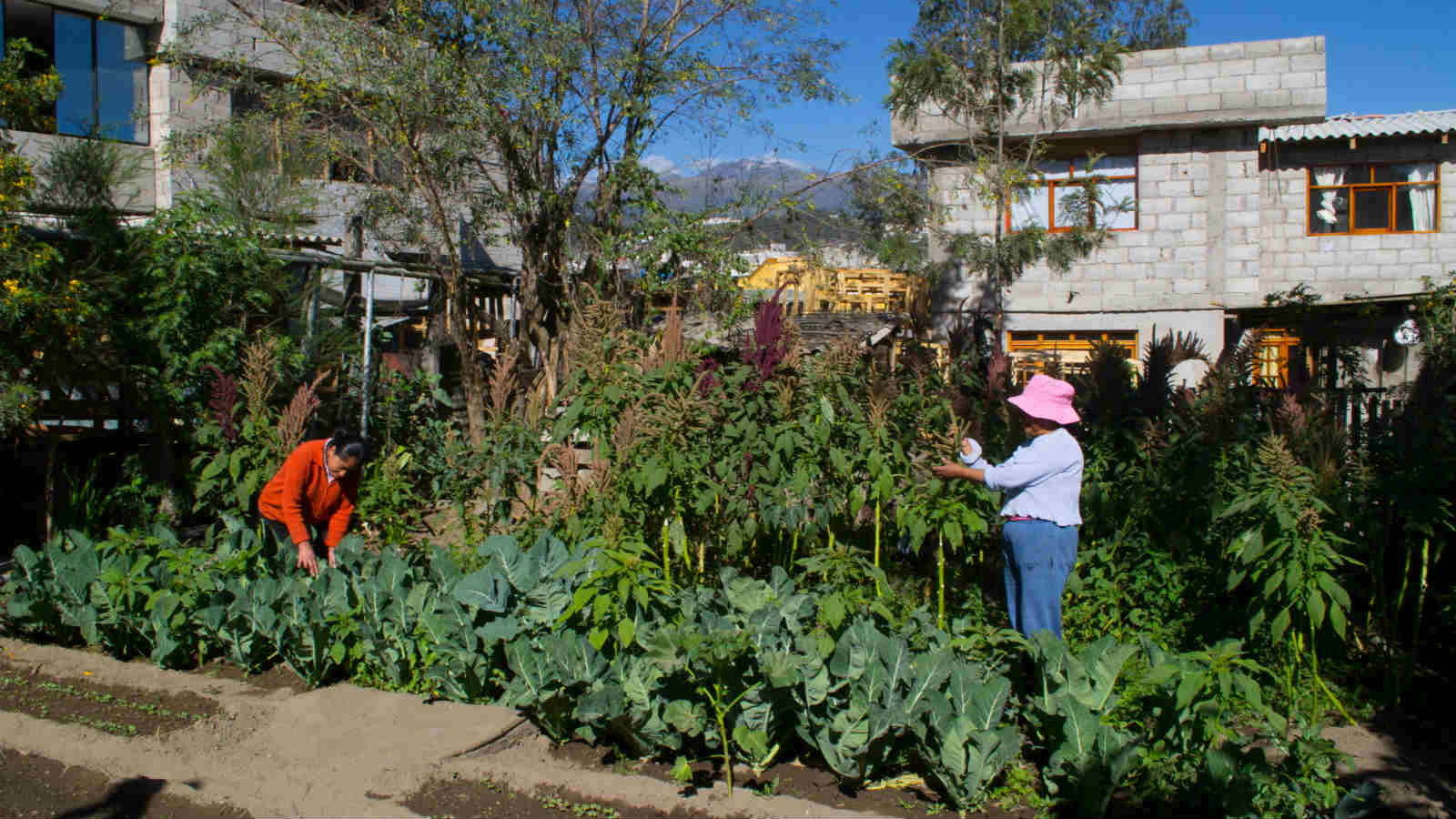 It starts with citizens
Governance mechanisms must create an enabling environment to take into account the needs and perspectives of vulnerable populations, whose homes, livelihoods, health, and food access are most at risk from climate-related events.
In this environment, policy participation of all actors in the food chain, from producers to consumers, can ensure relevant, accountable, equitable and sustainable action. For example, innovative mechanisms like food policy councils make the decision-making process related to food policy more inclusive and context-specific. Many of these are already established in cities around the world.
This is how Hivos and RUAF partners work with citizens, entrepreneurs, communities, experts and policymakers to transform city region food systems.
We connect stakeholders, particularly marginalized groups, in multi-actor platforms to ensure inclusive policy planning.
We support frontrunners such as local entrepreneurs and SMEs to catalyze promising initiatives.
We assess city region food systems.
We support rapidly growing towns and secondary cities linked in national and international networks by increasing their knowledge and capacity to influence policy so local solutions can flourish.
Hivos' ultimate aim in this partnership is to make more sustainable, diverse, healthy and nutritious food available for low-income citizens – with or without climate change – although the latter, unfortunately, does not appear likely.