Towards cities of integrity
How local open contracting initiatives help cities better serve their residents
By Conrad Zellmann, Program Development Manager Transparency & Accountability
Local leadership is a vital ingredient in our response to the climate emergency and essential to achieve the SDGs. Although many cities and local governments are stepping up to the plate, they face unique governance challenges, and demographic and fiscal pressures. Overcoming these hurdles requires innovation and collaboration among diverse urban stakeholders, underpinned by shared norms of integrity. The Hivos Open Contracting team will be holding a joint session with African Centre For Cities at the World Urban Forum (WUF) in Abu Dhabi (February 8 to 13), to explore ways to build cities of integrity. Our insights will focus in particular on innovative efforts to improve local public contracting.
By one estimate, 65% of the SDG agenda depends on sub-national participation. Decisions at the local government level affect people's access to quality primary health care, public education, clean water, affordable housing, fair policing, safe infrastructure and job opportunities. Many of the people most at risk of getting left behind live in rapidly growing cities in developing countries.
These cities and other sub-national governments shoulder increasing responsibilities to mobilize and manage the resources needed to deliver quality services and infrastructure. This means raising sufficient financing for services and investment and spending limited resources effectively.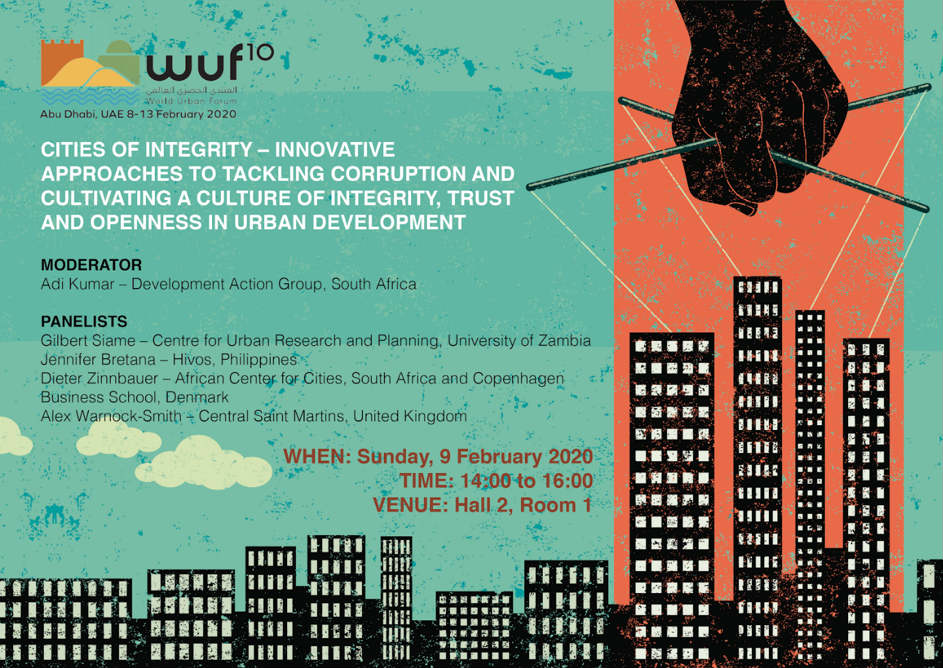 Shared norms of integrity
Innovation in urban development is key to creating prosperous, inclusive, equitable, resilient and sustainable cities. Multiple actors contribute to this: communities, city officials, activists, and entrepreneurs. Yet their aspirations can only be achieved if they are underpinned by shared norms of integrity.
During WUF, we will explore perspectives of diverse actors on building cities of integrity. Our joint session with the African Centre for Cities at the University of Cape Town will bring together insights from urban planners, architects, urban policy-makers and transparency practitioners. With this, we hope to launch a fruitful conversation about the practical tools and innovative levers at our disposal to help cities meet these challenges.
Public contracts are particularly vulnerable to waste, inefficiency and corruption.
We believe one of the most important areas to focus on is transparency, participation and accountability in local procurement processes. Public contracts are particularly vulnerable to waste, inefficiency and corruption. An estimated 20-25% of contract values, or USD 2 trillion are lost from public budgets annually. At the local level, risks can be elevated, e.g. due to lower oversight capacity, greater potential for conflicts of interest and limited competition due to smaller supplier pools.
Improving public services
Better contracting can significantly improve public services for residents and increase economic opportunities for diverse local suppliers. Open contracting – defined as "publishing and using open, accessible and timely information on government contracting to engage citizens and businesses in identifying and fixing problems" – has emerged as a key approach to improving public procurement results.
In more than 30 cities and local governments, from Mexico to the Philippines, officials and civil society reformers are already working together on such initiatives. Responding to this movement, Hivos and its partners started Local Open Contracting Initiatives (LOCI) in 2019. Its aim is to facilitate peer learning and generate support for those who have committed to relevant reforms in the Open Government Partnership (OGP) Local program.
During our session at WUF, we will show the role local open contracting initiatives can play in creating cultures of integrity. Jennifer Bretaña, Planning and Development Coordinator for the South Cotabato government (Philippines) and Vivien Suerte-Cortez, Open Contracting Program Manager at Hivos Southeast Asia, will present how governments and civil society are collaborating to improve local public procurement. They also look forward to discussing how even stronger links to the work of other actors can be forged.
If you are at WUF, please come and join the session on Sunday, February 9, 14:00-16:00 Hall 2, Room 1.
Follow  @UrbanAfricaACC and #WUF10