Fighting the effects of climate change topped the agenda at the Biogas Digester Conference from 2 to 4 October in Burkina Faso, attended by 250 energy experts from West and Central Africa. The eight participating countries agreed on their weapon of choice. They will adopt and upscale bio-digester technologies and improve collaboration to develop market-based biogas sectors.
This comes not a moment too soon, as the report on global warming launched today by the Intergovernmental Panel on Climate Change (IPCC) states that global warming of 2°C above pre-industrial levels is substantially more harmful than 1.5°C.
Benin, Burkina Faso, Guinea Conakry, Cote d'Ivoire, Mali, Niger, Senegal and Togo have therefore formed an alliance to promote biogas and bio-digester technologies. Under the patronage of the president of Burkina Faso, H.E. Roch Marc Christian Kabore, its coordinating body will be headquartered in Ouagadougou.
Bio-digesters: effective weapons in the fight against climate change
Climate change is already taking a brutal toll on the Sahel countries in West and Central Africa. The IPCC's new report shows the damage that a mere 0.5 C rise in temperature will cause in countries with a Sahel zone, such as Burkina Faso. But climate experts predict the region will experience up to a three or four degree rise in temperature this century, resulting in severe droughts leading to food insecurity with dramatic consequences.
A biogas sector is an important arsenal in the fight against climate change.
Conference participants acknowledged that widespread use of bio-digester technology is the best way to boost food security and reduce energy poverty. Bio-digesters also reduce greenhouse gas emissions and are an important means of adapting to the effects of climate change expected in the region.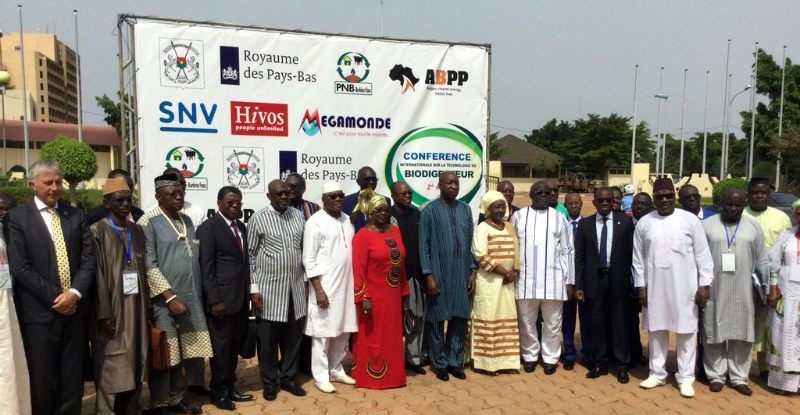 Adaptation to climate change requires a multi-country approach
Burkina Faso's prime minister, H.E. Paul Kaba Thieba, made a firm commitment to the use of renewable energy in the region, saying, "The government is convinced that this technology is the ultimate solution to countering climate change."
Hivos East Africa's Regional Director, Ms. Mendi Njonjo welcomed Burkina Faso's recognition that adaptation to climate change requires a multi-country approach. "We will be keen to support the alliance to realize its objectives. A biogas sector is an important arsenal in the fight against climate change," she affirmed.
Dutch Ambassador to Mali, Burkina Faso and Niger, Jolke Oppewal, warmly congratulated the countries on their decision: "The government of the Netherlands will support the alliance through the current Africa Biogas Partnership Programme implemented by Hivos and SNV".
Special honors conferred on regional biogas frontrunners
The conference ended with a ceremony to recognize frontrunners who have been instrumental in setting up and upscaling the biogas sector in Burkina Faso. The recipients of the Monsieur le Grande Chancelier des Ordres burkinabè award were hailed as the founding fathers of biogas in the country: Hivos East Africa's Renewable Energy Program Manager, Jean Marc Sika, and SNV's Jean de Matha and Jan Lam. Jean Marc's leadership has been astounding, particularly in his role as a linking agent with the private sector and government.

"In Burkina Faso, the adoption of the renewable energy program, with its multi-stakeholder approach and ambition to create a market-based sector, has been a long and challenging process. We must salute the important work of the whole program team who has given its all to bring about what we now know is a true revolution," he told the conference.
Burkina Faso: the region's bio-digester ground zero
The expansion of bio-digester technology in West and Central Africa is rooted in Burkina Faso. Since the inception of the sector in the country, the government has been keen to build rural communities' resilience to climate change by using biogas. Its present policy aims to increase decentralization of renewable energy from 6.4 percent to 30 percent and build 40,000 new biogas plants in Burkina Faso by 2020.
Hivos East Africa's Africa Biogas Partnership Programme has played a leading role in spreading the use of renewable energy throughout West and Central Africa. We believe that access to energy is crucial in enabling communities to improve their quality of life through food security and secure livelihoods.