Why we are at AIDS2018
In the struggle against HIV and AIDS, Hivos previously used the slogan "Exclusion Kills" because that is what we saw, and still see, happening. There are many barriers that prevent people, especially the so-called "Key Populations,"* from accessing and receiving the care, treatment and medicines they need. We believe exclusion, stigma and discrimination are the key barriers. They make peoples' lives incredibly hard and lonely, and in the end they kill people. These are deaths we can avoid.
On the other hand, we see a huge positive impact if all people are included and their human rights are respected. This means not only greater access to the health system, but also improved overall health, higher self-esteem and a better socio-economic position. If this is the case, Key Populations can in turn positively affect the lives of others. Therefore, our slogan this year has a more positive note: "The Impact of Inclusion."
These stories are from people who have benefited from working with Hivos and our HIV and Human Rights program. They illustrate how people have experienced our support and show what the impact of inclusion looks like.
*Key populations are men who have sex with men, transgender people, sex workers, people who use drugs and people living with HIV, especially women.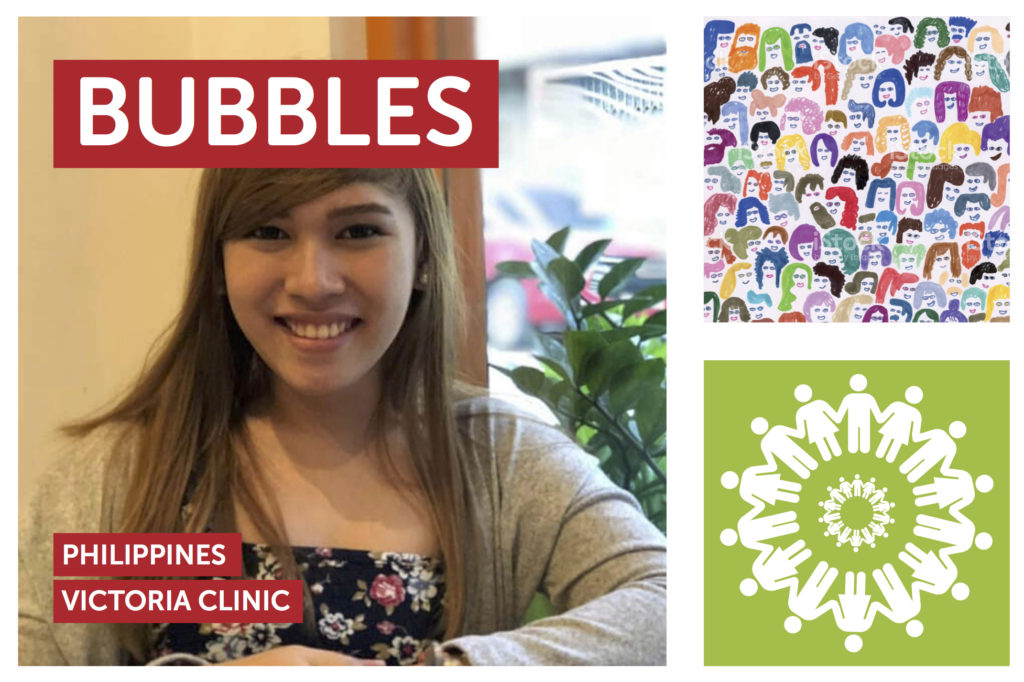 Bubbles and Johanna are both beautiful ladies who were born with all the physical characteristics of a man.
Being a transgender is not a choice but a fact of life. We are only human.
In the Philippines, as in many other countries, transwomen suffer from discrimination and abuse. Bubbles knows from experience: "Sometimes they call me names on the street, or they bully me. I try to ignore it, but I still feel the pain. I really hope we will be accepted someday, being a transgender is not a choice but a fact of life. We are only human." At the same time, there is hardly any specialized healthcare for them, while regular healthcare is difficult to access. As a result, transwomen in the Philippines are highly prone to getting HIV and other sexually transmitted diseases.
In 2017, the first transgender clinic in the Philippines was started. The Victoria Clinic, however, is much more than just a clinic. Apart from providing medical care, it helps to create awareness on transgender issues. To this end, it has developed informative and accessible materials for awareness raising, such as posters, flyers and videos. All persons that engage in a trajectory for change receive close personal support.
Bubbles and Johanna first came in as patients. They now work at the clinic to help other young transgenders come to accept and respect themselves as they are.
Their work, and that of many others, makes the clinic a safe haven for transwomen. Johanna: "It is a special place, unique really, where we can express what is in our heart, accept who we are and achieve what we want in life. Most transgender women are not accepted by family, friends, fellow students or co-workers. The clinic is also a support group for them."
The help Victoria Clinic received from Hivos was essential in setting up and testing the model of the clinic. It is thanks to this support that the clinic now exists and is helping dozens of transgenders ensure their well-being, including access to healthcare.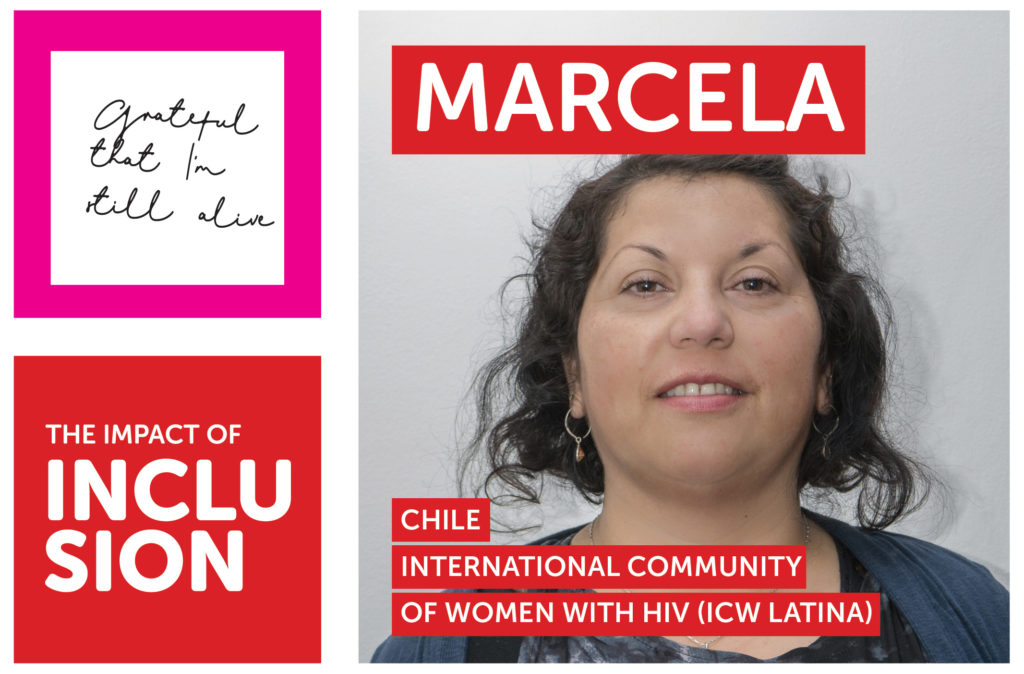 For more than two decades, Marcela has been advocating for the rights of women with HIV and AIDS in Chile.
Social death, even nowadays, hits us hard.
In 1997, at the age of 22, Marcela visited a Chilean hospital. At that time, the area where patients diagnosed with HIV were treated was restricted to doctors and nurses. But she convinced the doctors to let her visit and help care for her husband. After he died, she continued her visits to the hospital, now to take care of other people with HIV.
Since then, her mission has been to advocate for their rights and stop stigmatization and discrimination against women with HIV in both medical centers and everyday life. She knows how hard life for these women can be, because she herself is infected with HIV. "Society has more solidarity towards men than women. We get questioned all the time about our sex lives. Social death, even nowadays, hits us hard," Marcella says. At present, Marcela is the International Community of Women with HIV's representative for Chile.
In 2012 she was diagnosed with cervical cancer, something that happens to women with HIV quite often.
Marcela is a living example of one of the main challenges in the response to HIV: the need for timely access to sexual and reproductive health services for women with HIV, which includes cervix cancer prevention.
Hivos works with ICW Latina to strengthen the individual and collective capacities of women with HIV in Latin America so they become more active and effective human rights advocates, and to propel exchange and movement building with other organized women in the region.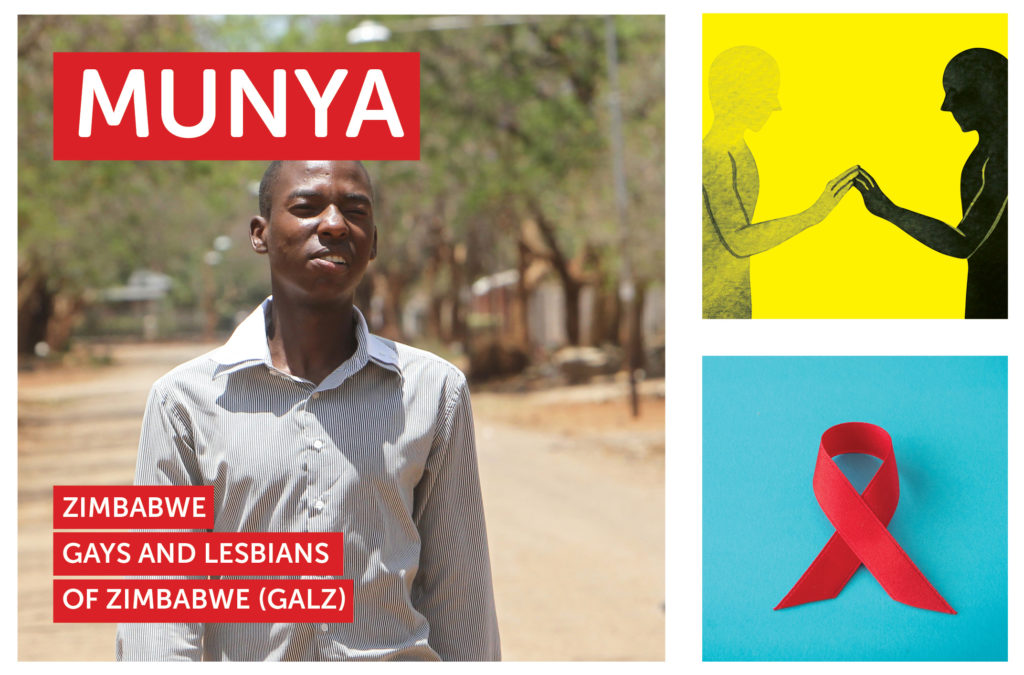 Munya is a Zimbabwean in his twenties, gay and HIV positive. He found out he was infected after his first-ever relationship broke up.
I now finally accept myself for who I am.
Munya was born in a family of faith. That was mainly due to his mother, who is a dedicated follower of an evangelical church. His father did not go to church. Munya: "My dad and I were very close. I wasn't afraid to confide in him and tell him that I'm gay. Daddy accepted me. 'Let's keep this between ourselves,' he said."
After his father died in a car accident, it was still difficult to be open with his mother. If he told his mother and the rest of the family that he was gay, they would say that he was demonic or something. Munya: "They would probably want to heal me. 'Let us pray for this young man,' they would say in church. 'Stop taking those drugs,' the pastor would say, and 'Let us heal him!' Friends of mine died because of this. They had HIV but were afraid to come out and seek help and medical care."
It was only through our partner GALZ (Gays and Lesbians of Zimbabwe) that Munya got access to proper medical care. GALZ has built a network of doctors who they train and who really understand their patients.
The organization not only provides medical care, Munya benefits from their workshops and meeting likeminded people. It has given his self-respect a boost. Munya: "I wasn't able to stand for myself, but I've gained confidence. I now finally accept myself for who I am."
Hivos runs a regional program in eight countries in Southern Africa to improve access to testing, treatment and care of key populations. GALZ is a beneficiary organization of this program.
Hivos and HIV
Hivos was the first development organization in the early 90s that approached the HIV epidemic from a broad development and human rights perspective.
Currently, Hivos is implementing six projects funded by the Global Fund to Fight AIDS, Tuberculosis and Malaria. Of the six, three have a regional focus (Latin America, Southeast Asia and Southern Africa), and three focus on national levels (Guatemala, Costa Rica and Bolivia). Hivos has been one of the civil society Principal Recipients (PR) of the Global Fund from 2006 onwards.
Furthermore, as a member of the former STOP AIDS NOW! program, Hivos supported 138 projects in 40 countries spread throughout Asia, East and Southern Africa, Eastern Europe and Latin America and the Caribbean.
Hivos has supported, and continues to support, a variety of other projects that contribute to the fight against stigma and exclusion of LGBTI+ persons and communities and/or promote sexual and reproductive health and rights (SRHR). This includes comprehensive sexuality education and focusing in particular on the SRHR of youth, young women and young LGBTI+ persons. This also contributes indirectly to reducing HIV infection.