Education is key to unleashing the Indonesian food revolution
Ever heard of sago, sorghum or long peppers? Maybe you have, but these nutritious foods grown in Indonesia have almost been forgotten by the local population. At the same time, large western fast food chains and processed foods are gaining more and more ground.
Instead of exploring and enjoying the richness of their own cuisine, Indonesia's rapidly growing middle class has turned to unhealthy "easy" foods like pizza, white bread, candy bars and instant noodles. Rising consumption of meat, fat and sugar is also becoming a serious health problem. Indonesia currently faces a double malnutrition burden: almost 40 percent of children under five are stunted due to poor diets, and a quarter of the adult population is overweight.
Hivos believes that all people should have access to healthy and affordable food, while protecting our planet. Indonesia is home to many healthy food options, which if promoted would not only make food cheaper, but also improve the nations' health. That's why Hivos started the New Generation of Indonesian Cooking (NGIC) program (Generasi Baru Dapur Indonesia) to counter the country's current unhealthy food habits.* It enlists the aid of famous TV chefs to promote sustainably produced, healthy local foods that people can make themselves.
Wouldn't it be amazing if a kid influences his parents and tells them to eat more vegetables?
We caught up with two of them, Chef Chandra Yudasswara and Chef Petty Elliott, to learn more about the food revolution in Indonesia.
Chef Chandra Yudasswara
Chandra Yudasswara is a host of Chef's Table, a TV cooking show now in its fifth year. He has worked at various five-star hotels in the Middle East and the Asia Pacific region and is currently managing ten different restaurants in Jakarta.
"Upon returning to Indonesia after eight years abroad, I was surprised to see a local version of KFC, McDonalds or another fast food chain on every street corner! Nobody in Jakarta is cooking at home anymore. Everybody is eating unhealthy, ready-made comfort food. This is very worrying."
Young Indonesians as change-makers
Chandra is one of the few TV chefs in Indonesia who talks about healthier diets. Most of them shy away from promoting "healthy" or "sustainable" food because their viewers see this as "flavorless" or "expensive" food - and might change the channel. Nevertheless, Chandra does his bit to promote healthy food. For example, he offers healthy options on his menus and provides basic information about sustainability during his shows. While change is slow, he believes that Indonesia's young population (the average age is 28) can lead the way.
"It's difficult to change the eating habits of older adults. But wouldn't it be amazing if a kid influences his parents and tells them to eat more vegetables? I think information about healthy food should start from pre-school. At least a 10-minute class about food each week should be compulsory," says Chandra.
He suggests that as a start, children should become more aware of the side-effects of unhealthy food.
"Every kid should know, for example, how much it costs to raise a cow and how much waste there is when producing beef. We're harming the earth and the next generation will definitely experience the consequences of this."
Chef Petty Elliott
Chef Petty Elliott agrees that education is key to changing eating habits. She appeared on Indonesian TV as a judge on Iron Chef. While traveling around Indonesia over the past 14 years, she has been inspired by the variety of the country's cuisine. Currently based in the UK, she is committed to promoting local products and dishes in Indonesia and abroad.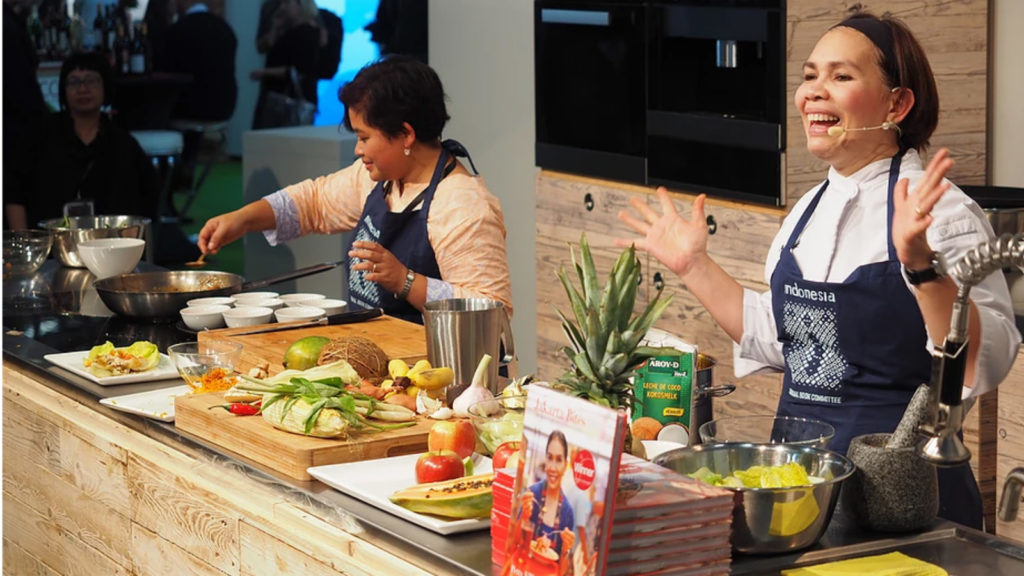 "It's mind-blowing how many indigenous foods and spices you can find in Indonesia. It's a shame many people are not aware of the endless possibilities we have within our own borders to cook amazing, healthy dishes," she exclaims.
Petty collaborates with Javara Indigenous Indonesia, a sustainable producer of local foods, to understand the challenges small farmers in the country face. Every time she visits Jakarta, she mentors young farmers at Sekolah Seniman Pangan, a school for food entrepreneurship initiated by Javara.
We have a duty to educate people on how to cook with healthy local ingredients and respect nature at the same time.
"Many farmers don't realize how valuable and healthy their crops are. I want them to be proud of their products. That's why it's very important to teach them how to be more creative and add value to their own products," says Petty.
"I have seen huge progress in the past six years with farmers promoting their own products locally, particularly in urban areas. But more work needs to be done. People have to understand that good food can be found right at their doorstep. We have a duty to educate people on how to cook with healthy local ingredients and respect nature at the same time," she adds.
Signs of change
Chandra points out that plastic waste has become a serious issue the government is actively trying to tackle. He believes they should make an equal effort to push healthier diets and promote local foods.
At the same time, Petty and Chandra believe chefs can play a leading role in this effort. Chandra was one of the 16 chefs from 13 countries who signed the Chef Manifesto at the EAT Forum in Sweden last year. It proposes simple actions chefs can take as advocates to inspire people to make changes in their kitchens and call on governments and companies to play their part.
Petty supports this idea: "As chefs, we have so many stories to tell about our own indigenous foods, our food culture and heritage. For example, in the past we used banana or palm leaves as plates or as wrappings. Now these have unfortunately been replaced by plastic. Luckily, I am seeing some inspiring examples of people reviving old traditions. At the Pasar Pappringan, a market in Central Java visited by thousands of people, you won't find a single piece of plastic. Examples like these inspire me to create an Indonesian food movement together with Hivos that will slowly change people's eating habits for the better."
Over to Bolivia
New Generation of Indonesian Cooking is part of Hivos' global "Revolution from the Kitchen" initiative. It launched a similar program in Bolivia, which is also home to a wide variety of nutritious and healthy foods. Both programs aim to unleash a food revolution by working with cooks and food entrepreneurs.
These change agents can tempt consumers with tasty, healthy and sustainably made food at stalls on the street, and in shopping mall restaurants and school canteens. As consumers start experiencing the taste and quality of these dishes, they will want to make them in their own kitchens.
In the long run, this program aims to influence consumers' eating and cooking habits as well as national and global debates about sustainable diets. This is just another way we are helping achieve the goals of our overarching sustainable food program, Sustainable Diets for All (SD4ALL).

* The program is an initiative by Hivos and was developed in 2016 by CREM, together with the Dutch Federation of Exporters (FENEDEX) and the Dutch Federation of the Foods and Beverage Industries (FNLI).