By William Chilufya, Voices for Just Climate Action – Country Engagement Manager
As Hivos joins the World in commemorating this year's International Women's Day, whose theme is "DigitALL: Innovation and technology for gender equality," the story of Violet Malama, an entrepreneur, farmer and activist comes to mind. Violet has reached many important milestones in the field of agriculture and has been working with Hivos for quite some time. At present she focuses on Sustainable Food Systems in relation to our work with the Voices for Just Climate Action (VCA) program.
Research has shown that when women are given the right opportunity, yields on their farms increase, incomes increase, natural resources are better managed, nutrition is improved greatly and their livelihoods are secured.
As a member of the Zambia Alliance of Women, a Hivos partner under our 2016-2020 Sustainable Diets For All program, she traveled across the country to showcase her work. Violet has been instrumental in getting people to move beyond a maize-based food system, both for better nutrition and as a climate change adaptation strategy. Her major achievement, however, is how she produces locally-made tomato paste.
New solutions for new problems
The idea sprang from the high wastage of tomatoes on her farm. She makes the tomato paste in her kitchen using traditional methods passed down from previous generations.
This initiative was a milestone for Violet and many other women farmers but, unfortunately, did not last as long as she imagined it would.
"I was using locally grown tomatoes and it became expensive to sustain because you need a lot of tomatoes for a small amount of tomato paste. If you look at the way [some] companies make their paste, it even has a different color because they just import the paste as opposed to making it from scratch the way we do," Violet said.
This is the reality of many women who have come up with innovations that use locally grown ingredients and traditional methods. They end up being run out of business by large companies, usually foreign owned, that use their huge capital and advanced technology to take over the market.
Women showing resilience
What does equality mean for a woman living in rural Zambia? Well, Mary Dimba, a woman from Kafue District of Lusaka, says she only requires access to farmland to cultivate cash crops that will lift her and her children out of poverty.
Mary, from Lukolongo ward in Kafue District, is one of the community partners of the Women's Life and Wellness Foundation that is implementing the VCA project with support from our partner Akina Mama wa Afrika.
A widow, Mary relies on an acre plot to produce food for her children and grandchildren. With the impact of climate change, Mary has put up a chicken run on the plot and uses the manure from the chickens and compost to grow organic tomatoes and vegetables.
Growing these organic vegetables is more affordable for her because she doesn't need to buy the expensive synthetic fertilizers that other farmers use.
Because of this initiative, Mary has been able to not only make a living for herself and her family, but is also adapting to the impacts of climate change.
Through a women's group and cooperative that she belongs to, Mary is able to teach other women these methods, and the benefit to her community has been tangible.
Providing opportunities for women
"Each time a woman stands up for herself, she stands up for other women," the famous Maya Angelou once said. This is quite true about these two women. They faced a challenge, took a step forward, and through local and Indigenous solutions they were able to adapt and create their own solutions.
Research has shown that when women are given the right opportunity, yields on their farms increase, incomes increase, natural resources are better managed, nutrition is improved greatly and their livelihoods are secured.
This, however, does not take away from the fact that women have been marginalized and still lag behind in this technological and advanced era. Current statistics from the Zambia Information and Communications Technology Authority show that only about 56 percent of Zambians have Internet service, with less than 1 percent connecting through PCs. Most people access the Internet using smart phones, with the majority using feature phones.
If women, who we know are resourceful, resilient, innovative and industrious, do not have access to basic things like cellular network connectivity, what tools can these women be equipped with to ensure digital inclusion? What about access to technology that can help improve or reduce the production costs of their produce?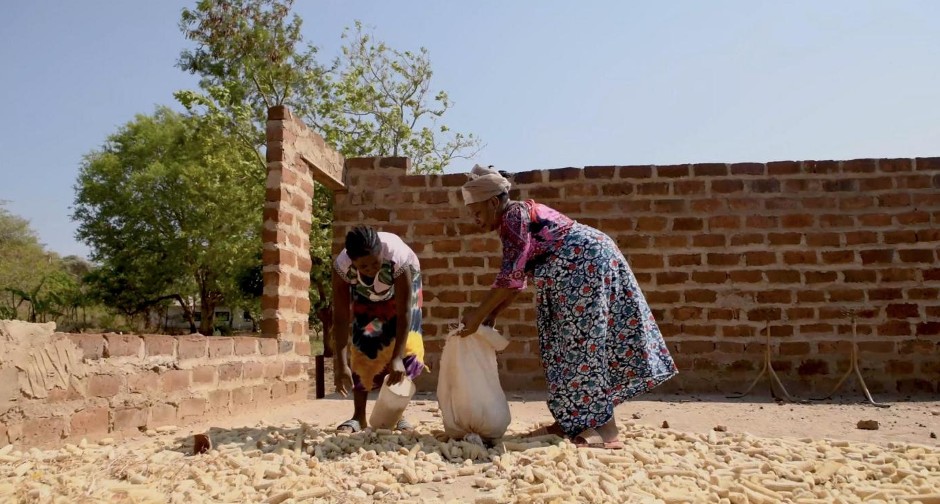 Bridging the gap to better equip women
On the topic of inclusion, maybe we are addressing a symptom and not the main issue? Are our systemic power structures responsive to the need for inclusion and gender equality? Have we identified who holds the power and if they are committed to ensuring inclusion?
But even as we advocate for gender equality and tech for all, this cannot be achieved without speaking about bridging the gap and achieving equity first. Given the historical marginalization of women and deep-rooted patriarchal world systems, it is time for women to begin to think big and innovate.
Take Violet, who is an innovator, a farmer and a great example of women taking up the mantle. She is now using technology to do bee keeping, which has become her latest ventured. The technology she uses lets her work remotely and still be productive. She is a success that many women can emulate and learn from.
About Voices for Just Climate Action
Hivos, through the Voices for Just Climate Action Program is amplifying the voices of women who, amongst other things, come up with and promote local climate solutions. The program is implemented by an alliance led by four strong Southern CSOs – Akina Mama wa Afrika (AMwA), Fundación Avina, Slum Dwellers International (SDI) and SouthSouthNorth (SSN) – and two Global CSOs – Hivos and WWF-Netherlands – under the Dutch Ministry of Foreign Affairs' five-year strategic partnership: "Power of Voices."