As we celebrate Women's Month, which comes with the International Women's Day on the 8th of March 2023, it is also an occasion to celebrate a commitment made by Zimbabwean political parties ahead of this year's Harmonized Elections.
Every five years, Zimbabweans take to the polls to elect a President, along with Parliamentary and local government representatives. According to a Zimbabwe National Statistics Agency report, in the last elections (2018), only 31% women were elected to Parliament and 14% women in local government, which was way below the constitutional requirement.
This strengthened the case for the various programs currently running at Hivos Southern Africa under the 'Women Empowerment' banner. These include the Women and Youth Inclusion for Equality, Women and Youth Leadership and Participation and the Women's Voices Matter programs. Our previous Women Empowered for Leadership and She Leads programs were also developed to strengthen the capacity and build agency of women leaders.
A collective voice
In February 2023, various women's rights organizations came together and produced an election charter using the hashtag #2023LetsGo5050, which they handed to political parties at the Multi-Party Gender Conference. This collective action set forth the conditions necessary to achieve gender equality among political parties in Zimbabwe, including recommendations for the government, media and other players.
Sally Ncube, National Coordinator of our partner Women's Coalition of Zimbabwe, represented the women's rights groups at the conference. Just before handing over the charter, she said that women were "asking for action to ensure more women will participate in the 2023 elections."
Sally added that "women are underrepresented in leadership and decision making" and are "appalled by the widespread violence, intimidation, harassment and discrimination experienced by women candidates in the lead up to, during and after the 2018 elections."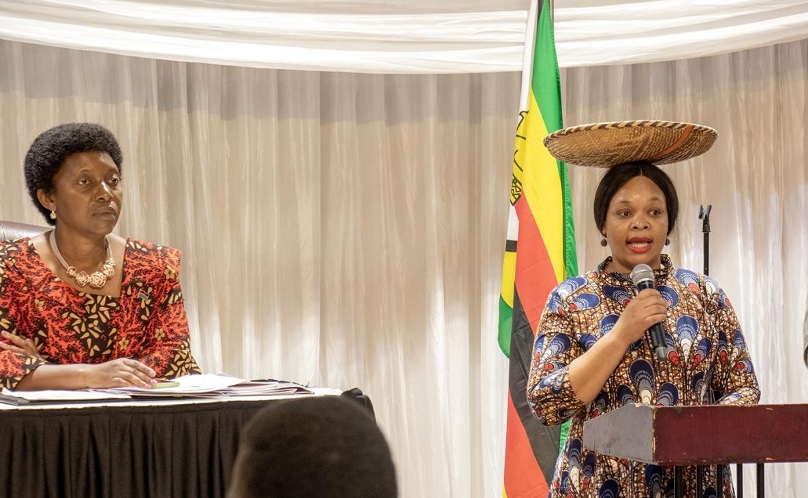 What women want described in the charter
The charter, titled 'Women's Political Participation and Decision Making' defines a position on electoral and political participation requests made by the women's movement. It specifically articulates what women want as Zimbabwe heads into the election period, including:
changes that would align laws and electoral systems to the Constitution
requirements for political parties to pay attention to campaign financing and violence against women in elections
proposals on accountability and ending impunity
demands for an inclusive media in the country
The charter was handed to Minister of Women Affairs, Community, Small and Medium Enterprises Development Sithembiso Nyoni, as well as representatives of the three political parties in Parliament including Zanu-PF, the Citizens' Coalition for Change, and MDC-T.  The document was also handed to the Political Actors' Dialogue group, represented by the President of LEAD, Linda Masarira.
The parties confirmed the charter by signing a pledge to create pathways for the participation of women in leadership positions in all their structures.
Minister Nyoni noted that "previous efforts that women made in the past had not been been recognized," but this charter was "a right move to offer encouragement to women."
"Women's political participation is a prerequisite for gender equality and this is why the government has committed to helping women to take up leadership roles. We are on the move and this charter reinforces that. Let's not be discouraged," she added.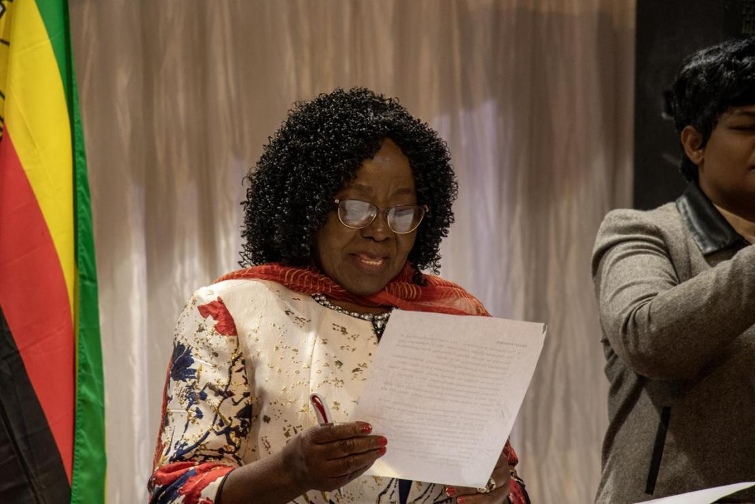 Gathering for a common purpose
This combination of different political parties under one roof offered an opportunity for them to discuss one of the key issues marring previous elections: violence.
Paulina Mpariwa, the vice-president of MDC-T, said that this pledge signing gathering had created a "non-violent meeting point for women," which would encourage more participation in the 2023 elections.
"We have re-established our bonding and we have seen commitment from the ruling party to even the smallest party. This will help us to see more women participate in the coming elections because of our purpose to come together for this gathering," she added.
Councilor Kudzai Kadzombe, a representative of the Citizens' Coalition for Change party, agreed that "a violence-free election" would enable "increased participation."
"The Constitution provides that there should be equality. Our party will create a conducive environment through consultative processes that enable women to rise within the community set up."
Renewed hope
The 2023 elections present an opportunity for the women who have been trained through our various programs to stand up and be counted.
The LEAD party president, Linda Musarira, highlighted that she was "glad and proud to have been involved in conceptualizing the charter" and finally seeing the different parties showing their commitment.
"We have been pushing for a gender equality law to be enacted and this is a step in reinforcing that direction. The women's movement should hold all political parties to task about including women in the elections," Linda said.