In Kenya, there is still a long way to go when it comes to gay acceptance and equal rights. Filmmaker Wanuri Kahiu made a special film about two girls who fall in love with each other: Rafiki. The film, which is banned in the country, won the Hivos Free to be me Award last week. We spoke to Wanuri about love and freedom in Kenya.
"I believe that the right to love is our most fundamental right," says Wanuri. She was inspired by the much-awarded book "Jambuala Tree" by Monica Arac, which tells a love story about an African lesbian. She then worked for seven years on Rafiki, which means 'friend' in Swahili. But when the film was finally finished, it was banned by the Kenyan Film Classification Board.
What does it mean to you that the film was banned in your own country?
"That is incredibly difficult. Especially the idea that a small group of people can determine for an entire country, which ideas may or may not be shared, makes me very angry. This takes away the choice from adults to go and see a film. We have the right to choose a government, we have the right to vote for a president, we have the right to drink alcohol, but we don't have the right to watch a movie. I find that condescending and humiliating."
Changing the end would change the whole story
"The film was not even banned because of the intimate scenes, but because of the positive and hopeful ending – that would suggest that homosexual relationships are acceptable. I was told that if I changed the end, the ban would be lifted. I refused. Changing the end would change the whole story."
It was not just about the ban, the head of the Kenyan Film Classification Board called Wanuri a criminal and a liar. "All that people see and hear in the media is that I am a bad person and have made an obscene film that would change people's sexual orientation. It's hard to defend yourself if nobody can see the movie. That is very painful."
Nevertheless, you managed to lift the ban for a week. What was the effect of this?
"We filed a lawsuit to show Rafiki in Kenya for seven days so that the film could be submitted to the Oscars. Fortunately, we met a progressive judge who agreed with us on this. Then, the ban worked in our favor. People had become curious and the cinema halls were packed!" Rafiki attracted more visitors than the opening weekend of Black Panther, which was a hugely successful blockbuster in Africa."
"Many Kenyans came out of the closet during these seven days. They took their families to the movies to start the conversation that way." The temporary lifting of the ban was a success for Wanuri. "But we are not there yet. The film is still before the court. We're now engaged in a bigger fight under the right to freedom of expression."
With her film, Wanuri is contributing to the visibility and acceptance of LGBTI people in Kenya. That is why she received the Hivos Free to be me Award this year.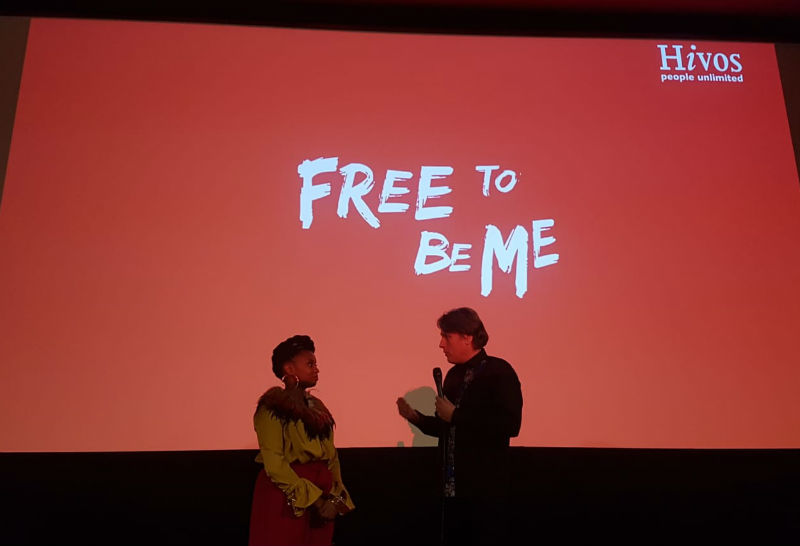 What does winning the Hivos Free to be me Award mean to you?
"I feel incredibly honored for the recognition that Rafiki has received. We worked on the film for seven years with a large cast and crew. To win this prize, after all the hatred and criticism, is such an important recognition for all the work, patience, commitment, and love that have been put into making this film."
"But it is also a recognition of love and freedom, and that is still so rare in the world. This should be something that is not only highlighted by Hivos, but also by governments. The things that make us human beings are often not the things that are written in law. "
Kenya is currently awaiting a ruling on abolishing a colonial law that criminalizes consensual sex between two adults of the same gender. It is a case, known as Repeal162, which gets a lot of attention online.
What does Repeal162 mean for Kenya?
"I think it's a great thing – the way the law is challenged. The activism around it, the way people think about constitutional rights. The mere fact that this case exists, forces the court to define LGBTIs. That has never happened before. So the mere existence of Repeal162 means that the existence of the LGBTI community is also recognized by law. And the fact that this case might lead to the decriminalization of same-sex love, is fantastic!"
"I am optimistic about the outcome of Repeal162 and I am proud that this case has reached the High Court in Kenya. That is a big step for our country."
Why do you think the work of Hivos in Kenya is so important?
"Hivos is committed to fundamental human rights and freedom of expression. Democracy is more than the right to cast a vote; it means that societies and individuals have rights, can be seen and recognized, and can make their voices heard. This is very difficult without organizations like Hivos. You soon feel alone and isolated when you are not heard and when equal rights are not recognized. It is precisely then that it is extremely important to know that there are people and organizations such as Hivos, who stand for what you stand for, who believe what you believe in. That support from others gives you strength.
It is so important that people outside the LGBTI community also stand up for equal rights and recognition. That is why Hivos supports brave people like Wanuri. With her work and her fighting spirit, she is an inspiring example for other filmmakers and artists in Kenya and beyond. People like them dare to take risks and take steps to break taboos. And that is essential for equality and for the freedom of LGBTIs.