In an important vote on July 12, the United Nations Human Rights Council adopted a resolution to renew the mandate of the Independent Expert on the protection against violence and discrimination on the basis of sexual orientation and gender identity (IE SOGI). It was adopted with 27 votes in favor, 12 votes against, and 7 abstentions, showing increasing support for the mandate.
The resolution enables the independent expert to investigate human rights abuses for the coming three years. The mandate was established in 2016 and is currently held by Victor Madrigal-Borloz, who replaced Vitit Muntarbhorn in 2018.
The UN Independent Expert on SOGI reports on human rights violations based on country visits, desk research and community reports. He/she also assesses the implementation of international human rights and reports to both the UN General Assembly and Human Rights Council.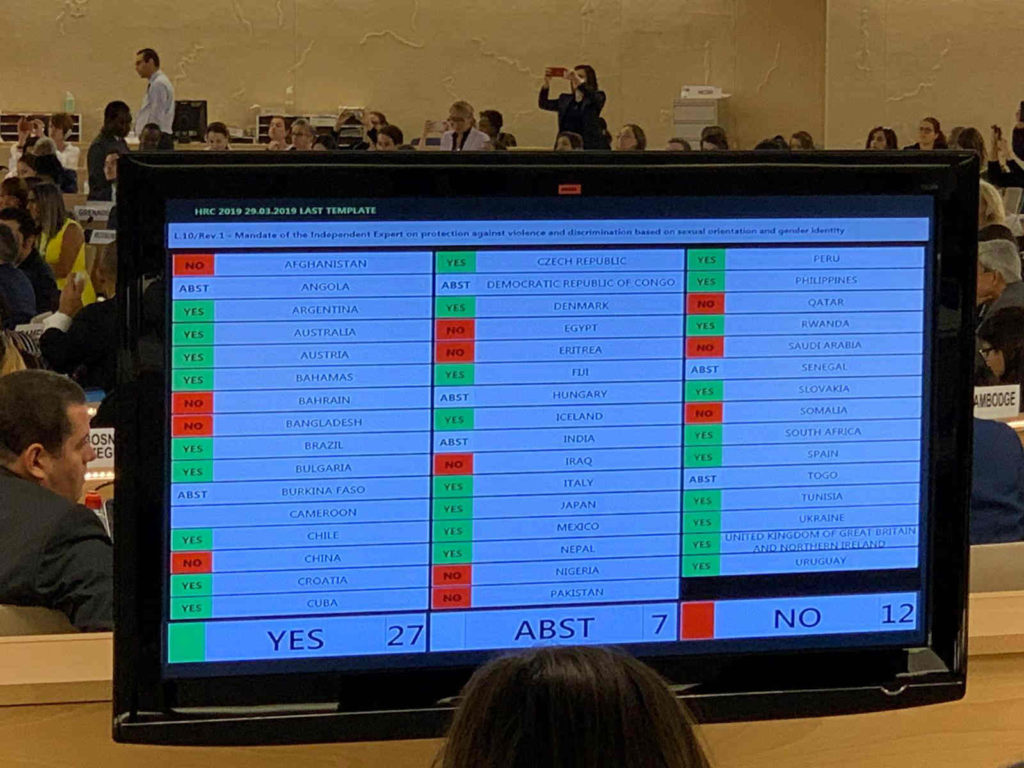 Murder of Bessy Watson: a reminder of the violence many face
Just last week, the murder of Bessy Watson, a trans activist from Honduras and part of our Right Here, Right Now platform, reminded us of the everyday violence and discrimination LGBTI people face across the world. Her murder does not stand alone: this month, already four trans women have been reported murdered in Honduras. And over the past decade, 300 killings of LGBTI people have been recorded.
It is of utmost importance that a special UN mechanism focus specifically on the human rights violations that are perpetrated against people just for being lesbian, gay, bisexual, trans or intersex. This is a reminder to all states that they have the obligation to protect and respect equal rights for all. This includes ending discrimination and violence on grounds of sexual orientation, gender identity and expression, and sex characteristics.
Heartfelt congratulations to the committed States and 1300+ civil society organisations for their extraordinary achievement – the renewal of the #IESOGI mandate at #HRC41. I am as humbled and determined as the first day to continue at your side in this, the journey of a lifetime. pic.twitter.com/O3LGPDfDsO

— Victor Madrigal-Borloz (@victor_madrigal) 12 July 2019
Right Here, Right Now in action
Despite the active opposition of some countries, it is encouraging to see an increasing number of states supportive of the mandate, also from regions that were reluctant at first. Members of the Hivos and Rutgers Right Here Right Now platform from a variety of countries joined the Human Rights Council session to make a plea for the renewal. Their work, collaborating with hundreds of other human rights defenders from all over the world, contributed to this result.
Hivos and Right Here Right Now are proud of this historic step towards equal rights for all. The international campaign calling for a vote in favor of the renewal of the mandate was led by ILGA, amongst others, and supported by Hivos and a coalition of 1311 non-governmental organizations from 174 States and territories. Hivos and Right Here Right Now encourage all governments to fully cooperate with the UN Independent Expert on SOGI, hoping we will live to see a world where anyone can say, "I'm free to be me."