The international discourse on food first shifted from "we must feed the world" to "we must nourish the world." Now, it's "we must nourish the world in a sustainable way for the planet." But this way of framing the issue misses its mark because it leaves out what food really means to people.
For most people, food means much more than feeding or nourishing themselves. Maybe that is why organizations and research institutes haven't been able to mobilize the public to switch towards more sustainable and healthy diets. Food is a pleasure – an often a passion. It's an essential part of our cultures, traditions and emotions. Food is about sharing, celebrating, and loving. Food really is "who we are." That's why gastronomy and gastronomic movements, which elicit all these meanings of food, are key to achieving changes in food consumption patterns that will foster more sustainable and healthy food systems.
At the Central Market of San José, Costa Rica, we followed the Urban Epicurean Gastronomic Route, meandering through narrow alleys with over 200 shops, stalls and popular food restaurants called "sodas". Our tour was led by Alfredo Echeverría, one of the founders of the National Plan for Sustainable and Healthy Costa Rican Gastronomy and director of the Epicurean Gastronomy Club. We stopped frequently, fascinated by the huge variety of meat, fish, tropical fruits, vegetables, coffee and other local products prepared before our eyes. And we sampled delicious highlights of the local cuisine: chorreadas, gallo pinto, ceviche, guanabanas and passion fruit…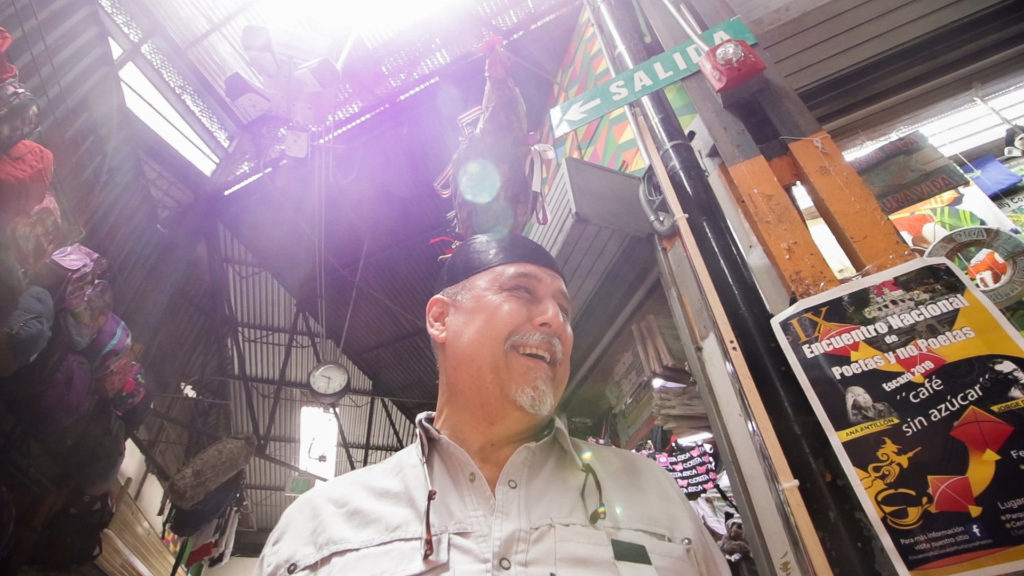 Alfredo is what we at Hivos call a "pioneer": a progressive citizen with great ideas, new solutions, high-impact collaborations and lots of guts. He works in the gastronomy sector and with organizations like the Foundation for Costa Rican Gastronomy (FUCOGA). In his own innovative way, Alfredo is trying to encourage more inclusive, sustainable and healthy food systems that preserve the culinary traditions and the diversity of the Costa Rican diet. And food markets are crucial to these efforts.
Food is the deepest expression of our culture. Food is who we are.
Chef Sam Kass in an interview with Corinna Hawkes at the 2018 EAT Forum
Markets, where food comes alive
In Latin America, a region with one of the highest urbanization rates in the world, food markets still play a crucial role in city-region agri-food systems. They sell local products, preserve culinary cultural heritage, and shorten the distance between producers and consumers.
Local markets not only connect the countryside with the city. They also promote business networks and develop local and regional economies. Whether formal or informal, temporary or permanent, their importance in local food system goes beyond selling food. Markets and their surroundings are also social spaces where farmers, sellers and customers meet to talk, as is the custom, exchanging news and just enjoying themselves.
This is the reason why markets are strategic places to promote inclusive, sustainable and healthy diets. Many civil society movements and gastronomy activists use tours, workshops, talks, courses and events at markets to raise awareness about healthy food, indigenous varieties and the important role people can play if they go back to preparing traditional dishes. This is what the Epicurean Gastronomy Club does. With more than 650 members, it holds activities that revive typical Costa Rican dishes and popularize a sustainable, healthy, affordable, nutritious, diverse cuisine that is also respectful of local traditions.
Are local, traditional diets actually healthy and sustainable?
Changing our food production and marketing patterns is not enough to achieve sustainable food systems. We must also bring about a radical change in the mindset of consumers and increase their demand for more sustainable and healthy food.
But … How sustainable and healthy are local and traditional diets? According to the report of the EAT-Lancet Commission, a diet rich in plant-based foods and with fewer animal source foods is healthier for both us and the environment. Approximately one half of a "planetary health plate" should consist of vegetables and fruits; the other half primarily of whole grains, plant protein sources, unsaturated plant oils, and (optionally) modest amounts of animal sources of protein.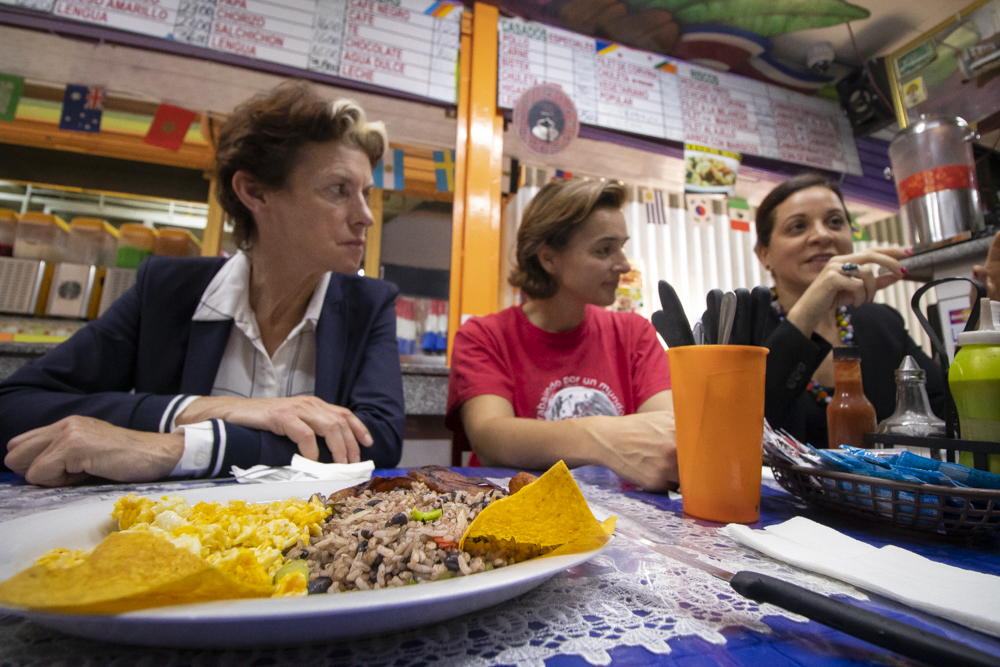 The report calls for a "great food transformation" at a global level, and thus radical changes in consumption patterns. This means not only doubling our consumption of fruits, vegetables, legumes, nuts and seeds, but also reducing our consumption of red meat and sugar by more than 50 percent – especially in the wealthiest countries.
Costa Rica, a pioneer and model
However, in some places the "transformation" may not have to be so dramatic, or may require another approach. For example, during our gastronomic tour of the Mercado Central, we noted that the traditional Costa Rican diet includes a low percentage of animal protein and an important amount of maize, rice and beans – which are sources of high-quality vegetable protein. We also saw the great variety of fruits, vegetables, tubers and grains available to and consumed by the population.
In Costa Rica, reviving traditional diets and adapting them to urban environments and lifestyles is a path that deserves to be explored. Hence the importance of local markets, and of pioneers like Alfredo.
Costa Rica has recently sparked great interest among the international community by implementing ambitious policies and programs to address its most urgent development challenges, amongst which rising overweight and obesity. These measures include a letter of commitment to combat overweight and obesity in Costa Rican children and adolescents, signed by ten ministers, an executive decree and a presidential directive to promote healthy food practices among the population.
Hivos shares this vision
Hivos is promoting, participating in and supporting several multi-stakeholder initiatives that pursue the same goals. We are fortunate in that there's a growing momentum for this in Costa Rica among progressive civil society organizations, an ambitious government, and a constellation of innovative actors from the private sector. The environment is now conducive to high-impact collaborations that can address these great challenges with passion and success.
One example is the Food Based Dietary Guidelines (GABAs) project in which Hivos is collaborating with the FAO, the Ministry of Health of Costa Rica and other interested food system actors. Our goal is to make sure the guidelines are not only nutritional, but also environmental, cultural and social.  We want to co-design communication strategies for these guidelines so they will really help people switch to more sustainable and healthy diets.
Hivos is also collaborating with the Costa Rican Presidency and several civil society organizations on an innovative communication platform to help different sectors of the population adopt more sustainable and healthy eating habits. Beyond nutritional and environmental information found in academic spaces, there is enormous potential for innovative ideas to promote sustainable and healthy diets based on social innovation.
In both projects, gastronomic movements and pioneers play a very important role in achieving the desired changes.
Our multi-stakeholder ambitions to foster sustainable and healthy food systems go well beyond Costa Rica. That is why we are collaborating with SUN Movement to join forces and expand these initiatives to a regional level. As Gerda Verburg from SUN Movement pointed out during our visit to the Mercado Central, we believe that Costa Rica's example can serve as a reference for the Latin American region and beyond, where we also working hand in hand with local partners and pioneers.
The power of gastronomy
To date, it remains a challenge to make healthy and sustainable diets the most desirable, affordable and easy choice. Adapting and applying expert recommendations such as the EAT Lancet report in some areas of the world would require a total upheaval of the local food system. But gastronomy can help us democratize a healthy diet within planetary limits.
That is why we have organized a side-event during the EAT Food Forum together with the members of our global gastronomy movement (Nordic Food Policy Lab, WWF, Slow Food and others), which will take place in Stockholm, Sweden, on June 12. EAT Food Forum, attended by the main world food leaders, shares knowledge and helps coordinate action between sectors and disciplines to adopt solutions that will transform the global food system.
During our side-event, participants will learn about gastronomy initiatives that can help achieve food systems change by leveraging local food culture to promote nutritious, environmentally-friendly diets. From the Costa Rican National Plan for Sustainable and Healthy Gastronomy, which will be presented by Alfredo, through innovative projects in Bolivia, Kenya and Indonesia, to the New Nordic Food Manifesto, participants will meet pioneers who will share their ideas on how we can promote and popularize sustainable and healthy diets in different contexts.
The side-event will also offer concrete examples, practical recommendations and scalable solutions, plus a global mapping of significant initiatives around the world that Hivos is developing with Nordic Food Policy Lab and other partners.
We look forward to seeing you at the EAT Forum to continue learning, debating and building inclusive, sustainable and healthy food systems. See you in Stockholm!