On December 10, representatives of the World Food Programme (WFP) receive the Nobel Peace Prize in Norway. The WFP works in 90 countries, supporting 100 million people who suffer hunger and food insecurity. The fact that the Nobel Peace Prize has been accorded to an organization like the WFP, supported by donations, shows how much we all depend on and need each other. Yet a wealthy minority on this planet indulges in reckless consumption while depleting everyone's resources. This makes us all even more vulnerable to climate change, and to health emergencies like the Covid-19 pandemic.
The voices of the most marginalized and forgotten – who are ironically at the very center of our food system – must be heard!
People first
Who are the majority in this unequal food, health and climate relationship? The people – often marginalized and voiceless – who grow, prepare, sell and cook our food. And they are the ones who should both drive and benefit from the systemic transformation we need to keep people and planet healthy. This was the main aim of the five-year Sustainable Diets for All (SD4All) program implemented by Hivos and IIED. The program, which is ending this year, built up citizen agency to influence government policies. The full evaluation of the SD4All program contains many valuable lessons on how food systems can be transformed at local, national and international levels.
Increased capacity for advocacy and research
Capacity development of partners proved to be the most important and enduring achievement of the program, with a total of 21 partners trained over the course of five years. IIED and Hivos implemented the Citizen Agency & Advocacy Toolkit that enabled SD4All staff and partners to use citizen agency approaches in national and local advocacy plans. These skills led to greater influence in promoting sustainable diets and agriculture diversification. We saw this in Zambia, where our partners persuaded the Ministry of Agriculture to develop a crop diversification strategy and new, healthy dietary guidelines for the country.
Effective multi-actor initiatives
The program successfully used multi-actor initiatives to link citizens with differing interests and create successful alliances to advocate for food system transformation. SD4All partners in Uganda expanded the indigenous and traditional food systems agenda even beyond their own network. In Bolivia, our partner Fundación Alternativas used their training to get the La Paz food security council to develop and implement its 2018 law for urban gardens.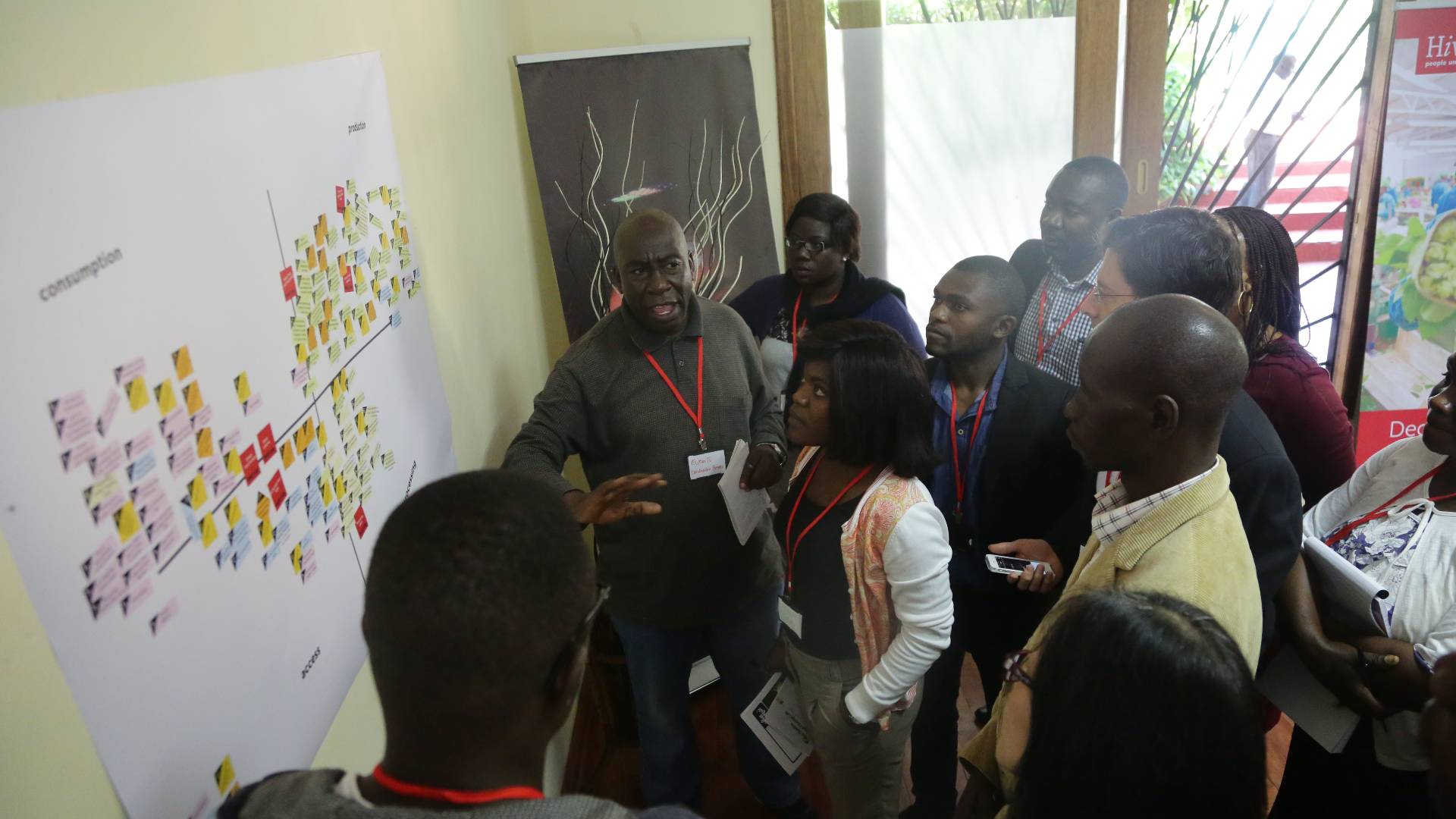 Sustaining our work beyond 2020
Our partners will continue applying the advocacy and research skills they gained and leveraging the networks built through the program. Less experienced partners and informal organizations (such as food vendors) have benefited from introductions to well-established partners and networks, and these relationships will continue. Our close work with government institutions at local and national levels will also ensure the program's sustainability. Partner Consumer Unity and Trust Society Zambia will continue the food policy initiative through the Food Policy Council. In Indonesia, the work of Tanoker will continue in other districts. There, policy makers are now more aware of healthy food, and children and their caretakers have become advocates for healthy diets. "The New Generation of Indonesian Cooking", a multi-stakeholder platform established with Hivos' support, will now be replicated in other cities. The Food Change Labs in Zambia and Uganda will also carry on thanks to additional EU funding.
Using governments' swift Covid-19 response to transform food systems
At a time when we are all affected by Covid-19, the Nobel Peace Prize for WFP shows that every life counts. It shows we cannot turn away from the plight of the hungry or the displaced. WFP staff put their own lives at risk to help. They keep the world's eyes on the conflicts and suffering so often caused by globalization and its negative impact on the food system. But no UN organization, no nation or large corporation, can single-handedly transform our food system. The response to the Covid-19 pandemic shows that swift, coordinated action is possible and that large-scale funding can be mobilized.
The same level of response and funding can easily transform our food system. For this to happen, governments should first of all prioritize getting food systems right. The UN Food Systems Summit that is bringing together heads of state in 2021 provides an excellent place to start this process. Food policies and decision making must build on citizens' lived experiences, and must allow for sufficient participation and accountability mechanisms. Food systems must work for the many, not the few. And the voices of the most marginalized and forgotten – who are ironically at the very center of our food system – must be heard!