By Eliana Quiroz G., Business Development Manager, Hivos Latin America
The June 2023 edition of the global RightsCon conference was the first time it was held in Latin America. Hivos participated with three sessions in the official program.
Now in its twelfth year, the conference organized by Access Now has become the most important global event on digital rights. It convenes activists, human rights defenders, government officials, journalists, donors and industry companies. This year, 8,000 people participated in person and virtually from 174 countries, all focused on building a digital future that respects human rights.
The three Hivos sessions at RightsCon featured conversations relevant for Latin America and other regions of the world. The first focused on climate justice and the rights of Amazonian women human rights defenders (WHRDs). The second explored the setbacks for the digital rights of women and LGBTIQ+ people caused by anti-rights and anti-gender groups. And the third looked at how AI-based content moderation on Arabic digital platforms results in censorship.
Amazon defenders, digital security, disinformation and open data
The physical presence of digital rights activists at RightsCon after three years of meeting virtually was an emotional shot in the arm. A good number of new faces also showed up, some of them sponsored by Hivos. We welcomed, amongst others, Marciely Tupari and Alana Manchineri, two environmental defenders from the Coordination of Indigenous Organizations of the Brazilian Amazon (COIAB). They caused quite a stir because Indigenous leaders don't normally participate in person at technology and human rights events. They shared their experiences in digital security and the strategies they use to counter aggressive disinformation in favor of the extractive industries that are destroying the Amazon rainforest.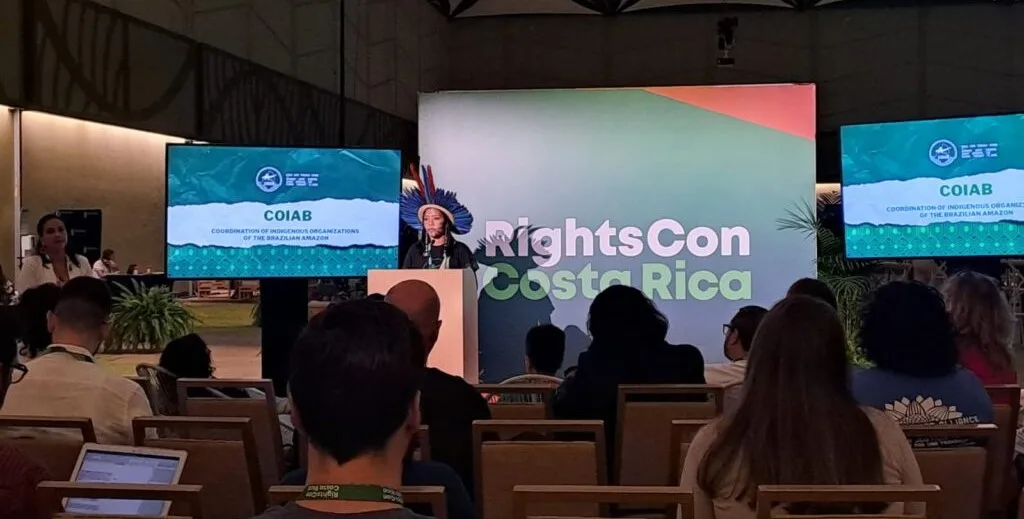 Their presentation coincided with a sensitive current issue: the parliamentary discussion of a controversial bill in Brazil. If approved, it would revoke the centuries-long ownership of Indigenous peoples over their lands and leave the door open for land appropriations and expulsions by companies. The activists' passionate defense of the Amazon was widely applauded by conference attendees from all regions.
A representation from the Office of the Rapporteur for Freedom of Expression for Latin America happened to be at RightsCon. Marciely and Alana informed them of the dangers posed by the draft legislation in Brazil and about the constant intimidation and violence against environmental activists and protesters in the country.
A manifesto for the digital rights of women and LGBTIQ+ people
Hivos, PROMSEX, and Derechos Digitales held a closed hybrid session with 40 national and regional organizations and our Guatemalan partners Visibles and GAX.
Participants shared countless cases of digital and physical violence suffered by women and LGBTIQ+ people. Of greatest concern is the new anti-rights tactic of occupying spaces like parliaments, health and education ministries, and even international human rights organizations like the Inter-American Human Rights System. Figures from just two countries demonstrate the enormity of this onslaught. In 2022 in the US, legislative bodies discussed 317 bills against LGBTIQ+ people, a figure that at this point in 2023 has doubled. In Brazil, 200 draft laws have been put forward since 2014 to prevent what politicians call "gender ideology indoctrination" in schools. What they are actually trying to get rid of are rights-based sex education programs and training to prevent sexual violence.
The session ended with a joint draft manifesto denouncing the reversals in the digital rights of women and LGBTIQ+ people caused by anti-rights and anti-gender groups. The final version will be released in the coming weeks.
AI censorship: content moderation of 25 Arabic dialects
This session addressed the problematic use of Artificial Intelligence (AI) for content moderation by large Arabic digital platforms, which results in censorship. Although there is a standard version of Arabic, more than 25 spoken Arabic dialects are usually used to post on social networks. This makes it difficult for AI to recognize the particularities of dialects and their specific contexts. So the automated AI-based moderation programs simply censor all the posts they misunderstand.
We demand instead that these platforms implement transparency standards both for their algorithms and their databases used by AI to improve their moderation systems and uphold the freedom of expression of users who use Arabic dialects in their social media posts.
Artificial intelligence is in fashion
The topic that garnered the most attention was undoubtedly AI governance, largely in reaction to the recent release of ChatGPT, a generative AI. The question on everyone's lips is how to avoid discriminatory biases and stereotypes creeping into and being perpetuated by AI. Other important issues are: who should make decisions regarding AI development; how to ensure transparency of algorithms; technology-enabled gender violence; personal data protection; end-to-end encryption; internet shutdowns, and censorship. There is an urgent need for regulation, transparency, accountability and human rights-focused AI design.
To be continued….
After four days of RightsCon we realized how much work is needed to ensure that civic spaces strengthen democracies online and offline. Hivos is contributing and will continue to do so by putting digital rights and their defenders front and center.