By Nyambura Gathumbi, global program manager of We Lead, a five-year partnership that fights for the sexual and reproductive health and rights (SRHR) of young women and girls in nine countries.
That the situation of migrant domestic workers in the Middle East is a humanitarian crisis is not in doubt. Countless stories and exposés in the media have revealed the inhumane working and living conditions these workers endure. But reading about them still didn't prepare me for hearing them first-hand from those involved when I went to Beirut this last June.
I went there to visit Egna Legna Besidet, one of our We Lead partners. I was immediately struck by the passion and resilience that drives the work they're doing with migrant domestic workers. It reminded me of the famous African proverb: "If you think you're too small to make a difference, try spending the night with a mosquito." Egna Legna Besidet started off quite small, working under difficult circumstances, yet their determination drove them toward the evident progress they had made by the time I visited.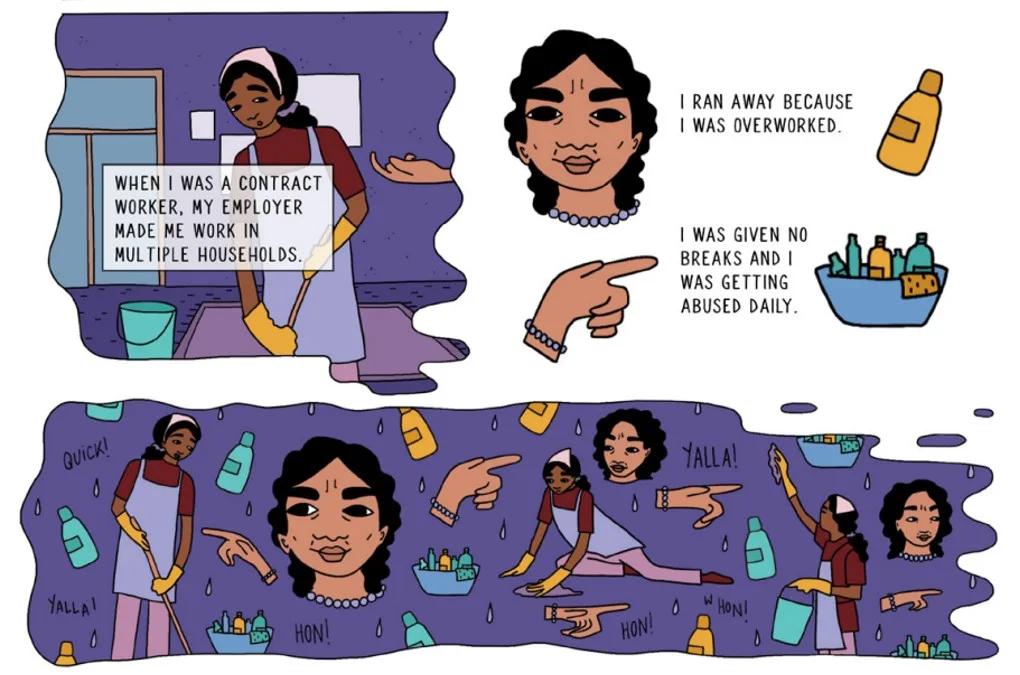 Young women collectively build their own safety net
Egna Legna Besidet, which roughly translates from Amharic as "from us migrants to us migrants," is a collective of young Ethiopian domestic workers based in Lebanon that upholds the dignity of fellow women domestic workers. Formed in July 2017, the organization helps thousands of mainly African domestic workers escape the exploitation and abuse routinely meted out on them by their employers.
Initially, these young women came together through online engagement to raise awareness, realizing the lack of women domestic worker-led organizing to improve their wellbeing and access to rights. This led them to visit shelters and health facilities and offer their support to migrant women workers in distress.
In multiple crises, migrant women are most affected
In a country facing multiple crises, from hyperinflation and bad governance to weak regulation in many sectors, systematic abuse and exploitation of migrant workers seems almost inevitable. It takes many forms, starting with luring workers to Lebanon under false pretenses and lying to them about the work they're going to do.
"When I left home, I was made to believe I was coming here to study. I came from a good family where I wasn't used to doing domestic chores, let alone forced labor. I had dreams of furthering my education and making something out of my life only to land here, have my passport confiscated and be taken to a house to work as a domestic worker. I was forced to sign a contract in Arabic, a language I didn't understand."
This is just the beginning of the story of a member of Egna Legna. She's now teaching migrant workers their rights and trying to stop young Ethiopian women from coming to Lebanon and ending up in a similar situation, or worse. Several women she had rescued who were forced into cycles of unpaid labor, also endured sexual abuse, physical violence, homelessness, and unjust imprisonment.
The Kafala system
How is all this even possible? Lebanon's infamous "Kafala system" facilitates and even systematizes the dehumanization and exploitation of foreign domestic workers.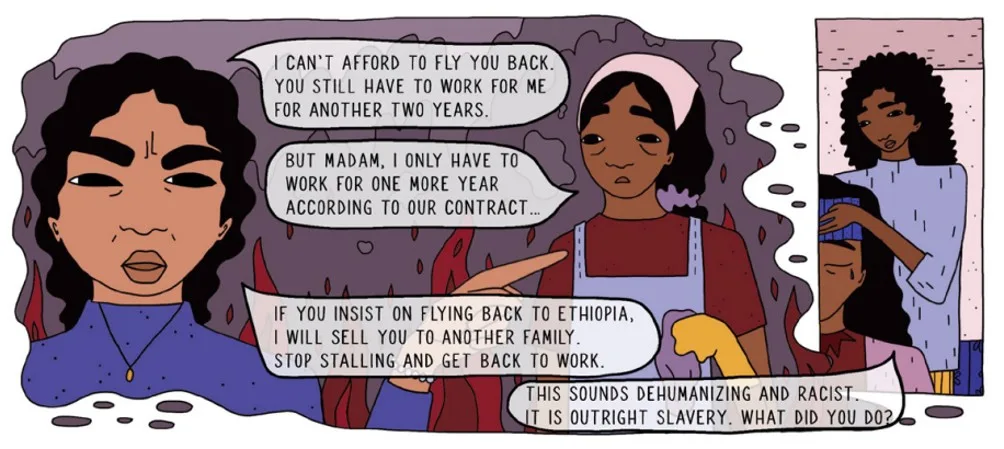 "Kafala" is a sponsorship system that ties migrant workers to their employers and prohibits them from terminating their contracts without the consent of their employer. The system gives employers almost complete control over workers' lives, making workers vulnerable to all forms of exploitation and abuse. It has also emboldened many Lebanese employers to use different tricks, including falsely accusing domestic workers of theft, to avoid paying them or honoring the terms of their contracts. And, if they escape, they're regarded as illegal aliens.
It's high time to change the system
As we sat in Egna Legna's office listening to these stories, all kinds of questions flooded my mind. How is it possible that thousands of young African women continue to end up in such dehumanizing circumstances in Lebanon without our governments making any effort to protect them? Why are recruitment processes not regulated? Why is nobody held accountable for abusing migrant workers? Why don't embassies support women who need help? And in the case of Kenya, why isn't there a contact office in Beirut to support these women? Given the notoriety of the Kafala system, this is the least one could expect.
We need to dismantle this system entirely and replace it with a structured, progressive, transparent and accountable process of employing migrant domestic workers, and not only in Lebanon. That's why Egna Legna has turned workers' stories into a graphic novel that that will be showcased this month in Beirut. Hopefully this can build on some of the initiatives of UN agencies and INGOs to abolish the Kafala system.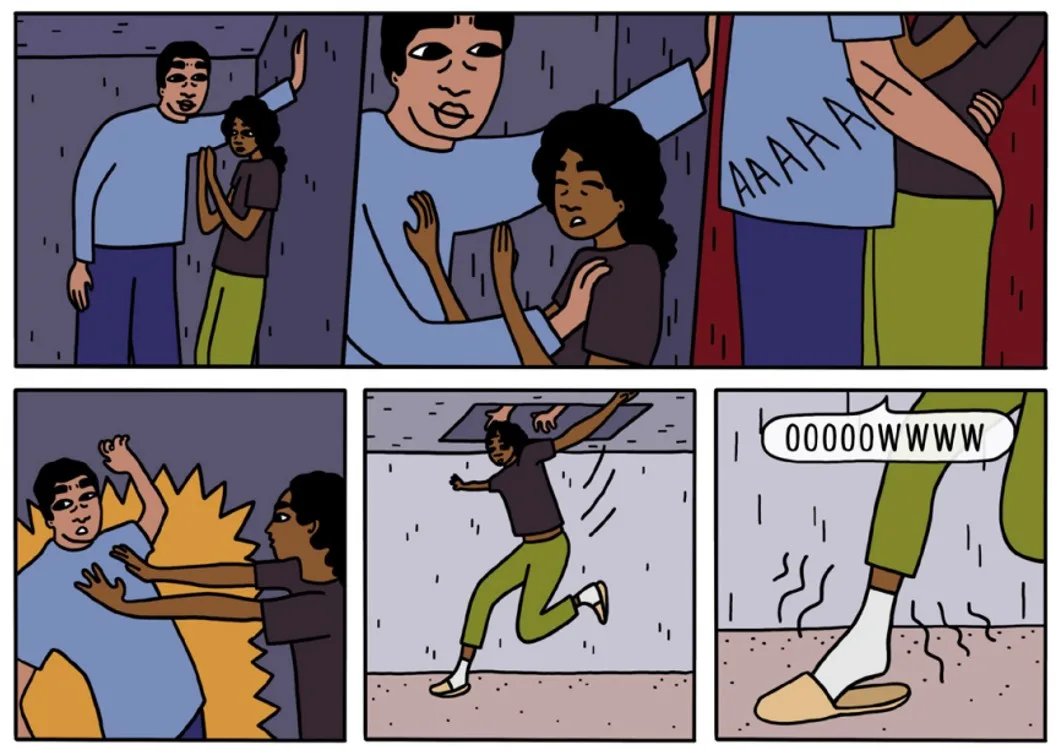 Migrant workers' rights and SRHR
There are also clear connections between migrant workers' rights and their sexual and reproductive health and rights (SRHR). The graphic novel launch will also provide a good opportunity to discuss the sexual violence these women face constantly. Many young women, deprived of SRHR services and/or victims of sexual violence, have become single mothers. Most of their children are, in effect, stateless and can't access education or other public services.
Egna Legna deals with so many SRHR issues, including sexual violence and the lack of SRHR services for migrant workers, that an even broader campaign is needed to push for policies to address these issues. A collective, international campaign to abolish the Kafala system and introduce legal reforms would benefit all migrant workers regardless of their country of origin. These women deserve better. The work of organizations like Egna Legna is essential, but we need governments to stand up and protect migrant domestic workers' basic human rights.
Women Deliver
The We Lead program aims to confront systemic oppression and open up conversations on injustice. This is why we work with organizations like Egna Legna. In the week of July 17 – 20, Nyambura Gathumbi and other members of Hivos' We Lead program are attending the Women Deliver Conference in Kigali, Rwanda, where Nyambura will reflect on her recent visit to Lebanon. If you're there, come by the Hivos booth to meet the We Lead team and pick up a free copy of the graphic novel.