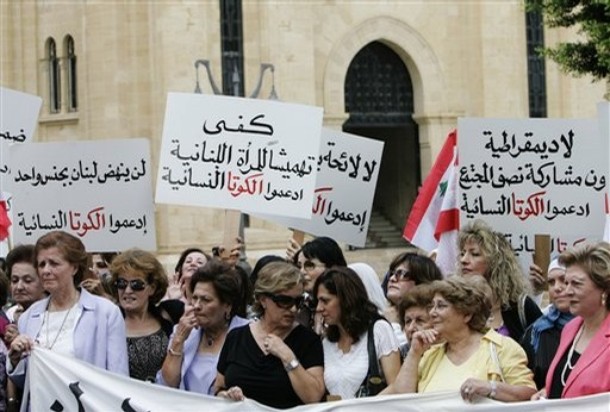 Why we need the women's quota in Lebanese elections
By Noura el-Turk & Doreen Khoury
Hivos WE4L Partner LADE criticises the failure of parliament to adopt the quota in the new election law
Elections and election laws have always been a contentious issue in Lebanon, especially since the end of the Lebanese civil war in 1990. The political establishment, made up of patriarchal leaders of mostly sectarian-based political parties, views elections as a means to maintain power over their communities, state institutions and thus ensure the survival of the clientalist political system in Lebanon. Thus unsurprisingly, the Lebanese political system is inhospitable to women, youth and citizens without the necessary financial and political networks (For more on how patriarchy and sectarianism disadvantage women in Lebanon, please read our baseline study).
Having fair, representative and democratic elections is not the standard set for electoral laws. Their function is to deliver what each party considers is its "fair share" of the political spoils: namely, access to lucrative government contracts and use of state institutions for clientelist purposes, among other things. Thus any talk of equal gender representation is usually brushed aside, let alone transparency or fairness.
A new election law: mostly old, something new, but no women
Since they were last held in 2009, Lebanon's elections have been postponed three times in the last decade or so, with parliament each time illegally extending its mandate. In June 2017,  After 8 long years of disputes, delays and inconclusive meetings,  the Lebanese parliament finally passed a new electoral law. The law introduces proportional representation for the first time in Lebanon. This development is positive and may possibly which invigorate the political system. However, it remains a very small step towards fair representation and proper structural changes.
Hivos partner, The Lebanese Association for Democratic Elections (LADE), organized on the 25 July 2017 in Beirut a public meeting at the Metro Medina theatre to further discuss the  new electoral law and to highlight the failure of parliament to include the women's quota in the law.
LADE has criticised the new law for limited transparency and access to information, an increase in the campaign financing ceiling and clear gerrymandering in district delineation. Whileproportional representation was included, the actual electoral system adopted will produce majoritarian results.  For a comprehensive review of the new Lebanese electoral law, please see LADE's  presentation here.
Another major disappointment, and the main focus of this post, is that the law failed to include the women's quota, despite intensive lobbying by women's rights organisations.
Why we need  the women's quota in elections
Miss Zeina Helou, LADE's Secretary General, said in her opening speech, that the quota gives men and women the same equal starting point in elections. It is an indispensable step, given the dominant political and social norms that deny women  an equal position in the political arena.
A common accusation usually made against Lebanese women – "it's their fault for not being present enough" –   puts the blame on women for not "stepping up" to the task. Such derogatory statements are groundless and come from a resistance to change.  Helou says that  we need to dig a little deeper and find out how women are represented in society and why is it that they're not "present" in political circles.
Since the end of the Lebanese civil war many women entered the work force to support their families. This broadened their involvement in the economy and public life. Women in However Lebanon are still seen predominantly as caretakers in society. Their contribution to society is believed to revolve around taking care of the household. "A woman's greatest role is being a mother", is a typical phrase, used often to silence women who oppose the label of household caretaker.  Helou says that women's participation in public life was seen as an extension of her "caring" role:  limited to social work and NGOs, and thus caring for to the less fortunate.
While it is true that there are many female members in political parties,. Very few have obtained leadership roles and are largely relegated to administrative tasks.
Given the dire situation for Lebanese women in politics,, LADE, through the Hivos Women Empowered for Leadership (WE4L) programme, added a new criterion to their election-monitoring efforts: gender. Gender-based election monitoring was piloted during the 2016 municipal elections and will become an integral part of LADE's election monitoring during the May 2018 general election. The essential criteria of election-monitoring – free, fair and democratic – are now also observed through the gender equality lens.
Ultimately, as Helou says, Lebanese people live in a society that gives more importance to customs and traditions than to human rights and equality. "That is why it is of utmost importance that we persevere in our efforts to completely eliminate gender bias in Lebanese society."