You can easily pass Tabu Osusa on the streets of Nairobi without recognizing this historical figure's contribution to East Africa's arts and cultural space. Born 67 years ago in Western Kenya, Tabu has carved out a name for himself in the arts, culture and music scene. He has put on different hats in his 40-year music experience as a songwriter, band manager, author, music producer and recording artist.
In Kenya, he is the founding Executive Director of Ketebul Music, a record label, video production facility, and recording studio that combines the varied traditions of East African tribal music with the best of contemporary artists to showcase the region's rich diversity.
Recently, he was awarded for his contribution to Kenyan music through the Order of Arts and Letters Honours by the French Ambassador to Kenya: Madame Aline Kuster-Menager. Hivos East Africa's Sally Akinyi had a sit down with him to understand his journey in East Africa's creative and cultural scene.
SA: Tell us about yourself
TO: My name is Tabu Osusa. I am the founding director of Ketebul Music, a not-for-profit organization based in Nairobi, Kenya and also the lead author of the popular 'Shades of Benga'. This is a book, which delves in the history of popular music in Kenya from 1946 (after World War 2) to 2016.
SA: As the founder of Ketebul Music, please share with us this side of your history
TO: Ketebul Music was established in 2007 with the core mission of researching, documenting, developing and promoting the diverse music traditions of East Africa. This was quite imperative for us given we have always felt there's a huge disparity when it comes to capturing, preserving and archiving our cultural heritage especially for current generations and those ones to come.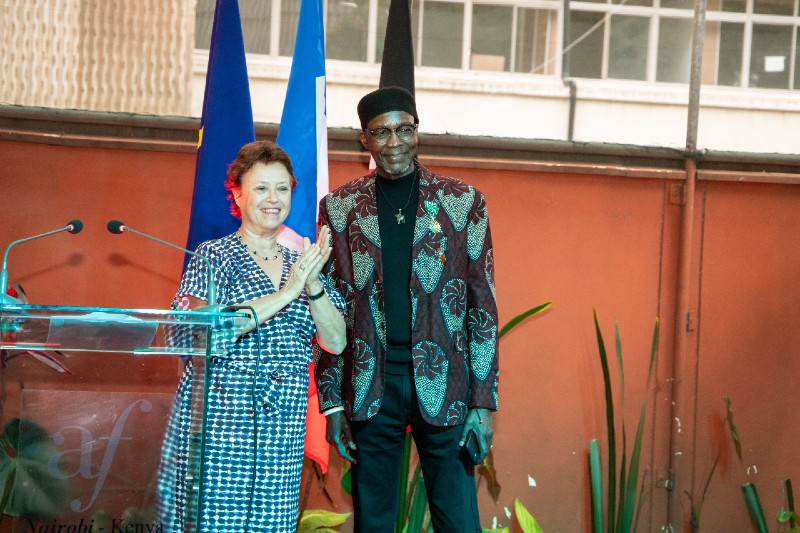 SA: Your contribution to the art and cultural space in East Africa spans to 40 years as a songwriter, recording artist, band manager, author, documentary, film and music producer. This is massive. How has your journey been?
TO: At the age of 9 years I moved from home and spent some formative years studying at St. Peter's Seminary in Mukumu, Kakamega County. I obviously didn't make it to become a priest as I discovered my calling in music. This was further affirmed in Kinshasa, the Democratic Republic of the Congo where I met the prominent Kenyan jazz saxophonist: Ben Nicholas who mentored me in music.
SA: You mentored top performing bands in the 70s and 80s at a time when civic rights was under siege in Kenya.  How was your experience at this time?
TO: I not only mentored many artistes but co- founded the famous band: Orchestra Virunga together with Samba Mapangala.
Civic rights was indeed under siege in Kenya during the one-party rule of former regimes led by Presidents Jomo Kenyatta and Daniel Arap Moi . These regimes were characterized with zero tolerance to any form of criticism or dissent either through music or art which in many ways stifled social accountability.
Our group Orchestra Virunga was unfortunately not spared.  In 1985, non-Kenyan members of the band, including Samba Mapangala were denied work permit and kicked out of the country for allegedly 'being too friendly' with opposition politicians.
SA: What would you identify as your unique contribution to the artistic and cultural space and what do you want to be remembered for?
TO: I have taken in unique roles to promote Kenyan music both locally and internationally. First, since 2008 I have been the project coordinator of the research- based documentary series: Retracing the Benga Rhythm, Retracing Kikuyu Popular Music, Retracing Kenya's Funky Hits and Retracing Songs of Protest. This is a series that has been keen on preserving memory and Kenya's music heritage.
Secondly, together with the Alliance Française in Nairobi we started a program known as Spotlight on Kenyan Music, which ran for over six years. Its main goal was to discover and promote young talent. Some of the beneficiaries from the program include: Makadem, Juma Tutu with his Swahili jazz, the female trio Gargar from Garrisa, and Sauti Sol (by then they were simply known as Sauti).
Lastly, I am the co-founder of Singing Wells, a partnership between Ketebul Music and Abubilla Music Foundation (UK). The project's goal is to record and archive traditional sounds and music of Eastern Africa.
SA: How do you think technology is going to shape the culture and creative industries going forward?
Technology makes it easier to do things better than they were before by increasing accessibility but it has its pros and cons .
A good example is when the cassette recorders were introduced to replace vinyl records.  Piracy was quick to take root in the music industry making creatives loose their earnings immensely.
There is also the danger of countries with stronger economies monopolizing the creative spaces.
SA: Regimes are growing intolerant to critical artists. What's your advise to upcoming young artists and creatives who want to grow their careers in this area?
My firm belief has always been that one should not make themselves an obvious target.  An artist can still be a harsh critic of injustices in society but one needs to use an artistic camouflage style when dealing with intolerant regimes. If you make yourself an easy target you obviously become a victim.
SA: How has Hivos been part of your journey? Describe the partnership in the context of some of the projects that were supported and how this influenced your work
TO:Hivos was one of the first institutions that supported Ketebul Music in developing a proper strategic plan way back in 2013, which was critical in achieving our strategic goals. Hivos is equally one of the few partners who believed in us and showed willingness to walk with us in this journey. Their approach to freedom of expression in terms of incubating spaces where artists can bud and grow is similar to what we do at Ketebul Music. Our book Shades of Benga  is courtesy of their support.
SA: You recently got recognized and awarded by the French for your role in Kenya's music space. Congratulations! How does this make you feel?
TO: It feels wonderful being recognised beyond my country.  This recognition has also brought an immense opportunity to further promote Kenyan music.