By Laudy Issa
Hivos believes in a free and diverse world where people have the right to decide over their own bodies and sexuality without stigma, discrimination, or exclusion. Our work takes us to Lebanon, where inspiring partners like SEEDS continue to fight for sexual and bodily rights despite conservative forces.
Lebanese law does not forbid someone to be part of the LGBTI+ community. However, the law's vague terminology does allow authorities to interpret it in a way that instigates hatred and exclusion of these individuals.
Hivos' partner SEEDS provides a solution for these hard-to-understand laws by helping everyday civilians and activists decode them. Founded in 2016, this non-profit legal initiative hopes to motivate people to understand their rights rather than give them up because of the way the law is written.
In a country where police regularly stage raids on LGBTI+ events, SEEDS is a much-needed legal initiative.
"The goal is to make laws accessible," explains Roula Najem Abou-Mrad, a veteran journalist and a communications consultant at SEEDS. "Trying to read legislation can be intimidating, from its structure to its complicated sentences. We teach the literal meaning of the law and make it less complex by translating it into simple terms."
How authorities use the law to persecute LGBTI+ Individuals
Article 534 of the Lebanese Penal Code prohibits sexual relations that "contradict the laws of nature," a vague phrasing that has historically been used by authorities to persecute consensual same-sex relations.
The article was put in place in the early 1900s, when Lebanon was under the French mandate, and can punish offenders with up to one year in prison. However, recent years have seen groundbreaking decisions from some Lebanese court judges. They have chosen to liberally interpret the law in a way that protects the sexual rights and freedoms of LGBTI+ individuals rather than sentence them to prison.
And in March 2019, Lebanon's top military prosecutor ruled that homosexuality is not a crime and declined to prosecute four military personnel charged with "sodomy." The ruling was the first of its kind in the military judiciary.
Helping lawyers defend LGBTI+ people
In a country where police regularly stage raids on LGBTI+ events and conferences, SEEDS is a much-needed legal initiative.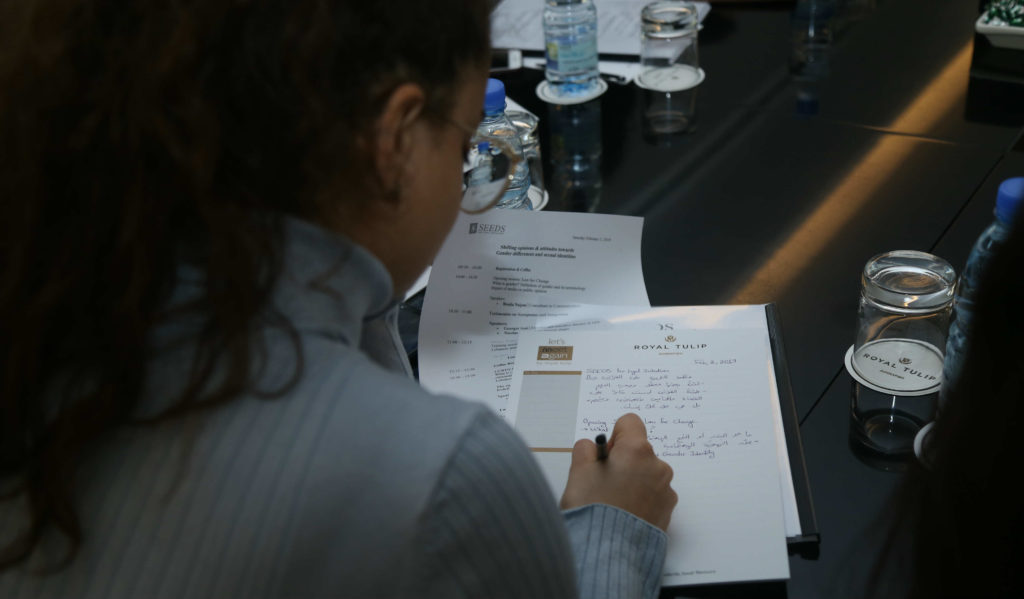 Not only does it spread awareness about Lebanese law; it also protects different minority groups by teaching law students. Through its accessible workshops hosted for individuals across the country and throughout the year, SEEDS teaches lawyers and law students to defend individuals prosecuted under Article 534 of the Lebanese Penal Code.
Countering Perceptions
Although SEEDS was born out of a need for simplified and accessible legal knowledge, it has grown into an organization working to alter public perceptions. Through social media campaigns and its workshops in the past two years, SEEDS also counters the ridicule faced by LGBTI+ individuals when they appear in mainstream media.
"We've never seen a talk show featuring a LGBTI+ person who seems comfortable and reconciled with themselves and who is living their life normally like anyone else," says Abou-Mrad. "They always pick a person experiencing difficulties unrelated to their sexuality – extreme cases to improve media ratings."
Aside from focusing on legal and medical perspectives, SEEDS targets negative stereotypes and educates people to view the LGBTI+ community more positively. The first step is often convincing citizens just to accept things they hear about the community that differ from their own opinions.
A consortium of advocacy groups, including SEEDS, has started a project to shift opinions about the LGBTI+ community. SEEDS director Layal Sakr tells us, "We personally trained 50 students about the LGBTI+ community, highlighting what the law and medical field say and advocating for the acceptance of these individuals using a life coach approach."
SEEDS' comprehensive work brings the law within reach of all, teaches lawyers how to defend LGBTI+ individuals in court, and is creating a slow but steady shift towards positively reinterpreting Article 534. At the same time, its research and workshops are bringing acceptance and understanding to Lebanon's LGBTI+ community.
Hivos is proud to have SEEDS as a partner in our LGBTI+ program.