Interview written by Marc Broere, ViceVersa
"A Ugandan girl is always judged by whether she would make a good wife, not a potential member of the workforce," says Leah Eryenyu, a professional feminist who's fighting to improve the rights of women in the flower sector. "With a living wage women could flourish and take well-considered decisions about their lives."
Leah works at Akina Mama wa Afrika (AMwA) as feminist activist on leadership strategies. She is a partner of Hivos and will be one of the speakers at the conference The Only Way is Up! during the session 'African women take centre stage', where she will discuss the place of women in the flower sector supply chain. The Dutch development cooperation magazine ViceVersa interviewed Leah for their special jobs report edition 'The world of work.'
A feminist journey
Every women embarks on a feminist journey in life, in the opinion of Leah Eryenyu (31). Her own journey is an interesting and very personal story.
She grew up in a family of seven girls, with a father who had a good job in government, and who was the only breadwinner. There were times when she sensed pitiful glances or heard comments uttered by people about what a shame it was her father had not produced a son to secure his legacy.
Moreover, she knew there was a reason why she was one of seven children: her parents were still trying to conceive a boy. But it was only after the death of her father that Eryenyu - the second daughter of the family - began to really experience what it was like to be a girl.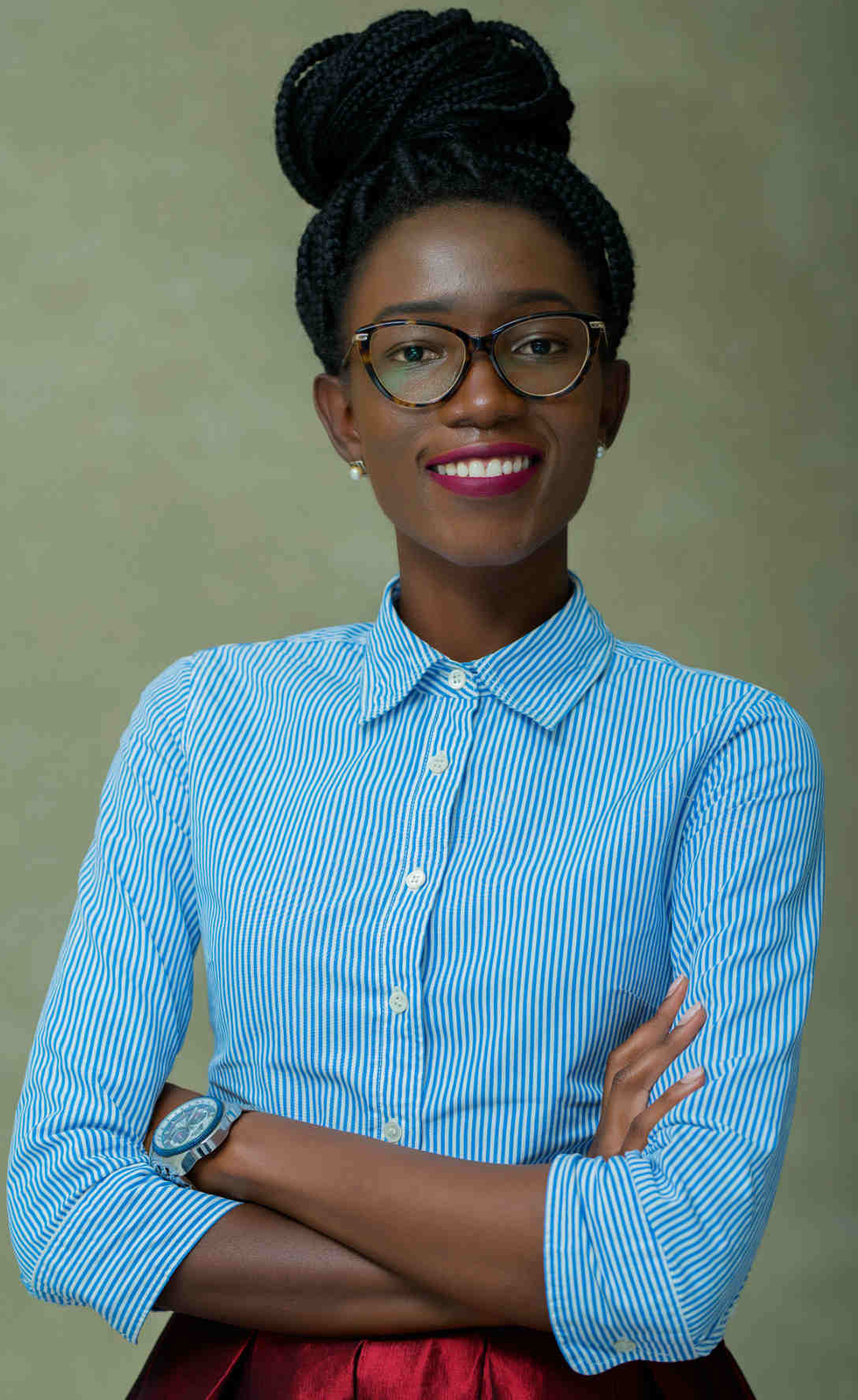 She had to move with her sisters and their mother from the capital to a village, where they were not allowed to wear trousers or to contradict men. Village meetings were even organized because the men did not think the seven sisters showed enough respect and needed to learn some discipline.
When she was eleven years old, Eryenyu had to accompany her illiterate mother to offices where their father's inheritance was being discussed, and she saw they how his property was taken from under their noses. She felt discriminated against and badly treated.
This laid the foundations for what she wanted to do later in life: to fight for women's rights. Initially she called herself a women's activist, but later acquired an academic framework, and for the past five years she has consciously called herself a feminist.
"Calling yourself a feminist is a political choice," she explains. "It's a political identity that indicates you want to dismantle the structures giving women a marginalized position."
Things worked out for all the sisters, and they fought for their independence. They are very close because of what they have been through.
Strengthening women's leadership
Leah Eryenyu works at Akina Mama wa Afrika, which was founded in 1985 to strengthen women's leadership and build a movement. She is grateful that she has found this work. "My work is my life and my life is my work."
One topic in her portfolio is the position of women in the workplace in Uganda. Her organization is a partner in Hivos' Women@Work campaign that aims to improve the working conditions and the position of women in the horticultural sector. Eryenyu and her team train women at large flower companies and listen to their stories.
"Only the women themselves can tell us what goes on," she says, "but they lack the knowledge and the context in which to politicize it and see that their position is institutionalized and that you have to change the structure. Many women think their subordinate position is part of our culture, or that God intended it for creation."
Eryenyu explains that in terms of women's rights, Uganda's constitutional law is one of the most progressive in the world, but that in practice it's no garden of roses. "Take the example of education: lots more boys than girls complete their schooling, which gives them an advantage on the labor market.
"When a girl is born," she continues, "it is often said that the mother has given birth to 'sugar', because a girl can relieve the family financially if she gets married through the bride price she receives." This means a girl's value has been defined in this way since the beginning. The way girls are viewed is always whether she would make a good wife, not as a potential member of the workforce.
"The value of an education for girls is limited, especially in rural areas, because men consider being a good wife the greatest possible achievement. The ironic thing is that girls often look forward to getting married and consider it the most important thing in their lives because it gives them autonomy.
If you ask a girl why she wants to get married, she'll tell you it's so she can have her own house and decide for herself what she's going to eat. But she doesn't see the downside, that she will not be the one to earn the money and have any control of the household income. But if you live in abject poverty, you are choosing a life in which you will suffer every day."
Major challenges
If she looks at the job market in Uganda through a gender lens, Eryenyu also sees major challenges. "The informal job sector consists almost exclusively of women; they start their own businesses because often they can't find a job.
At the moment every shilling is spent paying for rent, food and on the children—and it's not even enough.
"In the formal sector, management roles are often reserved for men and the low-level jobs, such as secretaries or cleaners, for women. This is because more men complete their schooling and continue their studies.
"Our research reveals that the State is a much better employer than the private sector when it comes to gender: the pay gap is far smaller in government jobs than in the private sector, where there are also no regulations to improve the position of women. Since women are generally less well educated than men, their negotiating position regarding working conditions is also a lot worse."
A living wage
The Women@Work campaign focuses on a living wage, sexual intimidation, and health issues at flower companies. "Our primary task is to build up women's leadership role in the flower sector," Eryenyu explains.
"During our training courses, women receive a one-day seminar in feminist theory. These training courses are often designed around matters such as speaking in public, but ours focus solely on creating political awareness.
"At flower companies you now see the majority of personnel is female and involved in physical labor. There are virtually no female managers, and as a result they are not able to take decisions that have an impact on their position."
Eryenyu also engages in dialogue with heads of personnel departments in the flower companies. "About the fact that they often think women are only suited to be pickers or sorters," she reveals. "I completely understand that men are less suited as pickers, because you need a delicate female hand for that job. Men are often too rough when they pick, which reduces the flowers' value.
"The point is that a picker is one of the lowest paid jobs. They should increase the salary then, precisely because this work is so important. What's more, it's physically demanding, because you spend the whole day bent over. We believe women deserve compensation for that."
Her dream is a living wage for all women in the flower sector. She believes the impact would be huge. "It's the difference between living and surviving. At the moment every shilling is spent paying for rent, food and on the children. Literally, all the money you earn has already been allocated—and it's not even enough."
"With a living wage women could flourish. It would enable them to take well-considered decisions about their lives, while today the decisions are not really theirs."