Thousands of women who experience gender-based and disability-based violence in Indonesia can now get counseling and online legal assistance from women's rights groups. These services are made possible by two partners of the European Union-funded ACTION program (Active Citizens Building Solidarity and Resilience in Response to Covid-19): The Advocacy Center for Disability, Women and Children Foundation (SAPDA), in collaboration with Institut KAPAL Perempuan, launched new legal and psychological counselling services at Rumah Cakap Bermartabat and an online complaint service Halo KAPAL Perempuan.
"The social and economic impacts of the pandemic are disproportionately pushing women and girls into poverty, and the risk of violence against them is rising. In the efforts to prevent and response to gender-based violence, the EU is proud to support the development of these services."
Vincent Piket, EU Ambassador to Indonesia and Brunei-Darussalam
Violence in the household environment
Around 300,000 Indonesian women experienced violence in 2020, according to the Annual Note 2021 of the National Women's Commission. Almost eighty percent of these incidents happened within the household environment, with 0.03 percent affecting women living with disabilities.
"Violence against women and people with disabilities is not always limited to visible physical violence," said Nurul Saadah Andriani, Director of SAPDA. "People can also be depressed when experiencing indirect violence in the form of neglect from families, having an unequal position among other family members, or when their opinion becomes unheard," Ms. Nurul explained.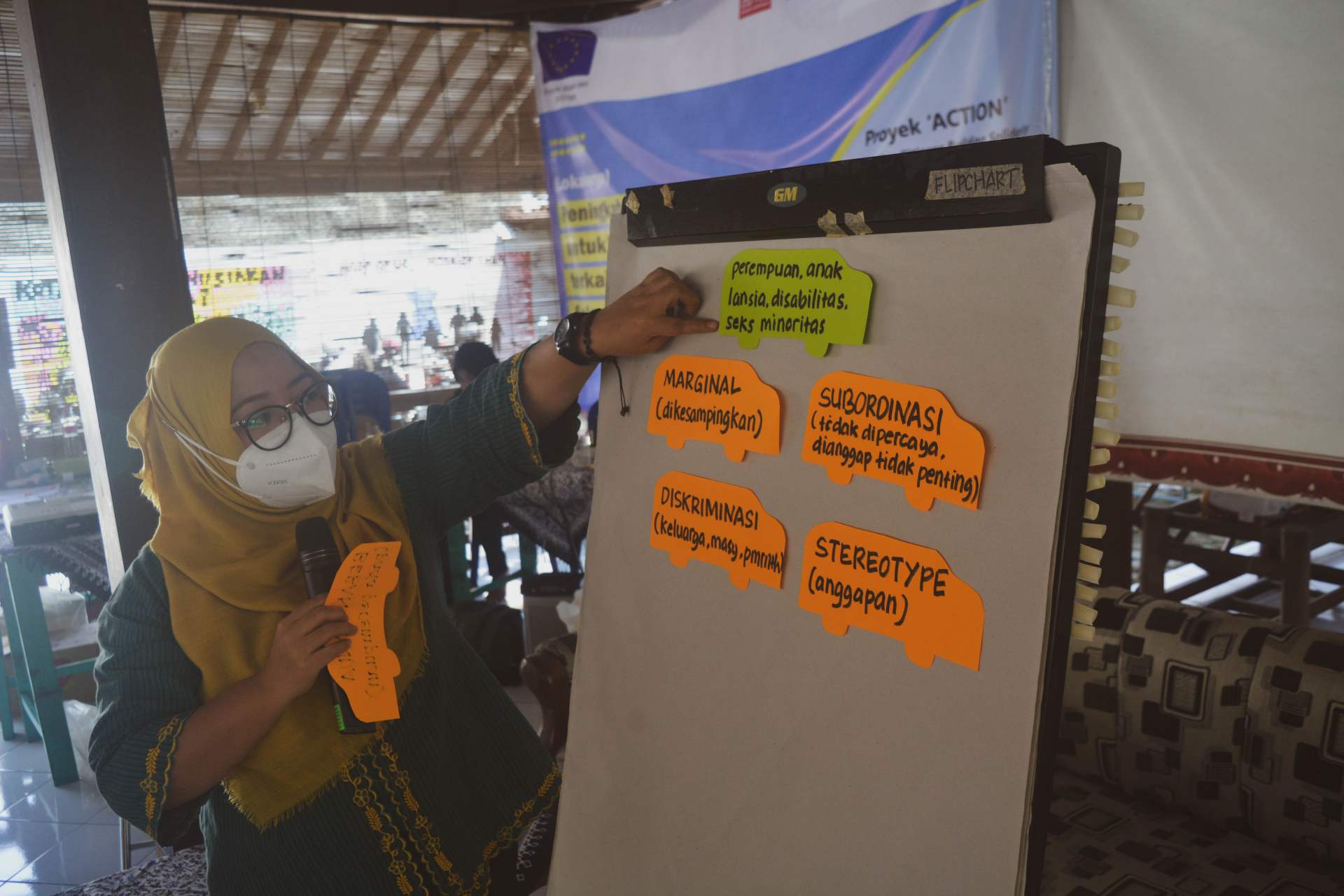 Reporting cases
"Under normal circumstances, it is already difficult for women survivors of violence to report cases. That has only gotten more complicated during the pandemic. Complaint services that can easily be accessed by women and people with disabilities are important, especially now, to help them get access to justice. The Halo KAPAL Perempuan service uses WhatsApp to make it easier for women and people with disabilities to submit their complaints. They can send a text message or make a call to the service operator via number +62-812-8088-5525. The service operator will immediately forward the complaint to the Technical Implementation Unit for the Protection of Women and Children, which is part of the Department of Women's Empowerment, Child Protection, Population Control and Family Planning," Yusnaningsih Kasim, ACTION Project Coordinator for Institut KAPAL Perempuan explained.
16 Days Campaign
"The European Union has joined the global #16DaysOfActivism campaign to end gender-based violence," H.E. Vincent Piket, EU Ambassador to Indonesia and Brunei-Darussalam, said. "The social and economic impacts of the pandemic are disproportionately pushing women and girls into poverty, and the risk of violence against them is rising," Ambassador Piket added. "In the efforts to prevent and response to gender-based violence, the EU is proud to support the development of these services."
ACTION impact
"Key for the EU is that our projects produce direct benefits for citizens," Ambassador Piket explains. "The ACTION project has benefitted 10,884 people. From food package distribution, access to teleconsultation and home visit services for vulnerable and high-risk groups, hygiene kits and hand washing stations. This project has also offered intensive business coaching for 98 small and medium-sized enterprises to grow their business, and has supported 215 small-scale producers and farmers to access to new urban markets and new sources of income. This will improve sustainable livelihoods and bring concrete benefits to 15,000 rural and urban poor in DKI Jakarta, West Java, Yogyakarta, West Nusa Tenggara and South Sulawesi," he added.
A virtual launch
During the virtual launch event, participants were also familiarized with the Guidelines for Special and Intensive Protection for Women with Disabilities during the Pandemic of the Ministry of Women Empowerment and Child Protection. The aim was to enhance the collaboration between government and non-government stakeholders and provided room to discuss the prevention and management of violence against vulnerable groups during the Covid-19 pandemic.
The launch welcomed 235 participants from the Indonesian Ministries of Women Empowerment and Child Protection, Health, and Social Affairs, the National Commission on Violence against Women, the Indonesian Child Protection Commission, the Witness and Victim Protection Agency, Covid-19 Task Forces, local governments such as the Offices of Women's Empowerment and Child Protection of Yogyakarta, DKI Jakarta and Makassar, the Service Provider Forum, the Indonesian Association of Women with Disabilities, the women's organization Rifka Annisa and parents of families with persons with disabilities.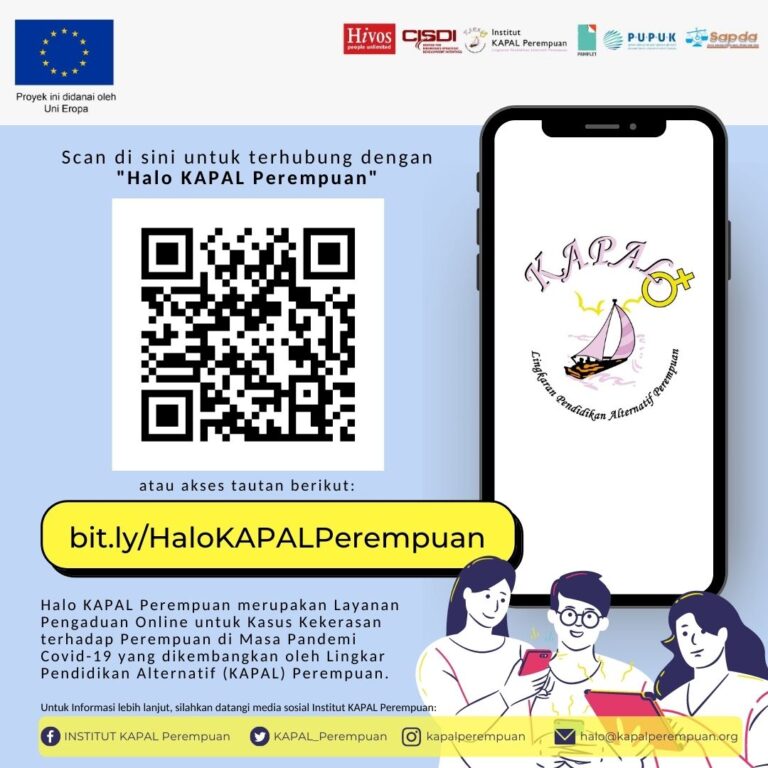 About the ACTION project
The EU-funded ACTION project aims at increasing the participation of civil society organizations in preventing and mitigating the risks caused by the Covid-19 crisis and ensuring that vulnerable and marginalized groups in Indonesia have equal access to social and economic recovery programs. This two-year project is implemented in 15 sub-districts and 40 villages in DKI Jakarta, West Java, Yogyakarta, West Nusa Tenggara, and South Sulawesi in two phases. The first phase will focus on the initial response to the pandemic, while the second phase will help to mitigate the social and economic impacts. Women, people with disabilities (PWD), elderly, youth, SME entrepreneurs, and CSOs will directly benefit from the project.
The ACTION project is coordinated by Hivos and implemented jointly with:
Center for Indonesia's Strategic Development Initiatives (CISDI)
CISDI is a civil society organization that supports the realization of the Sustainable Development Goals (SDGs) through health development and involvement of youth in health development. CISDI conducts a study of issues based on experience in managing primary healthcare reinforcement programs in suburban areas as well as outermost, frontier, and the least developed areas, research and analysis of health policies, social change campaigns, and its involvement in health diplomacy at the national and international levels.
Alternative Education Circle for Women (KAPAL Perempuan)
The establishment of KAPAL Perempuan is to build women and social movement that are capable of realizing social justice, gender equality and justice as well as peace in the public and private sphere. KAPAL focuses on strengthening women's leadership through feminist critical education, organizing and evidence-based advocacy, especially for women at the grassroots.
Pamflet
Pamflet is a human rights based organization founded and organized by young people. We are focusing on youth movement, as well as encouraging new initiatives for change in social and cultural areas, especially related to human rights issues, politics and democracy, and gender and sexual diversity. We support the youth movement in Indonesia and manage the knowledge on youth through developing centers of information, documentation and organizing capacity building for young people.
The Association for Advancement of Small Business (PUPUK)
PUPUK was established from initiation program of Small Industries Advancement (PIK) – West Java Chamber of Commerce (KADIN Jawa Barat), and the initiatives of three professional groups of Entrepreneurs, Academics, and Economic Activist began in 1979 in cooperation with a German institution, Friedrich-Naumann-Stiftung (FNSt). In 1988 declared independently with the goals to expanding the region scope and more comprehensive achievements and institutionalized into PUPUK, and was legalized as an Association. PUPUK provides technical assistance to empower small businesses and strengthen the ecosystem to stimulate new strong entrepreneurs in facing economic competition.
Advocacy Center for Disability, Women and Children (SAPDA)
SAPDA Foundation, stands for Advocacy Center for Disability, Women and Children, based in Yogyakarta, and established in July, 2005, is a non-governmental organization (NGO) with a vision of "the struggle to bring about change, justice, freedom, welfare & equality to fulfil and protect the rights of women, persons with disabilities and children in an inclusive society on the basis of equal human rights.
For more information, please contact:
Nurul Saadah Andriani | SAPDA Director | director@sapda.org
Yusnaningsih Kasim | Koordinator Institut KAPAL Perempuan
Yesua YDK Pellokila | ACTION Project Manager, Hivos | ypellokila@hivos.org
About the European Union
The European Union (EU) is an economic and political union of 27 member states with a population of 470 million. Together, the EU has built a zone of stability, democracy and sustainable development whilst maintaining cultural diversity, tolerance and individual freedoms. In 2012, the EU was awarded the Nobel Peace Prize for advancing the goals of peace, reconciliation, democracy and human rights in Europe. The EU is the world's largest trading bloc, and the world's largest source and destination of foreign direct investment. Collectively, the EU and its Member States are the largest donor of Official Development Assistance (ODA), providing more than half of ODA globally.
To support partner countries in the fight against the Covid-19 pandemic and its consequences, the EU has launched the "Team Europe" approach. The objective of the Team Europe approach is to combine resources from the EU, its member states and European financial institutions. Team Europe has mobilized around €200 million (IDR 3.5 trillion) in grants and loans to support Indonesia. €6 million (IDR 108.5 billion) in grants are dedicated to support civil society organizations to address the health and socioeconomic impact of the Covid-19 crisis in Indonesia.
Find more information about the EU and its relations and cooperation with Indonesia here.