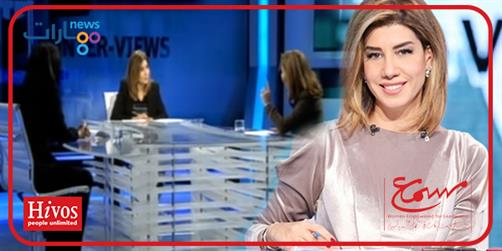 Paula Yaacoubian: "I'm an advocate for women and a believer in their capacities."
WE4L Lebanon Partner Maharat Foundation interviews prominent female Lebanese journalist Paula Yaacoubian on women in the media and how she faces patriarchal attitudes in her line of work.
Originally published on: 19-09-2017
By Maharat- Ilda al-Ghousain
Translated from the original arabic by Fatima Itani.
Paula Yaacoubian is one of the most famous Lebanese political journalists and interviewers in Lebanon. Her talk-show "Interviews" broadcasts on "Future TV". She is known for launching the "Dafa" [warmth] campaign and for advocacy programs aimed at refugees and the environment. She has her own view on the Syrian crisis. She was interviewed by Maharat Foundation about her search for expert women to appear on her talk-show.
When we asked her about supporting women's appearances on her show, she replied: "I've been looking for women for a while. I discovered two women; Doctor Halima al Kaakour and Professor Rima Fawaz al-Husseini and had the best two episodes with them. They both talked about women's rights and their political participation. I always host women on my show." Some of the women she mentioned are: Fadia Kiwan, Hayat Arislan, ambassadors and foreign diplomats in Lebanon such as "Sigrid Kaag, who we tried to support to become the United Nations Secretary General because she truly deserves it."
Women need to support each other
Yaacoubian added: "I'm an advocate for women and a believer in their capacities. I don't agree with what President [Michel] Aoun said about women having to improve themselves. We have to improve ourselves as individuals but women's success has been significant in all fields". She stated that "if women's support for each other were to increase, the situation would be much better. A woman may have a problem with another woman occupying a decision-making position. Of course, this problem does exist between men, but some women sometimes feel the urge to stop other women from getting ahead of them. A woman would be psychologically relaxed if other than herself f didn't succeed. This is also true among men. However, in terms of decision-making, this problem is more common among women."
We asked her to explain, and she said: "I'm not generalizing, but there's a good number of women who don't want to see other women in decision-making positions. These women I'm talking about are the wives of oligarchs and leaders or their secretaries and assistants who are close to the decision makers and can morally influence them. Thus, whenever a politician asks his wife or assistant to suggest a woman for a specific position, who would they name? They name someone who they don't consider as competition. They mistakenly choose any woman close to them or any incompetent friend. These women avoid competing against smart women. I've closely experienced this kind of treatment."
Promises to appoint women in government have not led to concrete results
Yaacoubian believes that women are proud of others who have succeeded and support this success. There are men and women who are supporters of success and who aspire to achieve more. However, there are other men and women who are obsessed with hindering and thwarting any progress. On the attempts to improve women's political participation through [the new] Ministry of Women Affairs, she expressed her joy regarding women empowerment in Lebanon. She said that a large campaign has been launched to empower and integrate women. However, "promises to appoint women in governments and parliamentary lists have been repeated but none have translated into concrete results. What a farce!"
She added: "I work with the World Bank on diversity and integration, a very important cause for the Bank. The president of the Bank presides our meetings and our activities focus on all categories who could be discriminated against".
As for the feminist struggle, she declared: "I'm sorry to say that there are women demanding their rights but not fighting for them. The feminist struggle is modest. Linda Matar is a true fighter. If we look at the women's rights movement in Lebanon, we realize that those who went to the streets and burned tires are the ones who achieved results. Meanwhile, those who make demands from their desks or on Facebook can't achieve concrete results. The true struggle is in the streets".
As for women who have entered the political arena, she believes that those appointed in ministries or for parliamentary seats were selected by men for reasons irrelevant to the feminist struggle or gender equality. They were chosen because they are party members, they paid [money], are widows of politicians or reserve the seat for the future heir. This is not women's participation. They are occupying positions to fill the void in the absence of men by sheer coincidence. These women shouldn't be counted in statistics and they can't be considered true indicators of women's rights.
Men in Lebanon have not shown more competence than women in public affairs
On gender equality, Yaacoubian said that she aspires for women to have the same chances as men and to be competent. Studies show that women are less corrupt, so do they want corruption to remain? Let's say that competence is an essential prerequisite for women participation; let's ask ourselves on issues such as the garbage crisis, electricity and many other issues – Have men managed them competently? Is there a worse public management crisis? Then, let us not talk about women competence.
As for countering patriarchal attitudes whether today in her interviews or during the early days of career in a world almost exclusive to men, she replies: "Honestly, I don't look back to see if I was accepted or not. I do my job and go on. However, this does not mean that there isn't a constant challenge. In fact, contrary to men, it is easy to tarnish the image of a woman through unfair competition, by attacking her private or family life and spreading rumours that affect her professional image. Her life and decisions are irrelevant to her professionalism, career and personality. But unfortunately, a woman pays the price of her success just by returning home late at night; this mindset still exists."