Hivos together with implementing partners under the  Sustainable Diets for All program (SD4ALL) in Uganda,  Slow Food Uganda, Kabarole Research Centre (KRC), Food Rights alliance and Volunteer Efforts For Development Concerns (VEDCO) will on March 6 host a dinner in celebration of women.
Titled, Dine with a woman, the dinner aims to recognize the role of women and contribution of women to nutrition security in Uganda. It will also be a platform to discuss pathways for women's active involvement in food and nutrition security related policy making and implementation at all levels. Women leaders in various fields ranging from governance, food and nutrition, science, trade and arts among others will share their experiences of influencing decision making process as a way of inspiring the rural and urban woman to rise up and speak and act on issues of food and nutrition within their spaces.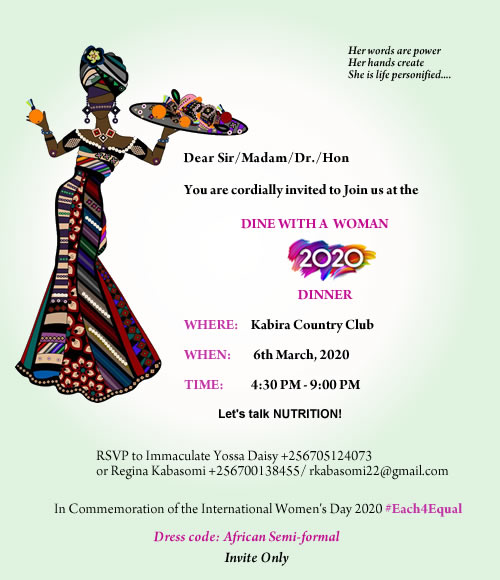 Malnutrition remains a significant challenge to human well-being and economic growth in Uganda. According to the 2016 Uganda Demographic report, 29 per cent of the children below five years were stunted and 53 per cent anemic. In the same period, prevalence of anemia in women of reproductive age was at 32 per cent. Further, the health costs, including treatment of preventable diseases associated with malnutrition to the country is estimated at $500 million annually, as highlighted in the Ministry of finance 2019/20 report.  A further result (due to illness) is in terms of labour productivity, whereby Uganda experiences a total loss of 1.2 trillion UGX which is equivalent to almost 4 per cent of Uganda's Gross Domestic Product.
Malnutrition in Uganda, among other factors, can be further reduced if women assert themselves as agents and initiators of change given their roles in family and society but equally important is their numbers and influence on society.
The Hivos SD4ALL programme now in its fifth year of implementation advocates for diets that healthy and diverse, respectful of ecosystems and economically fair and affordable for all. Building the lobby and advocacy capacity of citizens and organizations to influence food policy and laws is one of the major undertakings of the programme. In Fort Portal, the Orugali group (A Tooro tradition in which families sit together around a meal served on a flat traditional tray known as orugali) has been working with the SD4ALL Programme to promote dietary diversity. The orugali group has a monthly activity of preparing traditional foods in their homes where they invite each other plus the neighbours to sit and share a traditional meal. This is intended to raise a critical mass of people and communities for the promotion of traditional foods and preserve them from extinction.
Rehema Nabukeera, 34, in 2016 was one of the few selected farmers by KRC and trained on how to prepare and preserve indigenous food so as to fight malnutrition. After the training, she realized that it didn't require a lot of money to eat nutritious food, but it required behavioral change. Now a member of the Orugali group and a traditional food advocate, she started engaging the community and some people picked interest and joined her. That is when she started the idea of community mobilization.
Nabukeera is also a member of the Coalition of the Willing-a group of 20 people which consist of National Organic Agriculture Movement, Fort Portal Municipal council, village Councillors, street food vendors, small and medium enterprises, elders and artists mentored and supported by the SD4ALL Programme that voluntarily came together to raise voices and concerns about healthy diets and the general food system in Kabarole District.