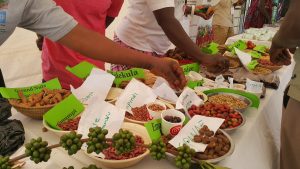 Companies producing and selling fake seeds in Uganda should be named and shamed, a section of farmers in Uganda have proposed. They should similarly be subjected to prohibitive fines and further blacklisted, said the farmers.
Farmers were one of many stakeholders taking part in discussion on ways to accelerate access of quality seeds to farmers in Uganda at the Seeds for All Symposium. This event was organized by Hivos' Sustainable Diets programme together with Integrated Seed Sector Development (ISSD), Interchurch Organization for Development Cooperation (ICCO) and OXFAM.
Reliable seed sources
At the forum, Gloria Otieno of Bioversity International, a partner of Hivos' Open Source Seed System programme, presented findings from a research on Open Source Seed System for Climate Change Adaptation conducted in Hoima, Western Uganda. Gloria highlighted that 78 per cent of farmers rely on their own seed for farming. The research also revealed that farmers use local shops as a second option (48 per cent) and rely on their neighbours for seeds as a third option (12 per cent). Women in particular are a very reliable source of seeds. "The network of seed exchange among farmers revealed that networks of female farmers were stronger than those of male farmers," said Gloria.
No clear policy for the seed sector
The seed sector in Uganda largely operates under the informal seed system — at approximately 85 per cent. The legal and policy framework for the seed sector in Uganda is until now unclear. A comprehensive seed policy has been tabled to parliament and awaits passing by the House. In existence, however, are the Uganda National Seed Strategy 2014/2015-2019/20 and the Seed and Plant Act 2006 as guiding documents. As small scale farmers continually shift from subsistence farming to commercial farming, there is a huge deficit between the market requirements for quality and diverse seeds that adapt to different conditions and actual production. This has consequently resulted in low yields, loss in seed biodiversity, high risks of crop losses to pests, drought and disease, subsequently negatively impacting on food security, nutrition and economic development.
The challenge of poor quality seeds
Paul Mwambu, the commissioner for Crop Inspection and Seed certification which falls under the Ministry of Agriculture, Animal Industry and Fisheries, admitted that markets where farmers buy seed are awash with fake and contaminated agro inputs. "We all know that garbage in is garbage out. This is a big issue for farmers because ultimately if they start with poor quality then they cannot get value for money from their produce" said Mwambu. Mwambu explained that as a ministry they are cognizant of such challenges, further noting that there are crops that seed companies don't consider in seed production (termed as not commercially viable). However, through local seed businesses, there is now quality seed for crops like beans, cassava and sim sim.
The government's responsibility to increase access
Josephat Byaruhanga, a representative of the Royal Netherlands Embassy in Uganda, called on the government to take advantage of local seed business initiatives to increase opportunities for farmers' access to quality seed. "If productivity of every farmer increases, then the issue of making quality seed available lies with us and I will call on the government to make sure that quality seed is accessed because you cannot increase productivity in agriculture without quality seed," said Byaruhanga.
The Sustainable Diets for All Programme is under the Strategic Programme (2016-2020) and is being implemented by Hivos and the International Institute for Environment and Development (IIED) in Uganda, Kenya, Zambia, Bolivia and Indonesia. The program takes evidence – especially that generated by citizens – directly to policymakers and international institutions so their policies, market practices and legislation will promote diets that are diverse, healthy, fair and based on environmentally sustainable production methods.