id="655″ id="post-1976″ class="wp-post-content-block " itemscope itemtype="http://schema.org/BlogPosting" itemprop="blogPost">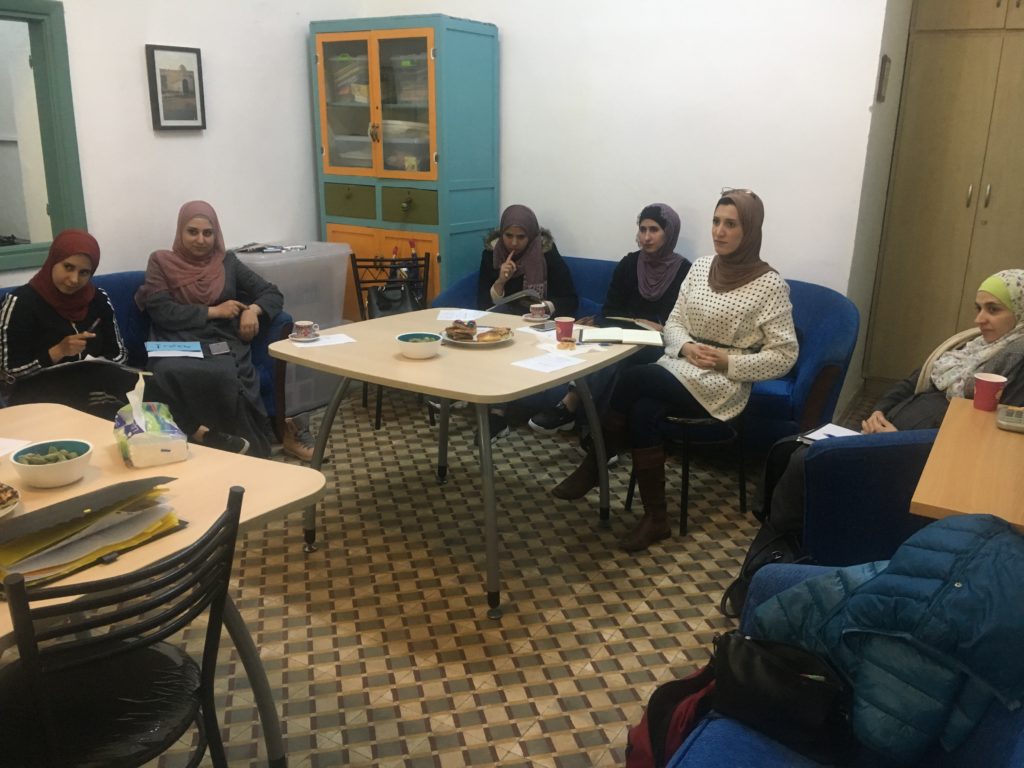 Stand Up with the Teacher Campaign; Empowering Teachers to Fight Constraint
By Shara Jazzar
Until today, many female teachers in Jordan still receive at the end of each month a lower wage than the agreed upon. Such injustice was not easily tracked because schools refused to pay salaries via bank transfers. Thanks to the Stand Up with the Teacher Campaign, a number of teachers became capable of speaking up and reporting what they were subjected to, forcing the schools to rely on transfers to pay their staff their actual salaries. This would not have happened if those women were not empowered and had their eyes opened to their rights and the means to protect them.
In that context, and because female teachers are often faced with constraint, the Jordanian capital gathered for a discussion on that topic 6 facilitators from Amman and Zarqa as well as a member of the national team on a Friday morning, a day these women would usually spend with family but which they chose to invest instead in something useful on both the personal and the professional levels. What is worth noting is that throughout the Campaign, women took the lead when it came to claiming their rights and mobilizing other teachers. Moreover, they succeeded in making pressure in order to achieve their demands.
Constraints faced by teachers
To start with, the teachers shared stories in which they were victims of constraint, either at work or at home, in order to demonstrate to which extent it constitutes an obstacle that hinders women's ability to achieve success and reach leadership positions. In that context, the teachers agreed that the toughest challenge when faced with constraint is the capacity to say no and assume the possible consequences, while trying to get the least damage possible. This is where their necessity for empowerment resides.
In order to respond to their need, the popular education sessions were developed as a tool that empowers female teachers and increases their confidence at public speaking and encourages them to claim their rights. As a result, they become more outspoken and tougher in confrontations, and knowledgeable of what needs to be done. During the sessions, women share each other's stories and experiences and can learn from each other. Also, they can support one another if faced with a particular dilemma and mobilize to advocate for their rights; thus, ensuring greater chances of success.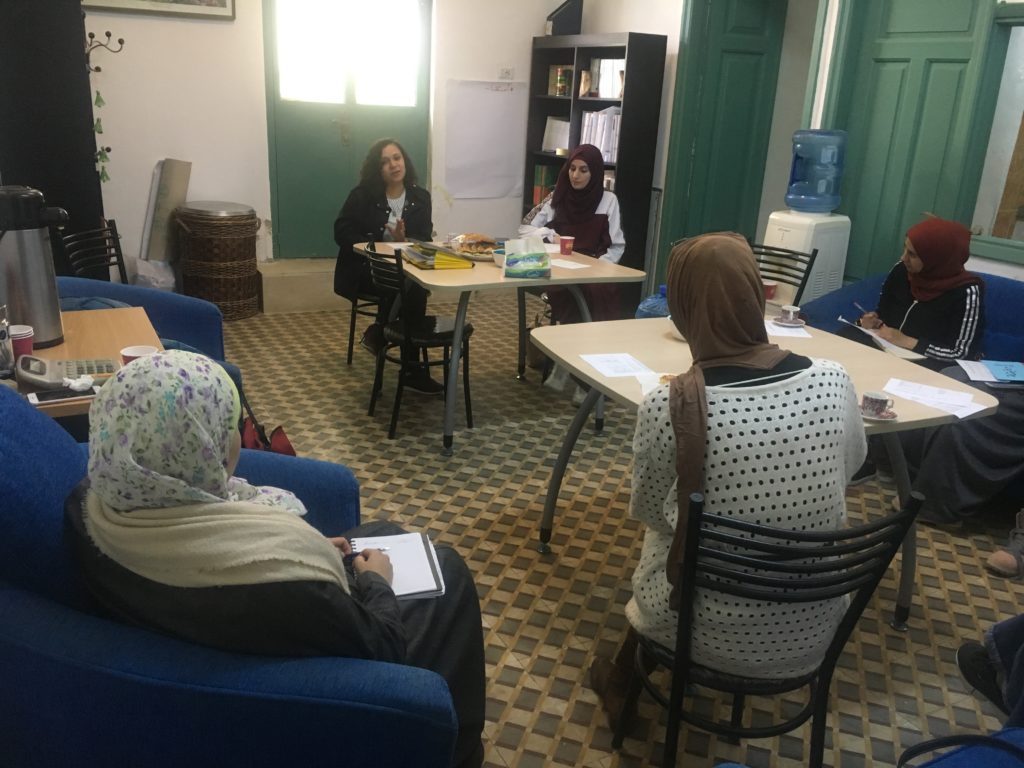 Picture by Shara Jazzar
Needed skills
During a role play of a constraint situation between a school director and a teacher that aimed at demonstrating a real-life situation, it turned out that leadership skills are a must for female teachers in order to manage conflicts and claim their rights. They must be also be good negotiators. In addition, being aware of the laws as well as their duties and responsibilities is a very powerful asset as this strengthens the teachers' position and their capacity to fight back.
Popular education as a tool for change
It is worth highlighting that popular education is a tool used by Ahel through which participants "engage each other and the educator as co-learners to critically reflect on the issues in their community and then take action to change them." In this context, female teachers in Jordan that are part of the Stand Up With the Teacher Campaign gather periodically in order to discuss challenges they face and agree on what collective action they should and can take in that regard. Moreover, the topics of the sessions are not the same as they change according to the needs that they define themselves.
The Popular Education Program, which includes popular education sessions for facilitators, circles of popular education for teachers and legal trainings for both facilitators and teachers, falls under the umbrella of Ahel's Stand Up With the Teacher Campaign, implemented in partnership with Hivos and the support of the MOFA of the Netherlands.
Finally, through empowering female teachers by giving them the required knowledge about their rights and how to stand up for them, in addition to refining their negotiating skills, Hivos is creating women teachers who know what their rights and duties are and who will be capable of defending themselves against abuse, both at work and at home. This will lead to more productivity and will support them on their way to reaching leadership positions within their institutions as well as – hopefully –  the Teachers Jordanian Teachers Syndicate, which is unfortunately mostly constituted of men at the moment.