Hivos, British Council and DICE (Developing Inclusive and Creative Economies), partnered to host the SoCreative hub Summit, which was aimed at connecting creative and social economies and drive the development of versatile and resilient hubs in Southern Africa. The summit was held in Johannesburg, South Africa from 14 to 16 March 2018. It brought together more than 100 innovators, visionaries, start-ups, SMMEs, hub managers and hub users together to discuss the potential opportunities for entrepreneurial partnerships and growth between the two economies.
Around the globe, more and more entrepreneurial (young) women and men see creative entrepreneurship as a serious option for social and economic opportunities. Various stakeholders and players including policy makers, see the impact and importance of an active and supported creative industry, but don't know where to start or what to do. Through various programs and activities, Hivos and its partners aim to awareness on the massive opportunities that the social and creative entrepreneurs can bring in regards of social and economic empowerment.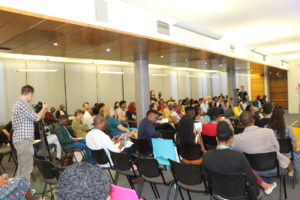 Why support social and creative entrepreneurship
In her opening remarks, Hivos Regional Director for Southern Africa, Tanja Lubbers articulated the background to why Hivos is interested and motivated to support social and creative entrepreneurship. "As a Dutch organisation, investing in the creative industry is one of defining sectors in our economy. It's really important to develop the country" she said. "If we look globally, we see four important things to stimulate creative industry's performance as a whole:
Conducive governance and conducive policies to create and facilitate space for people to innovate
Artist associations uniting to fight together for the common agenda as well as sharing stories of success to learn from each other
Hubs and spaces are important to facilitate and lift up the industry
Sustainability of hubs is not always what it should be and they are mostly donor dependency and that's why as Hivos we have an entrepreneurship program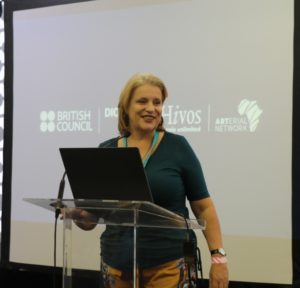 Importance of creative spaces for entrepreneurship
During the deliberations at the hub summit, the importance of hubs for entrepreneurship was universally acknowledged.  Kate Gardner from DICE, emphasized that, "Unlike more old-fashioned accelerators, incubators or training programs, hubs offer a peer-driven way of providing the community, business support and networks that entrepreneurs most need."
Activities such as this hub summit are part of Hivos' broader strategy of supporting the Southern African Entrepreneurship Ecosystem, as hubs can play a vital role in incubating creative activities. Hivos has linked its activities on supporting the creation of critical content and creative spaces with its broader entrepreneurship support program. By doing so, we enable a broader support ecosystem for (young) entrepreneurial people and business development service providers (BDS). This includes all key elements that have a role to play, such as CSOs, NGOs, businesses, financial institutions, crowdfunding initiatives, investors, research institutes and government entities.
Creativity is here to stay
In the upcoming years, Hivos and its partners will continue to support the creative entrepreneurship ecosystem and provide young women and men with opportunities to start and scale their own creative business endeavors to provide themselves with a sustainable income, create agency and enable them to feel free to express themselves. Under the umbrella of creative entrepreneurship (including writers, digital content creators, actors, painters, dancers, musicians and all that providing other forms of creative expression), we want to contribute to the creation of job opportunities, social cohesion and additional investments into the region for generations to come.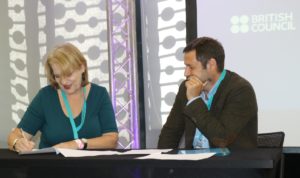 Next steps
From the deliberations and dialogue at the hub summit, Hivos will strategically focus:
On how hubs need to connect more and learn from one another and how that benefits the overall ecosystem
That (social) entrepreneurship agenda and creative hubs are complimentary and need each other to scale and create bigger impact
To host another similar hub summit in the region informed by the narratives of the Johannesburg hub summit.
For more information on Southern Africa Entrepreneurship Support contact Marnix van Holland at: entrepreneurship@hivos.org