Alternative spaces for free expression are on the rise in Africa. As voices of freedom, they're quickly taking up their place as avenues where sexual and gender minorities can freely express themselves in audiovisual spaces such as podcasts.
Selly Thiam is a journalist, filmmaker, radio producer, writer and the executive producer and host of AfroQueer.
AfroQueer is a podcast from None On Record telling the stories of Queer Africans from across the continent and the diaspora.
She is also a 2018 #Africanofilter Fellow, a Ford Foundation fellowship that supports individuals working to create new narratives about Africa and the African continent.
The podcast celebrates queer love and explores the laws affecting our lives, migration, media, race, class, censorship, family and sex. AfroQueer also shares some bitter truths of what it means to be Queer and African but also spotlights individuals shifting the landscape of African queerness.
The AfroQueer podcast has been nominated for two awards, the Webby Awards and the One World Media World. Hivos East Africa's Sarah Nyakio had a conversation with Selly, to get a glimpse of the successful podcast and her partnership with Hivos.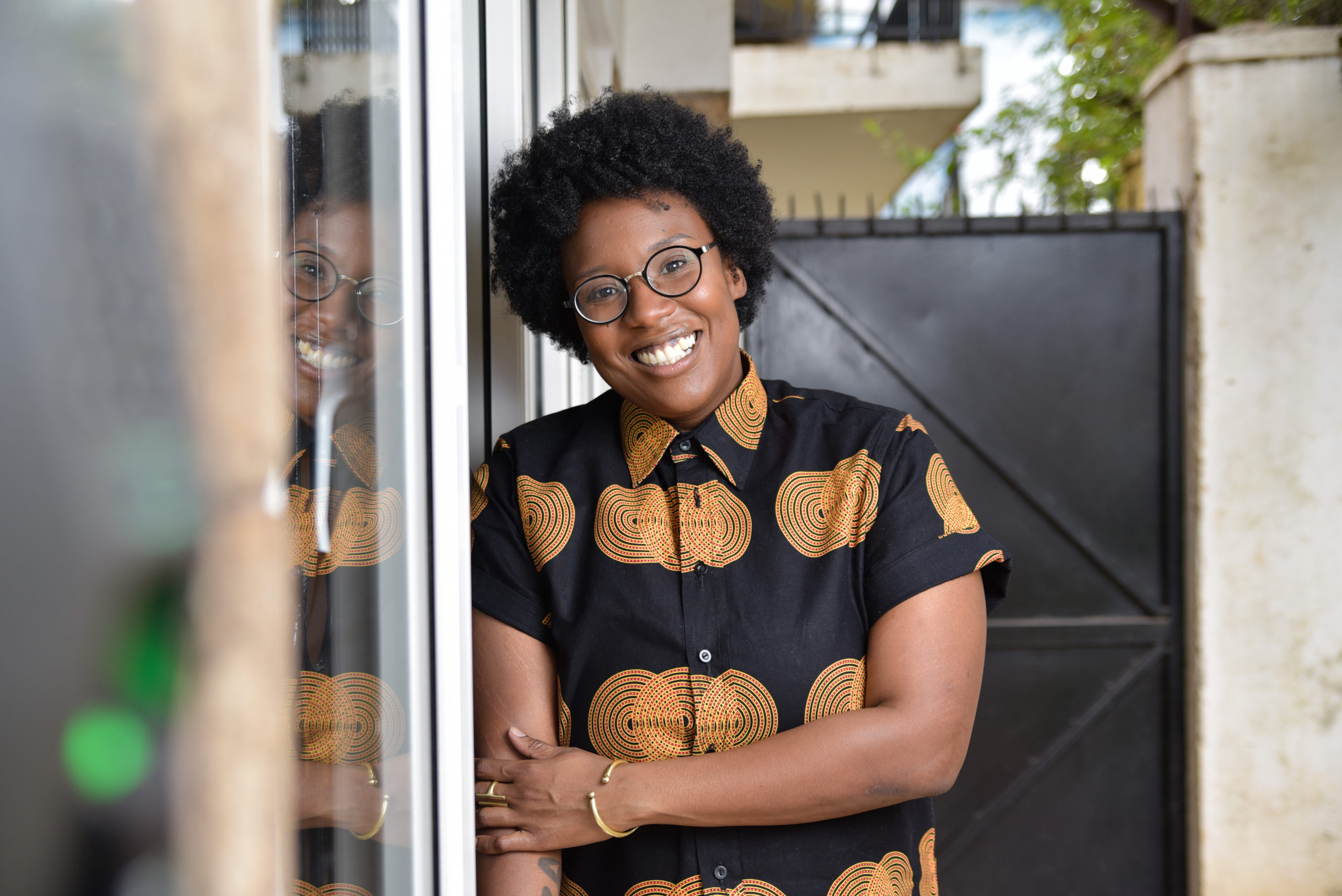 SN: AfroQueer, tell us about the genesis of the name?
ST:  When we came together to think about a name for the podcast, we wanted a name that encapsulates diversity in the countries we come from. Initially, the team producing the podcast was from Nairobi but later we onboarded producers from different parts of the African continent.
A few brainstorming sessions birthed AfroQueer which speaks to the identity of the different countries in Africa. The diversity in our origins allowed us to come up with a name that our listeners and followers would identify with
SN: Podcasting is not popular in Africa, what was the motivation behind starting one?
ST: The team sought to find a way for people to access the stories of African queer communities from anywhere in the world. We also wanted something we have control in producing and distributing and since most of us had a background in production, the team decided to go the podcast way.
However, when we started, we had a challenge in explaining what a podcast is and why you probably need to have another app on your gadget to access the content. All in all, it's been a successful and amazing journey.
SN: You have been nominated for two Webby Awards and a One World Media Award. Tell us about the awards?
ST: In the episode that got AfroQueer nominated for the Webby Awards, we were looking for a filmmaker from Guinea called Mohamed Camara. Mohamed had made the first queer French film that took place in the 1990s. Our team, therefore, sought to understand how he had managed to make a queer film in the 90s, we travelled to Guinea where he lived and he told us about the film and how he had received backlash especially because he was also a straight man.
Mohamed told us he desired to tell the world that complicated love also ensues in Africa.
The episode was later nominated for the Webby Awards against other very famous content producers. It was a good opportunity and AfroQueer gained a lot of popularity not just in Africa but the rest of the world.
We were also longlisted for another award, the One World Media Award and our fellow nominees were BBC, Aljazeera and other famous media outlets. This spoke to the work we do and encouraged us to work even harder.
SN: What progress have you seen since starting the Podcast?
ST: Our listenership has grown tremendously over the years and we have also managed to grow a community of die-hard fans who are always engaging and sharing our content. A community of listeners who feel part of something and that their stories are significant.
We also held the IDAHOT 2020 virtual event which led thousands of viewers to our social media pages. This revealed to us that we have created a digital community of people who resonate with our content.
SN: Tell us about your partnership with Hivos East Africa and how it has advanced your work?
ST: Hivos East Africa supported AfroQueer in producing season two which was very instrumental in aiding us to apply for the Webby Awards. Our partnership was also very key in redesigning our website and growing our social media pages.
In addition, we have received support in getting resources to aid with language translation. Season two saw us produce more episodes in French which has motivated us in finding ways of producing more francophone episodes and still bring the productions to English speakers.
SN: What does the future look for AfroQueer?
ST:  The future is very promising for AfroQueer. First, we are launching season three in June 2020 which we are very excited about. Our team will also grow a bit more this year as we want to ring onboard younger producers.
Secondly, we are launching a feature in June on Google and you will see a lot of AfroQueer on Google's social media next month. Lastly, we hope to explore more languages like Arabic and infuse in our productions.
About R.O.O.M
Hivos East Africa's Resource of Open Minds (R.O.O.M) Program supports a new generation of makers such as None on Record who are countering the shrinking civic space through critical and provocative content.