Kwame Nyong'o is a visual artist, animator and writer. As a graduate of a school of fine arts in the US, Kwame has created various animations and produced several children's books such as I love Ugali (a type of maize flour porridge)  and Sukuma Wiki (a traditional vegetable dish in East Africa ), that tell Kenyan and African stories.
He is passionate about telling African stories that are often not told with positivity and creativity; focusing on the continent's past, present and exciting future.
Kwame's famous animated short film, The Legend of Ngong Hills, has won awards worldwide for its uniqueness in using animation to tell African folktale. In 2017 and 2018 he additionally won awards at the Cannes Lions International Festival of Creativity in France for the documentary series: The World's Most Eligible Bachelor, a digital campaign supporting northern White Rhino conservation in Kenya.
His recent short animated film: Luanda Magere shows some of the possibilities that exist in using animation to tell African stories. Hivos East Africa's Sarah Nyakio sat down with him to get a glimpse of the fuss behind his animation film and his partnership with Hivos.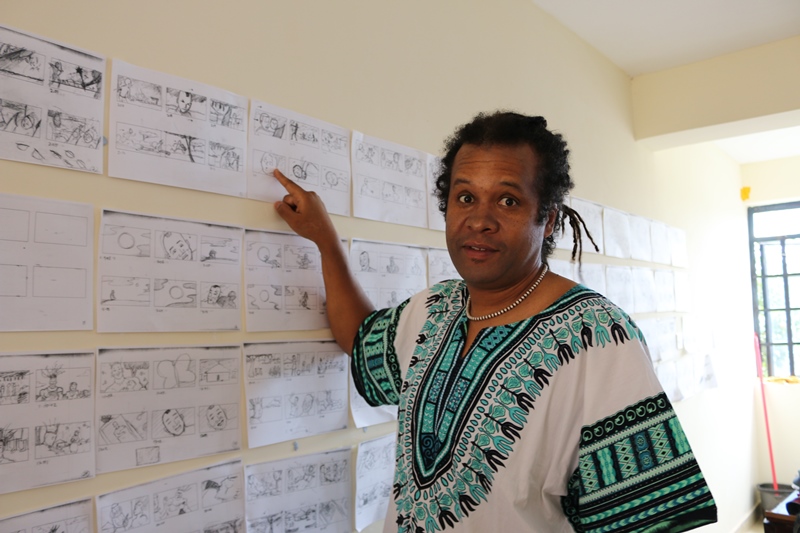 SN: Tell me about yourself?
KN: I am an animator and illustrator interested in the production of Kenyan and African content to show Africa in a better light, particularly in motivating stories that are worth celebrating and producing.
SN: Apes in Space is quite an intriguing name. What's the meaning behind it?
KN: I came up with the name 10 years ago. It's an animation company so it calls for a name that evokes an image of some characters and figures. I coined the words together and it sounded great as I wanted a name that was fun and elicits an image of a fun studio.
SN: Tell me about the Luanda Magere animation?
KN: The story of Luanda Magere is a famous Kenyan story. The peculiar bit about this story is that most people have a different twist and interpretation of its meaning. It's for this reason that we did a lot of research on the commonly heard version of the story and added a bit of creativity to tell something new and make it more recent and relatable.
SN: What is its contribution to critical dialogue and debate space?
KN: What's interesting about the story is it's focus on conflict. These are border clashes between two warring groups in Western Kenya and for this, the story raises awareness.
The conflict that was experienced about 400-500 years ago when Luanda Magere was alive is still the same being experienced to date. The story lends itself as a conversation starter on how did this conflict start and what are the possibilities in resolving it.
The story hits close to home as one of my friends was caught in the conflict last year and another friend lost her life.
SN: Tell me about your partnership with Hivos East Africa?
KN: In April 2019, we saw the R.O.O.M call for proposals advertised, applied and fortunately got the grant. It was our first time to apply for such a grant as we have never gotten any kind of funding before. This was a learning experience as we got to learn about bookkeeping, planning, reporting and so much more.
It has been a mutually beneficial partnership and we hope to engage more.
SN: Any takes on the future of Apes in Space?
KN: The future is bright, as more and more is happening with the beginning of great things. We are looking for more opportunities to showcase our work.
Hivos East Africa's Resource of Open Minds (R.O.O.M) program supports the creative work of a new generation of artists, makers, musicians and critical content producers around the world who strive for openness and lead the resistance to shrinking civic space. R.O.O.M. provides financial support for the production of work and safe online and offline environments where they can create alternative narratives question the status quo and imagine new realities through their practice.