id="840″ id="post-2479″ class="wp-post-content-block " itemscope itemtype="http://schema.org/BlogPosting" itemprop="blogPost">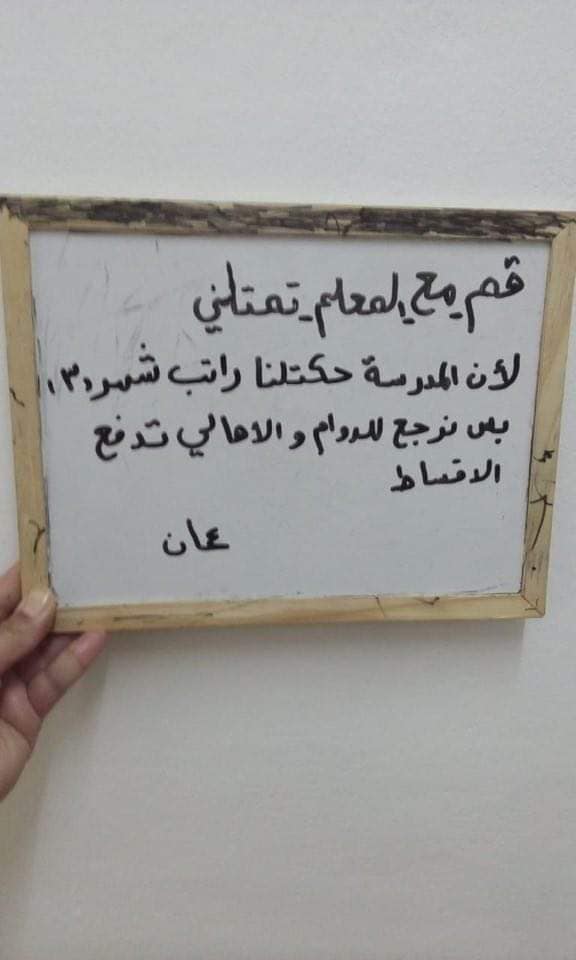 Jordanian teachers dismissed or not receiving their salaries under Covid-19
By: Shara Jazzar
A week before the total lockdown started in Jordan on account of Covid-19 on 18 March, schools had already closed their doors. Teachers were required to rely on e-learning in order to pursue their teaching and ensure that the scholastic year goes on despite the pandemic. As it is the case in most countries around the globe, women constitute the majority of school teachers in Jordan. As shown in a study published by a survey issued by the Queen Rania Foundation in 2014, "women constitute 68% of the total teaching workforce, with a larger proportion of female teachers in private schools compared to other sectors. The percentage of teachers who are female has steadily increased over the past decade, growing from 59 to 62% at MoE schools and from 85 to 89% at private schools." This means that anything affecting teachers particularly impacts women.
The issue that popped up recently is that a number of teachers from the private sector – which employs more than 35,000 teachers – have complained about not receiving their salaries for the months of February, March and April despite the fact that schools were paid most of their fees by the students' parents. Also, some educational institutions reduced the wages of their workers, or gave them an open and unpaid leave while asking them to provide courses online, according to the Stand Up with the Teacher Campaign. Furthermore, a number of educators were dismissed in April, even though such action is deemed illegal, in particular with Defense Orders number 6 and 9 that were issued by the Prime Minister, which also require wages to be paid solely through bank transfers or electronic wallets.
Role of Stand-Up with the Teacher Campaign
For 2 years, Hivos supported the Stand Up with the Teacher Campaign through its partnership with Ahel. Hivos played a key role in funding trainings and capacity building of teachers in order to build the power and leadership of female private schools' teachers and enable them to know and demand their rights and guarantee dignity, equality and fair pay; be armed with the proper tools to claim their rights; and mobilize other teachers. The focus of the Campaign was to ensure that teachers are paid electronically through bank transfers or the electronic wallet, as many schools were relying on cash payments in order to be able to deduct whatever amount they felt like without any accountability or monitoring capacity. The Campaign recently succeeded in pressuring the government to issue a law that forces private schools to pay their employees electronically if they are to have their permits renewed. So far, the application of this condition has not been fully completed.
We will reflect on an interview conducted early April by Al Mamlaka TV, which hosted Munther Sourani, President of Private Schools Owners' Association, and Hadeel Kiswani, Coordinator of the Stand Up with the Teachers' Campaign, in order to hear the opinions and positions of both parties.
Dabate between Sourani and Kiswani
From the private schools' part, Sourani expressed that educational institutions are either paying full salaries, half salaries or part of salaries for the sole reason that parents have not paid the full tuition. Therefore, he claimed that schools don't have the financial capacity to cover these expenses.
In response, Kiswani clarified that schools usually pressure parents to pay their fees before the start of the 2nd trimester in March. In other terms, educational institutions have the capacity to pay but are not doing so. She added that parents either settle the full tuition in cash at the beginning of the scholastic year, or in 3 installments, or on a monthly basis; which means that most payments have already been made by end of March. She also wondered about the reasons behind the schools not having a financial plan to address similar situations, like most private institutions. Additionally, this issue did not start with Covid-19. For years, private schools – including renowned ones in Amman – have been trying to avoid paying the full salaries of teachers or ending their contracts in May only to hire them again in September, while saving the salaries of 3 months of summer.
Kiswani demanded that the Jordanian Teachers Syndicate plays its role in finding solutions related to the salaries' issue, rather than just stating that there is a crisis as this is its role and this is why teachers are paying their contributions in the first place. She specified that 400 teachers' complaints were received by the Campaign in just one month, all resulting from the Covid-19 situation. These claims were related either to forcing them to resign, take unpaid leaves, receive half of their salaries, or being promised payment at a later date. What makes matters worse is that some teachers were pressured to contact parents and ask them to pay their dues as a condition for them to receive their salaries by the school's administration.
In order to ensure the rights of teachers, Kiswani proposed that the Ministry of Labor imposes a higher sanction on schools who do not pay their employees' dues – this would mean to increase it to 500 JD per teacher, instead of 50 JD for all teachers. She also insisted on enforcing bank transfers, as this is the only way to monitor that salaries are paid, and not renewing the school's license if this does not happen.
Nonetheless, Sourani, who accused the Campaign of having a private agenda and not being entitled to fight for teachers, kept insisting that 60% of schools cannot afford to pay salaries because parents haven't settled their dues. He saw no solution to the problem, especially if the current situation remains unchanged over time.
Crisis resolved
Fortunately, this debate came to an end when the Jordanian National Commission for Women (JNCW) – another Hivos partner – joined its voice to the Campaign and sent 2 letters to the Minister of Labor to address this issue. The continuous pressure made by the Stand Up with the Teachers' Campaign and JNCW finally bore its fruits! In cooperation with the Ministry of Education and the Ministry of Labor, complaints of teachers were heard and schools were forced to pay the dues of their employees. Another success story that reflects the importance of mobilization and joined action for the sake of fighting for women teachers' rights.
Recent achievements of the Campaign
Following pressure from the Campaign, the Ministries of Education, Labor and Digital Economy and Entrepreneurships declined last month to renew the permits of 145 educational institutions, which include both schools and kindergartens, because they did not transfer the salaries of teachers electronically. In order for these establishments to have their licenses renewed, they must prove prior to the start of the coming scholastic year their adoption of e-transfer of salaries for their staff.
.