You've probably heard it by now. We need to revert to consuming more of our traditional foods in an effort to diversify the food we are consuming and also because their nutritional benefit is undefeated.
As part of Hivos on-going advocacy in Sustainable Diets for All Programme, together with our partners Building Eastern African Community Networks (BEACON) and Anglican Development Service (ADS)- Central Rift will on January 24th host a diversity and food fair in Nakuru, Standard Chartered Grounds.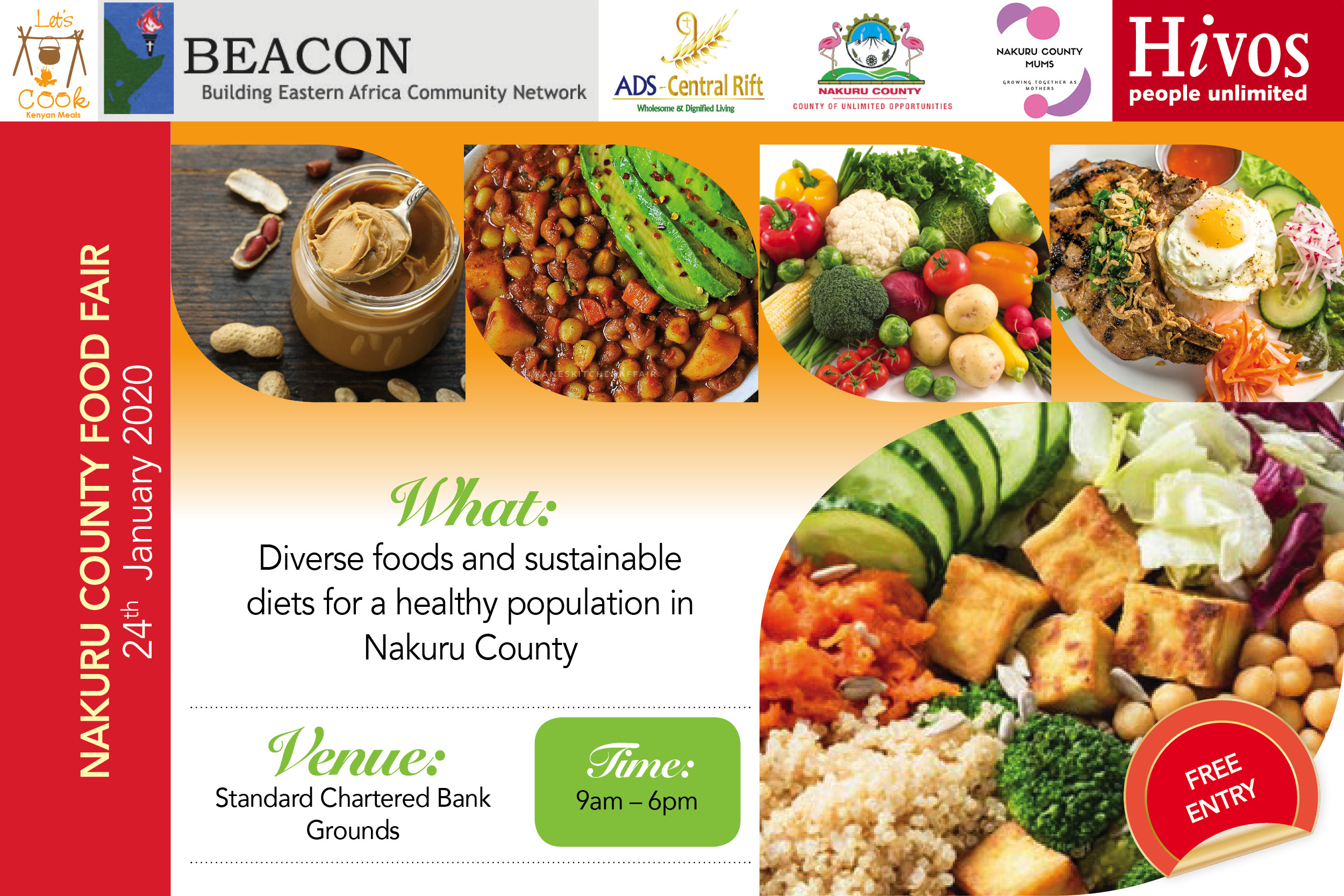 A large percentage of children in the rural areas of Nakuru County are nutrition deficient with a good number suffering from stunted growth yet the county was last year rated the biggest food producer in the country. In a clear case of lacking amidst plentitude, a nutrition profile of the county indicate that close to 100,000 children below five years in this region have stunted growth, 18,000 are wasting while another 36,000 are underweight.
The forum is expected to bring together approximately 30 exhibitors to showcase various types of nutritional products, agri–nutritional information and culinary skills from different communities.
Attendants will be tested for non-communicable diseases and personalized nutrition counseling which will include management of the different conditions.  There will also be a chance to sample dishes from across different communities in Kenya while policy makers in Nakuru County will have the opportunity to interact with citizens and deliberate on  viable options for addressing food and nutrition security challenges in Nakuru.
A photo series curated by Hivos and IIED dubbed "Voices and Choices" which captures the views of 15 men and women living in the sub-counties of Gilgil, Njoro and Bahati in Nakuru County, Kenya will also be exhibited. Across Nakuru County, farmers, vendors, restaurant and hotel owners, and consumers are well aware of the importance of healthy diets. They celebrate and enjoy eating traditional vegetables. But far too many experience difficulties in accessing affordable, diverse foods due to barriers in the food system.
Below are some of the images from the Voices and Choices series:
Joyce Wanjugu, Farmer, Age 31, Kiambogo, Gilgil Sub-county
"Farming helps meet my daily needs, including providing food and paying school fees. I started farming when l was 21 years old and mainly produce maize, beans, potatoes and spinach. I typically only farm what I can sell, and that's why I do not always plant a diverse range of crops, as there is no market for them. I would like to farm beetroot though, because there is a market for them now".
Wambui Ngugi, Farmer, Age 48, Bahati Sub-county
"The food l grow – maize, kale, spinach and traditional vegetables – is consumed locally, so there is a readily available market. On a field trip I saw a variety of kale called "Malkia" that is drought resistant and very high in beta carotene, vitamin K, vitamin C, and fiber, and reasonably rich in iron and calcium. I have the seeds and I'm going to plant it. If there was market, l would like to do agribusiness with other counties. We need a crop exchange market with other counties".
Patrick Kingori, Food vendor, Age 40, Bahati Sub-county
"On my farm I have beans, maize and onions. As far as vegetables are concerned, I only buy tomatoes. Although I eat a lot of ugali, I want to stop as it makes my stomach feel heavy. I eat meat once a week and vegetables every day. I want farmers to stop putting so much chemicals on their crops. I went to a funeral where a farmer who plants tomatoes said they don't eat them because they have too many chemicals. If the tomato farmer isn't eating his own produce why should I?"
Patrick Makori, Chef, Age 27, Kasambara, Elementeita, Gilgil Sub-county
"We shop in the nearby farmers market, buy our meat from Delamere farm and in Nakuru town, and get chickens from the local farmers. We grow vegetables on our hotel farm, mostly what are guests will eat, which includes spinach, sukumawiki, onions, leeks and carrots. Though we have not yet planted fruit, we intend to plant avocados and passion fruit trees".
Additional reporting by Gordon Ogembo Kojo, Documentation, Monitoring, Evaluation and Learning – BEACON.