id="705″ id="post-2126″ class="wp-post-content-block " itemscope itemtype="http://schema.org/BlogPosting" itemprop="blogPost">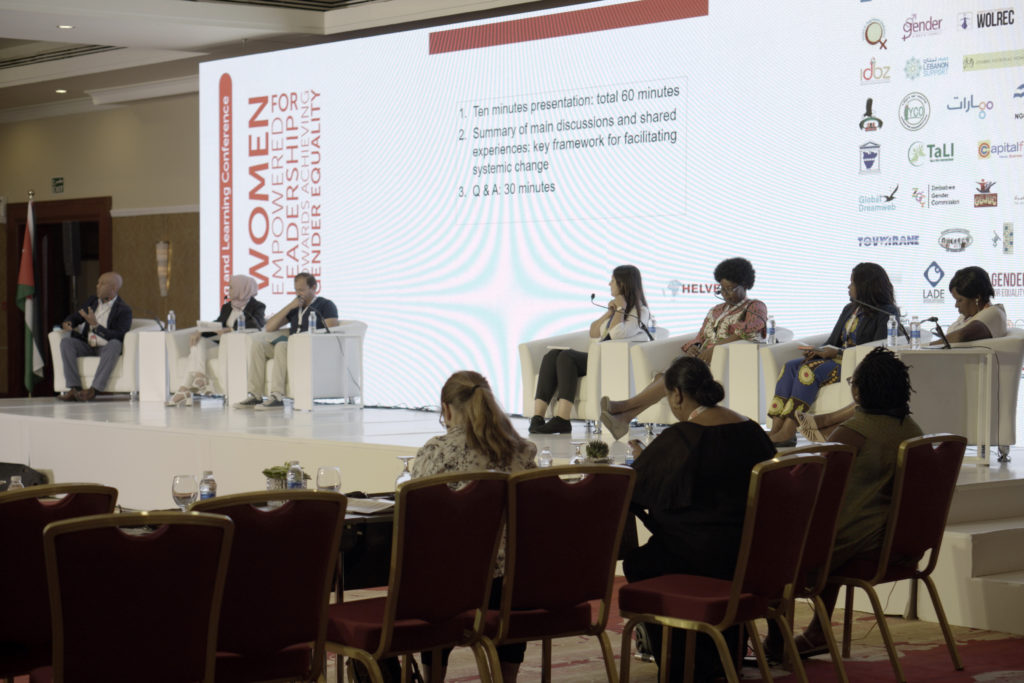 From Theory To Action: L&L highlights best practices of systematic change
By Laudy Issa
---
Representatives from partner organisations of the HIVOS WE4L program shared their practical experience with establishing and facilitating positive systematic change in the situation of female leaders.
The panelists of the 2019 Linking & Learning conference, which was hosted in Jordan, brought their unique experiences from multiple countries to provide audience members with a better understanding of the root problems behind women not effectively participating in decision-making processing.
"We're looking at what takes us from theory to action," said facilitator Zenebe Uraguchi, a development economist and a programme coordinator at Helvetas.
An Inclusive, Bottom-Up Approach
Tasneem Al Hmouz, from the Arab Network for Civic Education (ANHRE), described her organisation's systematic change process as one that considers women to be key partners in succeeding rather than just targets.
She focused on building a foundation for change readiness through engaging key stakeholders, creating a shared initial picture of people's vision and where they are now, and building the capacity to collaborate. ANHRE's work focuses on bridging the gap between what current and future female leaders want and what their current reality is, according to Al Hmouz.
Al Hmouz described the approach to change as being bottom-up, with ANHRE setting up an active, community-led network of local women on the ground through innovative tools such as "kitchen meetings" to both collect gender-sensitive local data that help organisations better understand local contexts and to consult women and girls on the feasibility of community initiatives.
"We needed to start working with women on the ground because culture often affects women more than policies," said Al Hmouz.
Mahmoud Al Kharouf, project manager in Drabzeen, discussed "cafe talks" as another innovative tool for his organisation's long-term vision of empowering women to assume leadership positions. Cafe talks draw on Arab history whereby coffee salons were considered civic spaces where intellectual discussions on public life would take place.
Drabzeen, as mentioned by Al Kharouf, mostly works with youth. Their approach to systematic change also stems from bringing together people at the same table to understand challenges.
"The discussions are done to bring out solutions, to eventually bring out initiatives from youth," said Al Kharouf. In addition to opening opportunities for discussions with youth, stakeholders, female leaders, and more, Drabzeen also holds advocacy trainings for women.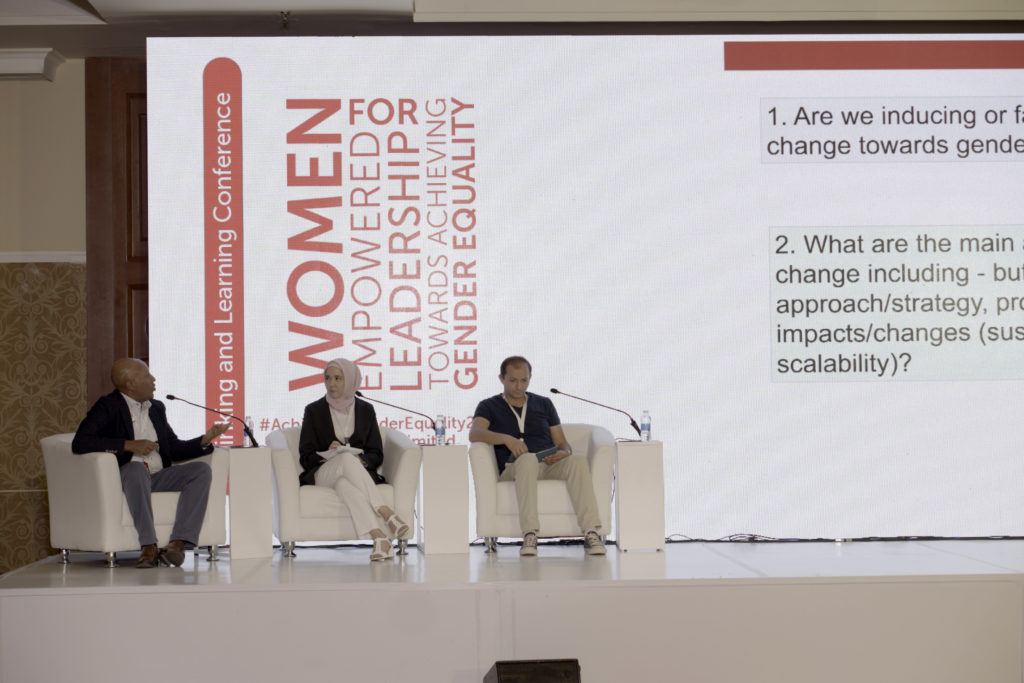 Monitoring Policies and Media
After realizing that only 2 percent of expert panelists in Lebanese talk shows are women, Maharat worked with WE4L to shift the focus to them.
Nada Saab, Maharat's multimedia producer, worked on a series of videos where women who are experts in different fields would fact-check the credibility and feasibility of statements made by politicians. Their work with Hivos WE4L also looked at sexism in policies that are specifically related to women, including underage marriage and the ability of women to pass on their nationality to their children.
"There are lots of people who don't know where discrimination takes place and what mechanisms allow it to happen," said Saab. Their approach plays into pressuring authorities to bring about systematic change to the situation of women by applying or updating policies in their favor.
Maharat understand the effect of media exposure, with Saab stressing the need for media to show both the women who are suffering from different problems in the country and the female leaders who are working towards solving these problems.
Maharat works across different layers in media, providing training and mentorship to young journalists, new gender-related media platforms, editors, and beyond. Saab also highlighted the need for media organizations to implement internal gender equality laws.
"You saw it yesterday at the conference. There were seven cameramen and not one camerawoman," said Saab, who also cited her personal experience behind the camera. The multimedia producer described the shock experienced by crews when they see her operating the camera on set.
"When we have more women behind the screen, it helps bring more women to the screen," she said.
The Gender and Development Approach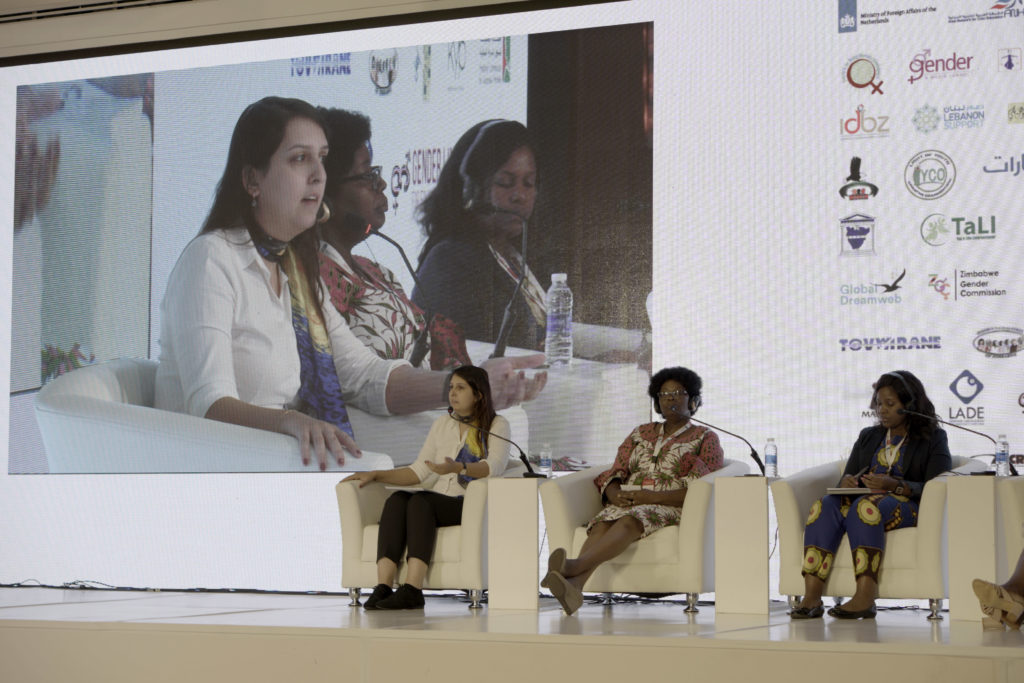 The Non-Governmental Organizations Coordinating Council (NGOCC) of Zambia –which was established by feminist NGOs in 1985– operates by targeting different categories of individuals depending on the different capacities that women find themselves in, according to its Executive Director Engwase Mwale.
"We believe that people must be an integral part of ensuring that systematic change happens," said Mwale.
NGOCC categorized their constituencies, and by substitute their interventions with them, into three distinct categories: marginalized and vulnerable women, empowered but excluded women, and empowered and included but isolated women.
The council provides marginalized and vulnerable women with access to information that would enable them to actively participate in Zambian decision-making processes and contribute to the empowerment of other women as well.
For women who are empowered but excluded women, Mwale highlighted the need to provide them with training and peer-learning opportunities that can take them to the next level since they are already often aware of their rights and have a certain level of education.
NGOCC helps the third group of women, those who are empowered and included but isolated, recognize and build alliances among themselves to promote the women's movement. 
Mwale, similar to Saab's experience in Lebanon, recognizes the importance of media linkages and profiling what these women are doing in championing the national agenda for gender equality.
Semi-Structured Approaches
In Zimbabwe, the Women's Institute for Leadership Development (WILD) worked on the 2018 elections with the Hivos Women Empowered for Leadership program. Samukeliso Khumalo, WILD's executive director, described their process for furthering the women's movement of the country.
WILD identified 32 female champions who volunteered from across different political parties, identified different politically-experienced mentors to meet their needs, and adapted their work into a semi-structured leadership development program after recognizing the challenges that workshops alone pose.
Khumalo described the work that WILD does through mentorship cafes and group retreats, where women are taken somewhere fun but are still learning from their mentors.
During the elections, WILD provided candidates with resources to help them do the campaigning.
"When women campaign, they often don't have the resources," said Khumalo. "Our approach helped give them the actual resources to do the actual campaigning."
Khumalo indicated that WILD helped female candidates file papers and provided them with fuel, among other things. WILD and WE4L helped five Zimbabwean women who would then be elected into Parliament, and ten who would go into local councils. 
A Success Story
In 2014, Malawi had 54  female councillors who made up around 12 percent of councillors in the country. In 2019, the number of female councillors shot up to 269 or 50 percent of councillors in Malawi.
Asha Banda, from the Governance, Gender, Justice and Development Centre (GGJDC), perceived part of the change as coming from strengthening strategies, identifying key stakeholders, and solidarity movements that her organisation focused on.
"The change was experienced in districts where WE4L is being implemented," said Banda. 
GGJDC offers trainings where women are encouraged to self-discover their skills, knowledge, and confidence, mentorship programs, and media know-how. The organisation also engaged with different politicians, media, male champions, role models, and youth to ensure that different gender equality commitments are undertaken by various political parties.
Banda also discussed how a pressure move mobilized to influence change at a community level to push women to vote for female candidates became incorporated into the government.
"We also managed to retain a pool of female candidates, they formed a group of women who did not win and are hoping to win," continued Banda. 
Most candidates, according to Banda, get frustrated and shed their political ties and relationships if they lose. The GGJDC retained its pool of female leaders, hopeful about being elected in the next electoral race.