Personal Story: From flower picker to union leader
The remarkable journey of a young Ugandan woman
Janepher Nassali: a woman@work heading the old boys' labor union
Janepher Nassali was only 25 years old when she took the reins of the Uganda Horticulture, Industrial, Service Providers and Allied Workers Union (UHISPAWU). Despite being General Secretary, she still had to gatecrash meetings and deal with the bigotry of male colleagues who only saw her as young, tiny, and …. a woman.
Now 29, Janepher is recognized as a powerful voice in Uganda's cut flower sector. Through her union, she defends, promotes and protects the rights of workers. The union boasts a membership of close to 3,000, and thanks to her leadership that number continues to grow.
"Workers are now coming out to talk about their problems.  Previously, you'd go to farms and no one would say anything."
Slaying a giant
Janepher laughs when she recalls the day she was elected to office. When asked why, she says cheerfully, "I replaced a giant, and I had been described by the other members as, 'just a girl'." It's no wonder she believes she slew a giant. Her feat of being a Ugandan woman breaking into the realm of leadership can only feel gargantuan.
In 2015, UHIPSPAWU managed to secure the highest wage increment in the cut flower sector. This saw the monthly minimum wage jump from USD 22 to USD 27!
Janepher reveals that a visit to flower markets in the Netherlands gave her the ammunition needed to demand that flower farms in Uganda offer better wages during negotiations. She had seen with her own eyes what the farms were fetching for their flowers and knew how much they could really pay their workers.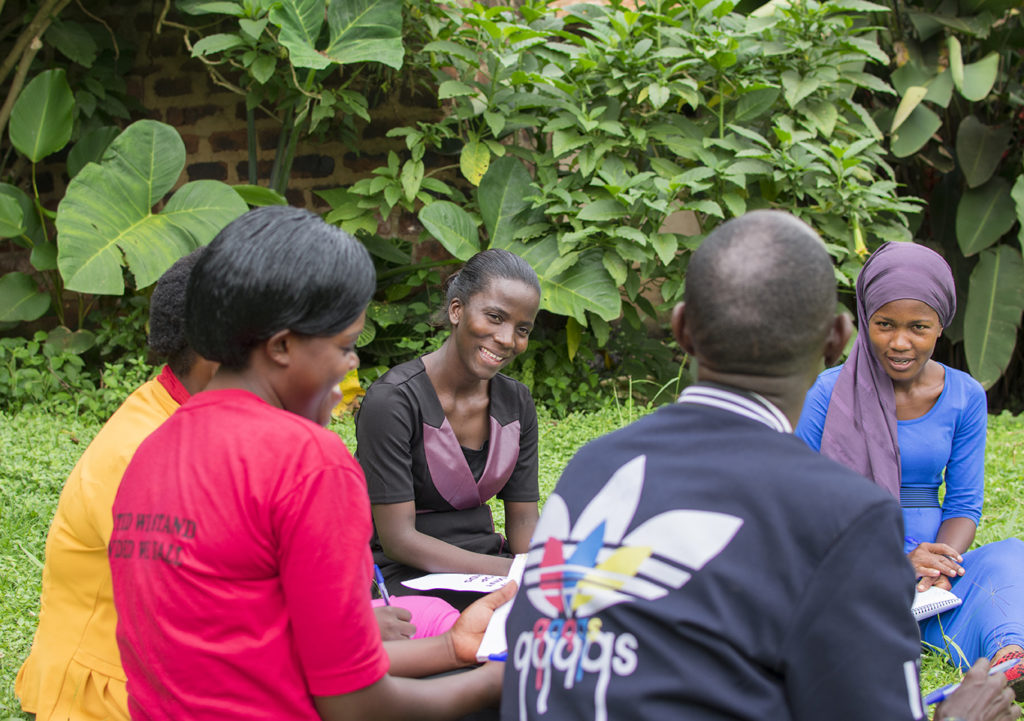 Janepher acknowledges that securing this increment not only boosted her self-confidence as a leader and as a person; it also raised the expectations of members. She is therefore very grateful for the training she received through Hivos' Women@Work Campaign. It helped her hone her leadership and negotiations skills and break through the glass ceiling that existed within the union. Now, participating in collective bargaining negotiations isn't as daunting as it used to be.
Rising through the ranks
Born in 1988, this single mother of two – who was also raised by a single mother – has had to fight hard against a culture and system that doesn't offer women opportunities to be heard or seen. After finishing her formal education, Janepher got a job at a children's orphanage as a painter. Such was her will to provide for her family.
"You could not wear a skirt because the men would peep at you (when up a ladder) as the company did not provide overalls."
Her six months as a painter were not pleasant. "Everyone was discouraging me that it was not a job for women. I was not happy. We were eight women in that department. There were over 20 men. Even the men used to laugh at us, saying we were doing men's work."
In March 2009 when she got wind that a flower farm was recruiting, she took on the arduous job of flower picker. It wasn't long before her work was rewarded.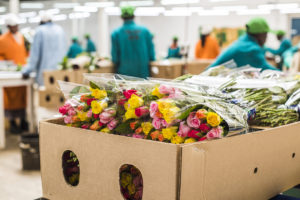 "At that time, there were two managers on the farm. A man who asked for sex and a lady who asked for money if one wanted a promotion. The lady encouraged me to apply for the job of supervisor. I don't know if I was lucky or what because she did not ask me for any cash. She just called for me, asked if I wanted to be a supervisor and asked me to apply. After a week, I was promoted to the role of supervisor! Then she allocated the people I was to lead."
Taking a stand
When Janepher first heard of the union at the flower farm, she was reluctant to join for fear of losing her job. But a strike in November that year by fellow workers changed her view. They downed their tools during a fumigation exercise to protest how it had been carried out. Whenever there were industrial disputes, supervisors were expected to pick up the slack, but Janepher had other ideas.
"The following day all the pickers reported to work, but went to the dining hall. Normally, when such an incident happens, supervisors were the ones tasked to go and pick the flowers. Another supervisor and I joined the rest of our colleagues in the dining hall where the workers were demanding to talk to the managing director."
It was here during this meeting with the managing director that Janepher's steely ambition became apparent. The workers were not only up in arms about the way fumigation was conducted, but were also angry at the harassment and substandard diet they received, and at the harmful chemicals used on the farm. But there was also an elephant in the room that no one dared mention: the "forgotten" 10 percent salary increment. Janepher took matters into her own hands and brought up the unpaid increment loud and clear.
"I didn't care whether I lost my job. The managing director needed to know that top managers were not enforcing the agreed terms of employment."
Janepher became a hero to the workers, but to her fellow supervisors and management, she was a traitor – and it was then that the intimidation began.  That was also the day she joined the union. By the end of the year, a union committee was constituted on the farm and she was elected as the women's representative.
But the intimidation her fellow supervisors subjected her to eventually took its toll. Janepher gave up the role of supervisor and went back to be a picker. This was a fate that would befall her twice.
Proving them wrong
Janepher's journey to the leadership of UHISPAWU – like every step she had taken before – was not easy. She inherited a union without leadership, poorly resourced and indebted, and with dwindling membership. Furthermore, the union was run like an old boys' club. Despite women constituting the bulk of the membership, it was men and men alone who held the top positions. Janepher points out that women, when given the opportunity to speak, would only be allowed to talk about gender matters. Patriarchy within union leadership was alive and kicking, and Janepher was not any less a target of it as General Secretary.
"There was a lot of undermining of women's leadership in the trade unions. When I got elected, I went to a farm. They did not expect a young woman. They knew the General Sectary was a woman, but maybe expected someone older."
"Some men told me point blank they cannot be led by a woman, let alone a girl, hence they would withdraw membership. I told them to go ahead – and they did."
But those members are slowly coming back after realizing that under Janepher's leadership the workers are winning.
Despite the wins, Janepher notes that she still has many more hurdles to overcome. Women are discriminated against regarding the type jobs they can do within the sector, the labor ministry is poorly staffed, and a group of farms is lagging in its commitment to implement labor agreements.
Nevertheless, Janepher is as determined as ever to fight for workers' rights and believes that as General Secretary she now has what it takes. It is remarkable that someone who was once dismissed for her small frame and gender is now recognized as a giant slayer.