id="754″ id="post-2270″ class="wp-post-content-block " itemscope itemtype="http://schema.org/BlogPosting" itemprop="blogPost">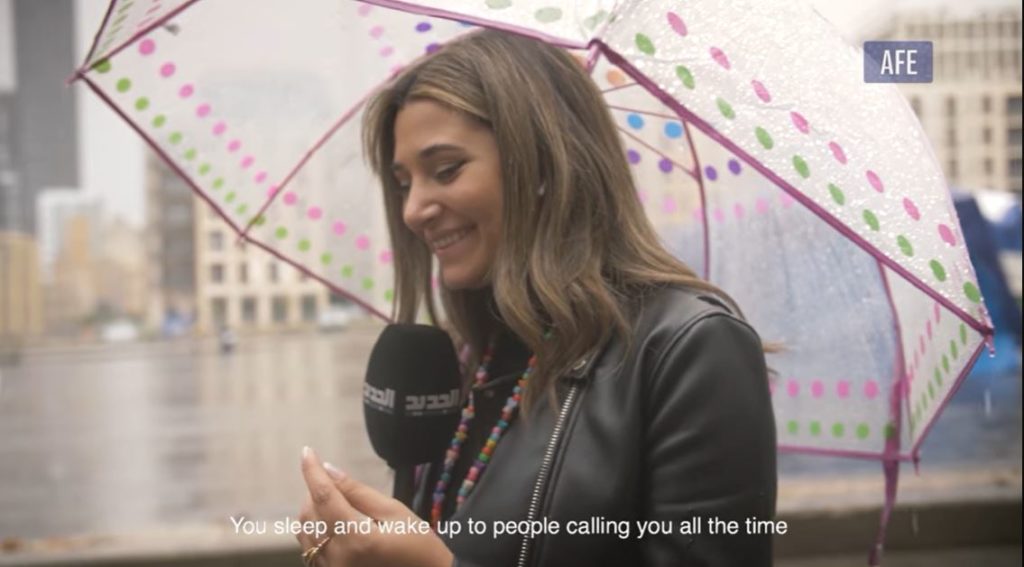 Female journalists in Lebanon narrate their run-ins with gender-based violence in new AFE video
By Laudy Issa
---
"It's been five years that I have been the subject of verbal harassment and public threats, rape threats, murder threats, vilification, character assassinations, phone calls to my family, phone calls to my mom," said Lebanese news anchor and journalist Dima Sadek. In less than 20 seconds, she summed up the daily run-ins with gender-based violence that female reporters experience.
Sadek was speaking as part of a new video campaign by the Arab Foundation for Freedoms and Equality (AFE), a Hivos WE4L partner.
The new video tells the haunting story of women who occupy public leadership positions in Lebanon. Layal Saad, another prominent female journalist, recalled some of the threats she received: "If we rape you, don't be sad," "We will know where you live," and "Don't think you will be able to leave the TV station tonight."
"You sleep and wake up to people calling you all the time, and you can't use your phone. It was very ugly," she shared. "Really, I don't know how else to describe it apart from very ugly and disturbing."
An Attack of Their Gender, Rather Than Their Opinions
In her part of the interview, journalist and documentary producer Diana Moukalled pinpointed the attacks as attempts to restrict the journalists to being female rather than professionals in their field.
"Female journalists who voice out their opinions are not attacked for their opinions," said Moukalled. "They are attacked for their looks, how they dress, and how they talk."
Earlier last year, at the launch of the Hivos WE4L national survey on Lebanese public perceptions of women in leadership positions, participants in the discussion shared a similar sentiment. They highlighted the need to turn the dialogue on leadership from a debate on the capabilities of women to a discussion on the lack of support they experience in these positions of power.
"One of the faces of this counter-attack can be seen in the harassment of women journalists on the field," Moukalled explained to AFE. "Attacking them, attempting to beat them, cursing at them, there were even people who tried to hug them or kiss them."
AFE had previously worked on a research campaign against sexual harassment in the workplace, highlighting how women in high risk professions –such as journalism– face harassment and intimidation outside their offices. Their suggestions for a sexual harassment law mentions the need to include women with work involving mobile workspaces or shifts.
Female journalists: Passionate and with no regrets
The AFE video also highlighted the journalists' resilience on the ground. Despite the harassment they are faced with, the women expressed having no regrets in joining their fields.
"If the price of voicing out your opinion freely will be cursing, it's nothing," Sadek told AFE. ""I would be lying if I said I regretted it."
Saad shared a similar sentiment, saying she is "not the type who gets scared at all" and that the threats do not concern her.
For Moukalled, retreating from the public domain is not an option. "No woman should feel that her surrender is the solution," she said.
Regardless of these sentiments, the harassment makes their jobs more difficult and poses a threat to their lives and the lives of those they love. Because of her outspoken support on Twitter for the anti-government protests in Lebanon, Sadek was recently the target of an online harassment campaign where fake intimate pictures of her were sent to her mother, who suffered a stroke after receiving them.
Moukalled used her interview space with AFE to highlight the need for protective legal measures in unsupportive public and private spheres where women are faced with violence and sexual harassment.
Lebanon's revolution brought more women to the streets
The AFE video goes on to highlight another face of the representation of women in the public sphere: Lebanon's ongoing anti-government revolution, which began around 100 days ago.
"The power [of women] to organize and lead in the movement was very clear," said Sadek, who also discussed how the revolution provided an opportunity to escape the entire system and create their own mechanisms.
---
See also:  The Hivos WE4L timeline of women's legal and political achievements in Lebanon | "Women, Power, and Politics: Timelines and Milestones"
---
From planning and organizing to standing on the front-lines and being violently arrested, women have taken on multiple roles in the Lebanese protests. Despite their presence on the streets and in the public sphere, they continue to be some of the most underrepresented women in political leadership positions around the world. Out of 128 members of parliament, only 6 are women –less than five percent in total.
"There is a sharp discrepancy between the role of the Lebanese woman and her representation, said Moukalled. "We can no longer accept having such a big role while being so weakly represented."