id="626″ id="post-1921″ class="wp-post-content-block " itemscope itemtype="http://schema.org/BlogPosting" itemprop="blogPost">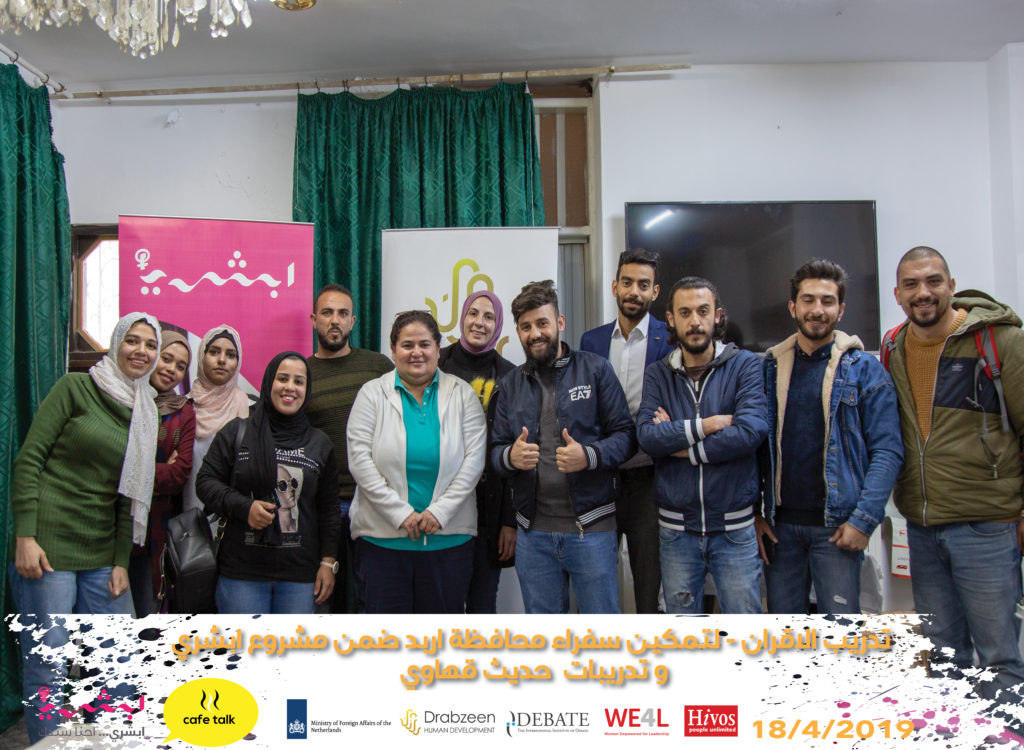 Drabzeen's Peer to Peer trainings: Towards Female Leaders in Jordan's Governorates
By: Shara Jazzar
Recognizing the importance of the general public and the youth in particular in promoting and supporting women in leadership position, Drabzeen implemented Peer to Peer trainings with the goal of selecting 6 ambassadors from each governorate that would be trained on facilitating discussions, research and need assessment for the sake of organizing at a later stage Café Talks that would bring the youth together to discuss the challenges that face their local communities; in particular related to what hinders the ability of women to reach leadership positions. The final outcome would be fostering more positive attitude towards women in leadership positions and raise awareness on their contribution to society.
What prevents women from reaching leadership positions?
During the training, the youth expressed the difficulties they believe impede women from reaching leadership positions in their governorates. Society and even husbands demotivate women from doing anything by using sentences such as "why do you have to do this?" As a female participant explained "when a woman is married she just needs to focus on her family," according to the traditional division of tasks by gender, which expects males to work outside the house and act as the breadwinner and females to remain inside their homes because of their caregivers' role. Moreover, in distant areas, the concept of shame is still present. Another female participant highlighted "that women should return home early to avoid gossips from their neighbors." Sadly, in such rural places, gossips is not limited to simply talking about a person but might also interfere with the woman's ability to get married or even find a job. Moreover "it is unacceptable for a man to have a female manager" because men are believed to have superior capacities than women. Another challenge females in these towns face is the lack of proper transportation, which prevents them from going to places at times. This means that women might not go to university, work or even attend workshops on that account. Also, females have "too many responsibilities to assume alone at home" and this refrains them from reaching leadership positions because they do not have the time, support nor the energy to invest in such endeavors. The women participants expressed their dream that someday their society "will see women with different eyes and won't limit her activity to household chores."
In parallel, men participants and facilitators also had their say, from their own perspective. One of them explained that "many of the female participants had self-esteem issues and are marginalized because of their gender, even though they have a lot of capacities and capabilities." Perhaps by allowing women to have more belief in themselves and their abilities, we can make them fight more fiercely for leadership positions.
What also demotivates women is the fact that they are raised to fear for their reputation and what people might say or think about them. This limits their activities and involvement in society. In addition, their 'career' choices are often restricted to a few domains with no leadership prospects per sei such as education, despite the fact that they can succeed in any job they choose and there are many examples from real life that support this claim.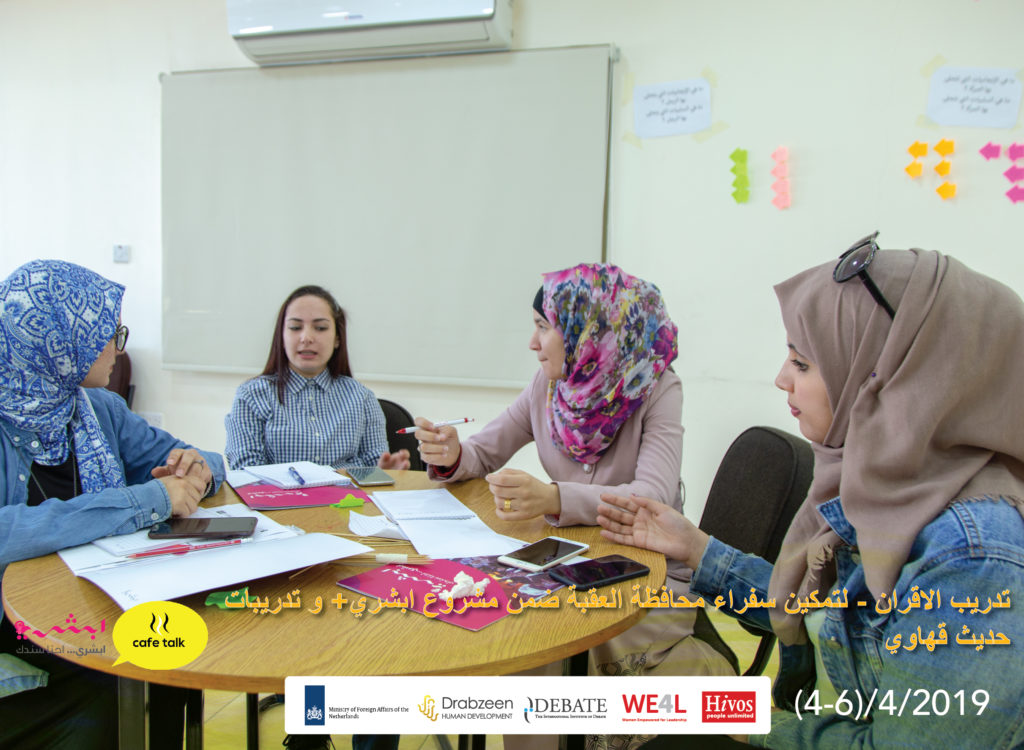 Local culture pre-defines gender roles
As spontaneously expressed, most of the causes that prevent women from reaching leadership positions are related to culture and to the gender roles that it draws. These are further consolidated by education and the media that keep showing the same gender divisions to the extent that people are unable to think outside the box and see things differently. Consequently, in order to change the image people have of the role of women, an effort should be invested in amending curriculums, especially that females are often drawn in books while working in the kitchen or taking care of the children when men are relaxing and watching television.
Relevance of peer to peer trainings
The idea of organizing peer to peer trainings that would lead to the implementation of Café Talks came from real life and provides a safe space for the youth to get introduced to gender and discuss related problems in their respective regions throughout Jordan and come out with solutions to them. The peer to peer trainings this year were organized over a period of three days in Tafeelah, Madaba, Zarqa, Maan, Aqaba, Mafraq, Ajloun, Irbid, Karak, Balqa and Jarash; thus, covering all of the Kingdom's governorates except for the capital.
In a nutshell, there is a need to break fear, customs and traditions as well as the culture of shame. Through the peer to peer trainings, which create young leaders who are gender-aware and offer a sphere for dialogue and discussion, many of these challenges can be addressed and young men and women gather in order to come out with something positive for their local communities. The final outcome would definitely serve the advancement of Jordan as a whole on many levels such as women's rights and participation, justice and equality.