id="764″ id="post-2293″ class="wp-post-content-block " itemscope itemtype="http://schema.org/BlogPosting" itemprop="blogPost">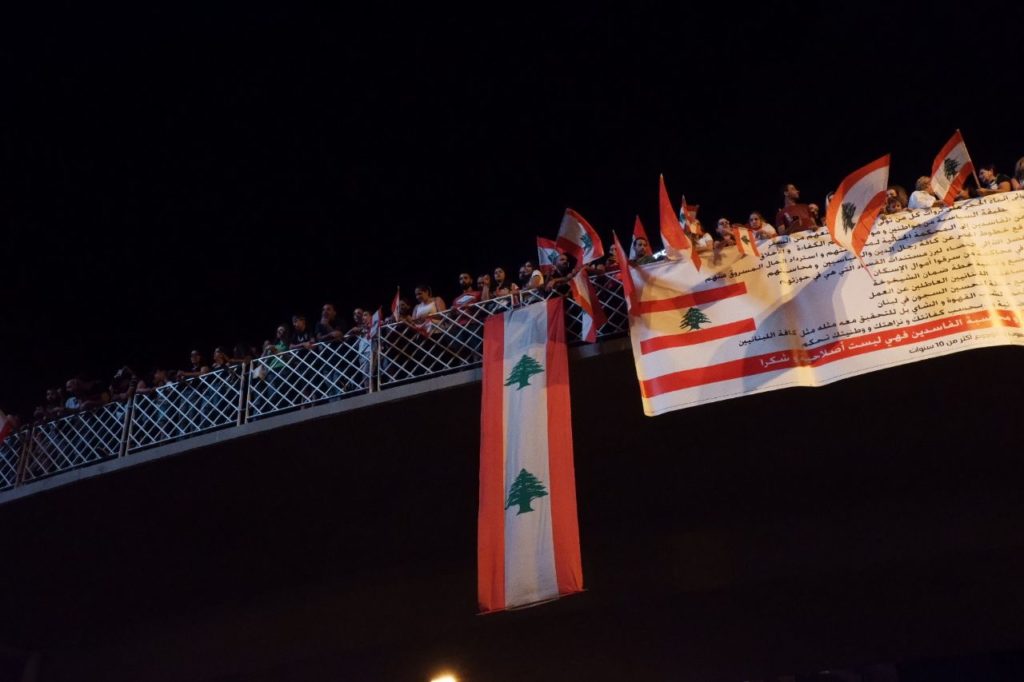 Can independent female candidates translate Lebanon's revolution into political representation?
By Laudy Issa
---
Independent political candidates in Lebanon shared their previous electoral experiences and the new-found possibility of taking on more leadership positions in a closed workshop hosted by the Lebanese Center for Policy Studies (LCPS), a Hivos WE4L partner.
The workshop was hosted in light of the ongoing nationwide anti-government and anti-corruption protests, which started on October 17 in response to the country's worsening economic crisis.
Reviewing the 2018 elections
In their latest study, LCPS mapped out the factors affecting turnout, the electoral discourse of different political groups, and the challenges facing independent candidates. The Hivos partner relied on a nationally-representative survey of 1,200 voters, discourse analysis of 81 candidates' speeches, and interviews with 20 independent candidates in their multi-faceted research.
"First time voters' abstention was related to a distrust in established parties, skepticism in the possibility for change, and resentment about the electoral law," said Zeina El-Helou, a senior researcher at LCPS.
El-Helou also shared insight on the factors affecting turnout. Female voters were more likely to vote than males, Shia voters mobilized more than others, individuals were more likely to vote if they had the option of choosing a preferential candidate from within their own sect, and more voters turned up in both confessionally-homogenous areas and poorer areas.
"Seventy percent of votes went to sectarian parties," explained Georgia Dagher, another researcher at LCPS. "Independent candidates ran in 14 out of 15 districts and received 69,000 votes in total. 39,000 of those votes went to Kullana Watani."
Dagher also shared that independent candidates –or those who don't belong to traditional sectarian political parties currently in power– received more votes in confessionally-mixed, urbanized areas and in places with lower turnouts.
Learning from Candidates' Experiences
Candidates shared the multiple obstacles they believe stood in their way, as well as the paths of action they believe aided their campaigns. Lebanon's nuanced socio-political configuration was a prominent point of discussion, particularly the difficulty in changing misperceptions and breaking the barriers of independent candidates' own networks.
"There was some naivety on our end," said Gilbert Doumit, another independent candidate. "We had to agree on policy but also how to phrase it to different people of different classes and places."
A recent research from Lebanon Support, another Hivos WE4L partner, affirmed Doumit's point: Voters said they refrained from voting for independent candidates because they did not offer viable alternatives to the dominant structure.
"Street campaigning is a good way to introduce yourself," suggested Nouhad Yazbek, an independent candidate who ran in Beirut. "When you form relationships with people, you give them the confidence to vote for you."
Multiple candidates agreed that having better policies does not give you an edge over other more well-established candidates, suggesting that voters believe that "clean" and "naive" new candidates would not be allowed to implement the changes they sought as a product of the political system they exist in. 
Candidates also agreed the need to establish better laws, and implement them properly. The Lebanese Association for Democratic Elections (LADE), a Hivos WE4L partner that monitors elections, recorded over 7,000 violations of electoral laws during the 2018 elections.
"Not implementing laws works in the favor of traditional political parties," said independent candidate Victoria el-Khourt Zouein. The candidate also spoke about the need to work quickly while the momentum of the October 17 Revolution is still building up.
"Frustration is one of the triggers to voting or who you vote for," said Zouein.
Would independent female candidates succeed in early elections?
"Early elections might be a mechanism to regain trust," started independent candidate Mark Daou, who also works in media, advertising, and public relations. "Prolonging it doesn't work for us."
Candidates agreed that early elections would work in their favor, but were also wary of whether or not they were prepared for them. They cited the problems they experienced in the previous elections as problems they would experience yet again, including their limited access to the largely-popular but politician-owned media outlets in Lebanon, vote buying, the electoral law and the virtually unlimited resources that traditional political parties have but independent candidates do not. Women, in specific, are still at a greater disadvantage considering the structural and economic limits they are more likely to be subjected to.
The October 17 Revolution did bring out more women who were participating in leadership and public spaces.
"It's the first time that reforms related to women's rights are put as a priority in the nationwide movement," said Julia Bou Karroum, an expert and gender consultant from LADE.
Bou Karroum would go on to highlight the multiple positive indicators that suggest women are taking up more active roles in decision-making. She cited the anti-government chants and speeches being made by women in the streets, their integral roles in maintaining the momentum of the revolution, and their involvement in television talk shows.
Bou Karroum also touched on state feminism, through which new female faces from a sectarian backing are emerging in political positions. A state-approved form of feminism limits women's ability and likelihood to take critical stances from the dominant –and often patriarchal– ideologies of those currently in power.
"State feminism has become popular, but it's not actually good because it limits women in politics," said Bou Karroum, going on to highlight the spontaneous and decentralized nature of the protests."The revolution has no established leadership structure, which lets women take on more leadership positions."
Bou Karroum also attributed the greater participation of women to a sociocultural shift in the understanding of their roles in the streets. The change however must go beyond the streets, discussed the researcher and the experts. Bou Karroum highlighted a need for changes in laws, advancements and sexual health and reproductive rights, a continuing fight against gender-based violence, and economic support for women –whether they're running for leadership positions or not.
"There are essential, structural obstacles we still need to get over," she said.
The revolution, despite being a positive sign of the willingness of society to accept more women in leadership positions, is still not enough.