Hivos is excited to announce the release of the Digital First Aid Kit, a free resource produced by RaReNet and CiviCERT to help digital security trainers, rapid responders and tech-savvy activists better protect themselves and the communities they support against the most common types of digital emergencies.
The kit can also be used by human rights defenders, bloggers, journalists or media activists who want to learn more about how they can protect themselves and support others. If you or someone you are assisting is experiencing a digital emergency, the Digital First Aid Kit will guide you in diagnosing the issues you are facing and refer you to support providers for further help if needed.
Do you think you've been hacked?
Have you lost all your data? Is someone impersonating you online? Is your device acting suspiciously? On the toolkit website, you can select the problem you are facing. The kit will walk you through a set of questions to better diagnose the problem and find resources to help you. For problems you can't tackle on your own, the first aid kit has a list of organizations for you to consult.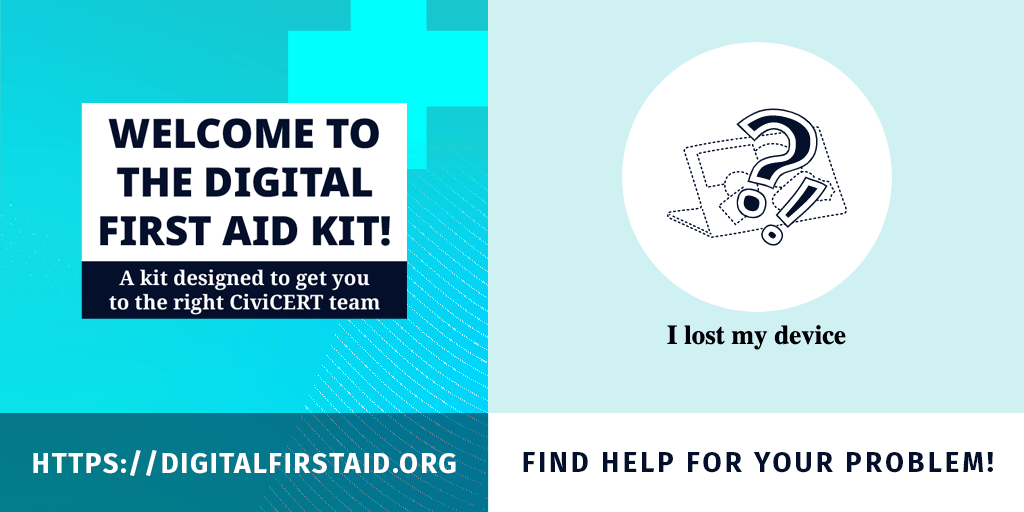 Responding to digital threats
We believe an open internet, free from threats to expression, association, assembly, privacy and other fundamental rights, is of crucial importance. Internet has become an indispensable tool for citizens to express their views and fight for their rights. But online privacy and freedom are becoming part of the civic space that we see shrinking worldwide.
While technological advances can facilitate global collaboration and social innovation, they can also help states and groups to repress, survey, and censor human rights defenders in unprecedented ways. Those most at risk are often not well equipped to defend themselves digitally and have limited capacity to anticipate risks and know how to respond to threats or attacks.
That's why the Hivos Digital Defenders Partnership (DDP) program is on a mission to provide an integrated response to digital threats. With DDP, we aim to increase the safety of human rights defenders under (digital) threat or attack and improve the effectiveness of the digital emergency response network. The Digital First Aid Kit is part of our approach.
A collaborative effort
The Digital First Aid Kit is available in English, Spanish, Portuguese, Arabic, Russian, and French and is a collaborative effort of RaReNet (Rapid Response Network) and CiviCERT.
RaReNet is an international network of rapid responders and digital security advocates which includes Access Now, CIRCL, EFF, Front Line Defenders, Freedom House, Global Voices, Greenhost, Hivos and its Digital Defenders Partnership, Internews, Open Technology Fund, Virtual Road, as well as individual security experts.
CiviCERT is a professional framework for the rapid response community's distributed CERT (Computer Emergency Response Team) efforts. CiviCERT is accredited by Trusted Introducer, the European network of trusted computer emergency response teams.