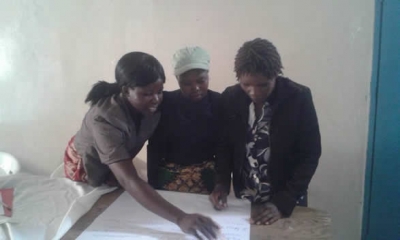 Long struggle for women empowerment through elected positions
Source: Mana Online
Written by  Sarah Munthali
Mchinji, January 04, 2017: Having enough female representation in elected positions would always be a long and difficult journey to women empowerment in Malawi.
In all the five general elections the country has had, it has proved that putting women into elected positions is like searching for a needle in a haystack.
The forecast for next year's general elections shows that the situation would remain the same if what is happening in Mchinji, a district bordering Malawi and Zambia in the west, is anything to go by.
Women in the district are said to be shunning elected positions by not standing or if they do, they are not given support.
The notion of women empowerment in Mchinji remains in the shadow of troubling statistics from the previous general elections. In 2014, no woman was elected as councilor in all the 12 wards while one female was elected as Member of Parliament in the district's six constituencies.
Anecdotal evidence shows a variation of contributing factors that range from warped cultural perceptions that border on prejudices to pure lack of support for women.
Hellen Makukula, an activist in Mchinji, says culture always plays a part when it comes to women taking a lead in something.
With deep roots of Chewa, Senga and Ngoni culture that exalts male leadership, most people in the district prefer men to women in leadership positions. This puts women at an unfair position of attaining elected seats, according to Makukula.
"Most political parties tend to field men than women contestants from primaries up to contesting day. This discourages women to take up leadership positions," she says.
Most women aspirants say oppression from their parties, lack of resources and little support from fellow women are other factors that deny women to assume elected positions.
Rosemary Phiri, 40, contested in the 2014 local government polls for Nanjiwa Ward in Mchinji South constituency. She did not make it.
Phiri attributes her loss to lack of support from her party, National Salvation Front (NASAF).
"The party only introduced me to voters at one or two rallies and that's all. The leadership never gave me resources and support to conduct campaigns. It was hard for me to reach many people," Phiri says.
She adds that most women do not contest for elected positions due to lack of support from their families and lack of personal financial power.
Phiri, who has now defected to the Democratic Progressive Party (DPP), says she will contest again in 2019 polls because the party is already supporting her.
Dorothy Mussa is another aspirant who also stood in council elections for Peoples Party (PP). She says lack of support from fellow women, who constitute 52 percent of the country's population, is another reason why women do not make it to elected positions.
"When I declared my interest to contest, most women never supported me. As women, we are our own enemies; we do not want fellow women to do better than us," Mussa says.
But former councilor for Kalumbe Ward in Mchinji South West, Olive Johnston, holds a different view.
She says lack of demonstrating leadership qualities at the grassroots sometimes play into women's disadvantage.
"Leadership starts at grassroots. People see how you handle them at village and community level. If they have confidence in your capabilities, they will go for you," says Johnston, who served as councilor in both the one-party system of government under Malawi Congress Party (MCP) and in pluralistic democracy for the United Democratic Front (UDF).
Johnston, who plans to contest in 2019 local polls, calls on women to earn the trust of voters and political parties for them to excel.
As one way of encouraging more women in Mchinji to contest for political positions in 2019 elections, Dutch Foreign Ministry through HIVOS is funding a Women Empowered for Leadership (WE4L) programme through Governance Gender, Justice and Development Centre (GGJDC).
The Centre's District Coordinator for Mchinji Gervazio Zulu says GGJDC is working in all constituencies, traditional authorities to encourage people to vote for women.
"We are holding public rallies and we expect that through the programme, more people will support women in the forthcoming polls," says Zulu adding that they are also encouraging women to support fellow women.
He points out that a survey conducted in the district shows that more women participate in the voting process than men.
GGJDC Executive Director Ruth Manda says it is high time the face of a woman was dominant in politics and public administration.
"Having women in elected positions would ensure that issues affecting women are addressed with key decisions from a woman's perspective," Manda says.
The WE4L programme is working with stakeholders in Nkhotakota Kasungu Mchinji and Lilongwe to collaborate efforts in promoting active participation of women in politics.
The programme has also engaged women aspirants who will stand in the 2019 polls.
District Gender Development Officer for Mchinji Mariana Kanjirawaya says women, just like men, are capable of delivering in elected positions.
"What they need is support from individuals and their political parties. Furthermore, women aspirants themselves should take up the challenge when nominated and not shy away," Kanjirawaya says.
She commends GGJDC for coming up with the programme, which she says has enabled women aspirants share ideas on how they can excel in the polls.
Ironically, while women are shunning elected positions in Mchinji, positions in the public service are largely headed by women.
The district commissioner, district health officer, the district education manager, the district community development officer and three more head of government departments in the district are women, a situation GGJDC says is a clear indication that women can work in top positions if given chance.