id="918″ id="post-2652″ class="wp-post-content-block " itemscope itemtype="http://schema.org/BlogPosting" itemprop="blogPost">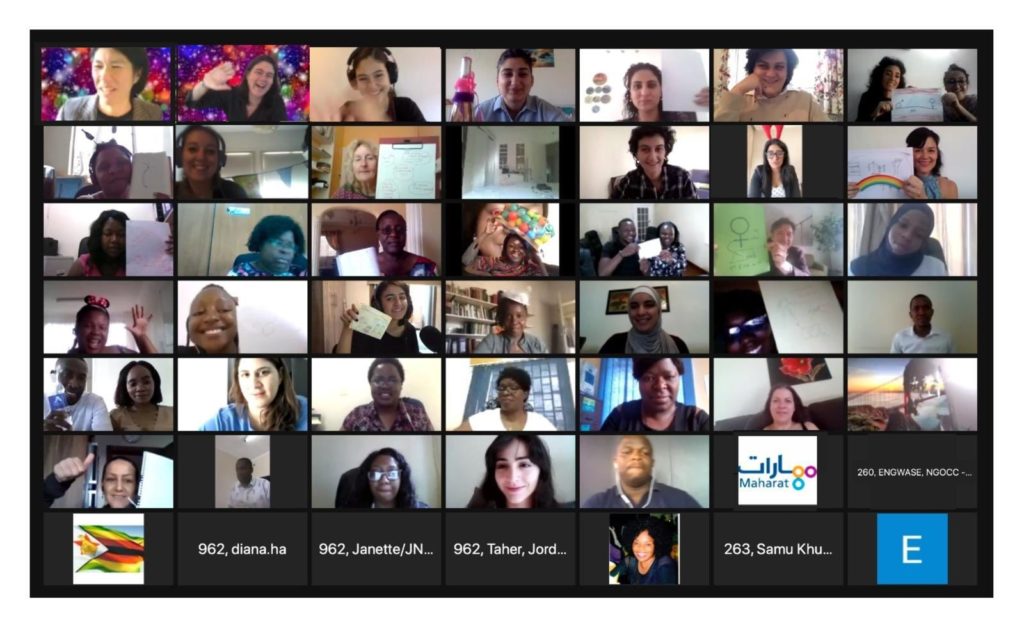 Hivos team and partners celebrate five years of WE4L
By Laudy Issa
---
The Hivos Women Empowered for Leadership team and partners celebrated five years of creating strong women's movements in Jordan, Lebanon, Malawi, Zambia, and Zimbabwe in a virtual conference that wrapped up the program.
The conference was hosted virtually on November 18, adapting to COVID-19 travel restrictions and safety concerns despite previously having been hosted annually in different countries.
"It's the first time I leave a Zoom conference feeling refreshed," said one of the Zoom conference's 60 participants. Many reflected on how well the dynamic meet was organized. "Today, I learned that virtual conferences don't have to be boring."
The Linking & Learning conference brought together the WE4L teams from the program's five countries and Netherlands headquarters with country partners to reflect on learnt lessons, women's rights achievements, and more.
Prior to the launch of the conference, participants were given the opportunity to pin the photos, drawings, videos, songs, or stories related to WE4L that they "will never forget" on a virtual board shared with all. 
To ensure that everyone had the technical know-how to deal with the Zoom video call app, optional tech test runs were also available in the week prior to the event.
Hivos WE4L kicked off in 2016 as a five-year program pushing for the participation of women in political and societal decision-making processes, funded through the "Funding Leadership and Opportunities for Women (FLOW) fund of the Dutch Ministry of Foreign Affairs. The program invested in women leaders, linked a powerful network of grassroots groups, and produced accessible gendered data that allows for the advancement of women's rights and equal opportunities in its five countries of operation. Since then, there has been much to celebrate.
Looking back on WE4L
"Today's main question is: What have we achieved with WE4L and how can we continue?" asked Ay Mey Lie, founder of Studio Aprili and the facilitator of the closing conference.
Between each question, the tech team divided conference participants into randomized breakout groups for five minutes at a time to better discuss main questions and learn from the experiences of other people they are unfamiliar with. The teams of three or four were then brought back into the main conversation, where the chat flooded with what was spoken and learned.
In the first part of the conference, participants looked back on WE4L to address what was being celebrated and what the patterns for success were since the program's inception in 2016.
"[We're celebrating] empowered young women taking their leadership role and space in their areas and municipalities," said Mira Bouchmouny, the WE4L program coordinator in Lebanon.
Some highlighted the establishment of local support networks and structures, the changing laws, and the production of feminist data, while others addressed the appointment of more women in public leadership roles thanks to the work of the Hivos program, the awareness raising, and engaging media.
"The number of female councilors keeps increasing steadily every election time, more women have been appointed in public admin leadership positions, and more girls aspire for jobs deemed masculine," said Ketty Simasiku, WE4L project manager of Zambia.
"At a collective level, we paved the way for local women to be part of the decision making domain at local and national levels in Jordan," said Aber Tamimi Darwazeh, projects coordinator at the Arab Network for Civic Education (ANHRE).
According to the participants, such achievements would not have been possible without grassroots engagement, capacity building, media education, and more.
"Our group identified two points," said Rebecca Saab Saade, who runs the Sayaran public opinion platform for gendered opinions launched by WE4L in Lebanon. "Deliberately bringing women into the leadership (via mentorships, training, and other forms of capacity building) in the assumption that they will bring value and then being proven right, and therefore women's contribution being valued and demonstrated."
Looking forward to the future
After a brief break with tunes from each country curated by Vimbai Chandaengerwa, the Southern Africa Communications Officer at Hivos, participants of the conference moved forward by addressing what could have been done differently and how to continue their "WE4L gems."
Several addressed the need for more media outreach, working with more marginalized communities, and better coordination with other countries.
"2020 and COVID-19 have been a good learning curve," said Bridget Siziba from the Women's Coalition of Zimbabwe. "We could increase the reach of the movement by going digital."
The conference organisers utilised several online collaboration and interactive methods to keep things interesting for participants, wrapping up the session in breakout groups where they were asked to draw and five elements related to how they see the future for women's rights in their countries one year later.
Participants were asked to link their five elements and explain them within their outbreak groups. Upon returning to the main session, the chat revealed similar lines of thinking.
The WE4L team and partners believe that, one year from now, women will be occupying more public spaces and fighting for their rights. In drawing, that took shape in protests, electoral boxes, women sitting in positions of power and more.
"I discovered that a lot of women are willing to take up decision-making positions but do not have the means to do so," said Mirriam Mwiinga from Zambia. "Projects like WE4L gave them something they had been trying to do for years within a short period of time."