Jakarta, 12 July 2022 – The European Union (EU) and Hivos organized a closing ceremony for their project Active Citizens Building Solidarity and Resilience in Response to Covid-19 (ACTION). Two years after its launch in July 2020, the ACTION project has successfully contributed to increasing resilience and solidarity of vulnerable and marginalized groups impacted by the Covid-19 pandemic in Indonesia.
During the implementation of the project, Hivos (as coordinator) collaborated with five local organizations: CISDI, KAPAL Perempuan, PAMFLET, PUPUK, and SAPDA.
The virtual closing event was attended by representatives of the EU Delegation, the Ministry of Cooperatives and SMEs, the Ministry of Women's Empowerment and Child Protection, heads of districts/cities and local government officials, the Covid-19 Task Force, community representatives, development partners, CSOs, academics, and members of the media.
Delivering results
With €2.5 million (or IDR 42 billion) in financial support from the EU, the project delivered benefits in terms of reinforced healthcare systems and thereby contributed to contain the spread of Covid-19 in DKI Jakarta, Bogor, East Lombok, Makassar, and Yogyakarta. The project also improved the livelihoods of around 15,000 people from poor and vulnerable communities, including those already experiencing marginalization such as sexual and gender minorities and people living with disabilities, who have been heavily affected by the resulting socio-economic impact.
 In every activity we put the needs and experiences of people at the center.
The ACTION project has delivered the following results:
327 members of the Covid-19 Task Force received training on handling Covid-19 cases within their areas, including building cross-sectoral coordination
187 community-based organizations (CBOs) and small and medium-sized enterprises (SMEs) were trained to produce Covid-19 Personal Protective Equipment (PPE) to address the shortage of PPE
Distribution of 3,341 packs of surgery masks, 4,425 face shields, 2,010 packs of gloves, 2,695 protective gowns, and 2,930 hand sanitizers to vulnerable communities in 40 villages to help prevent the spread of Covid-19
Built 293 hand washing stations in 40 villages which are user friendly to children and person with disabilities;
Established online response services to report domestic violence through:

Halo KAPAL Perempuan (+6281280885525), an online response service for reporting cases of violence against women
Rumah Cakap Bermartabat (+6281392669448), an online response service for reporting cases of violence against women, people with disabilities, and mothers of children with disabilities.
The project also trained 262 volunteers to support service delivery for victims of violence. They have received more than 111 cases between April 2021 to June 2022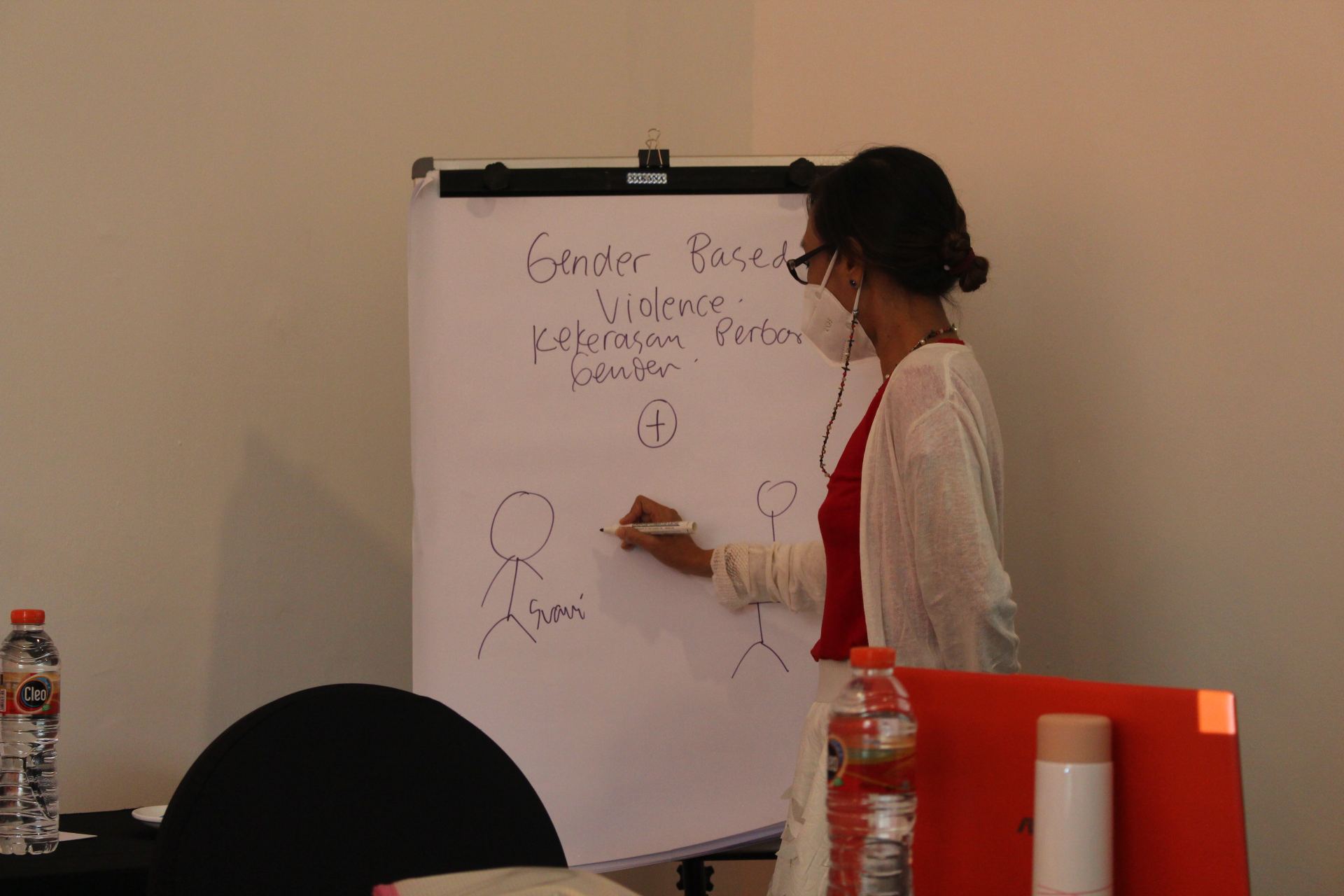 Distribution of 10,000 food aid packages to vulnerable groups (including people living with disabilities and the elderly) and 63 food and grocery entrepreneurs are now connected to provide food aid packages for vulnerable groups
Distribution of 222 special aid packages consists of vitamins, milk, and snacks for children with disabilities
Provision of vocational training to 150 people, of whom 80 participated in the vocational internship program at 27 companies (automotive industry, culinary industry, hotel/hospitality services, salons, convection/sewing, etc.)
188 SMEs received training and technical assistance to grow their business and get access to markets and finance, as well provision of materials and production tools
72 youth members of CBOs were trained on advocacy skills related to the delivery of financial aid from the government to vulnerable groups during the Covid-19 pandemic
351 farmers and food producers were trained on sustainable agriculture and market access
2,002 people were trained on sustainable urban farming as a response to food insecurity and livelihood support
Through a variety of publication materials (module, video, social media, TV, etc.), the project has reached at least 1.3 million people in a larger scope of area in Indonesia
Reflections
Michel Farkas, acting Executive Director of Hivos reflects: "Through the ACTION project, we were able to support vulnerable and marginalized communities. We did not only address immediate (health) concerns, we also focused on longer term economic resilience. In every activity we put the needs and experiences of people at the center. From ensuring inclusive health information to decreasing food insecurity, all our interventions were informed by the communities we aimed to reach and each of them brought people, businesses, local governments and civil society organizations together. ACTION demonstrates the importance of addressing the urgent needs of people during the pandemic and post-pandemic period in an inclusive and collaborative way. I hope this work will inspire all stakeholders to continue to come together, both at a regional and national level."
EU Ambassador Vincent Piket says, "the ACTION project is part of a €200 million (IDR 3.5 trillion) 'Team Europe' package to assist Indonesia in dealing with the Covid-19 pandemic and its economic and social impacts, especially on the poor and vulnerable groups." Piket adds: "The project has reinforced health systems and limited the spread of Covid-19 in DKI Jakarta, Bogor, East Lombok, Makassar, and Yogyakarta. It has also improved livelihoods of around 15,000 rural and urban poor through sustainable urban farming, business coaching for small and medium-sized enterprises, and vocational training for young people."
About the European Union
The European Union (EU) is an economic and political union of 27 member states with a population of 470 million. Together, the EU has built a zone of stability, democracy and sustainable development whilst maintaining cultural diversity, tolerance and individual freedom. In 2012, the EU was awarded the Nobel Peace Prize for advancing the goals of peace, reconciliation, democracy and human rights in Europe. The EU is the world's largest trading bloc, and the world's largest source and destination of foreign direct investment. Collectively, the EU and its Member States are the largest donor of Official Development Assistance (ODA), providing more than half of ODA globally.
For more information about the EU and its relations and cooperation with Indonesia see Twitter, Facebook, Instagram and Youtube.
To support partner countries in the fight against the Covid-19 pandemic and its consequences, the EU has launched the "Team Europe" approach. The objective of the Team Europe approach is to combine resources from the EU, its member states and European financial institutions. Team Europe has mobilized around €200 million (IDR 3.5 trillion) in grants and loans to support Indonesia. €6 million (IDR 108.5 billion) in grants are dedicated to support civil society organizations to address the health and socioeconomic impact of the Covid-19 crisis in Indonesia. Team Europa is investing over €3 billion to help secure 1.8 billion doses of vaccines for 92 low and middle-income countries. Indonesia is one of the beneficiary countries.
About the ACTION project
The EU-funded ACTION project aims at increasing the participation of civil society organizations in preventing and mitigating the risks caused by the Covid-19 crisis and ensuring that vulnerable and marginalized groups in Indonesia have equal access to social and economic recovery programs. This two-year project is implemented in 15 sub-districts and 40 villages in DKI Jakarta, West Java, Yogyakarta, West Nusa Tenggara, and South Sulawesi in two phases. The first phase will focus on the initial response to the pandemic, while the second phase will help to mitigate the social and economic impacts. Women, people with disabilities (PWD), elderly, youth, SME entrepreneurs, and CSOs will directly benefit from the project.
The ACTION project is coordinated by Hivos and implemented jointly with:
Center for Indonesia's Strategic Development Initiatives (CISDI)
CISDI is a civil society organization that supports the realization of the Sustainable Development Goals (SDGs) through health development and involvement of youth in health development. CISDI conducts a study of issues based on experience in managing primary healthcare reinforcement programs in suburban areas as well as outermost, frontier, and the least developed areas, research and analysis of health policies, social change campaigns, and its involvement in health diplomacy at the national and international levels.
Alternative Education Circle for Women (KAPAL Perempuan)
The establishment of KAPAL Perempuan is to build women and social movement that are capable of realizing social justice, gender equality and justice as well as peace in the public and private sphere. KAPAL focuses on strengthening women's leadership through feminist critical education, organizing and evidence-based advocacy, especially for women at the grassroots.
Pamflet
Pamflet is a human rights based organization founded and organized by young people. We are focusing on youth movement, as well as encouraging new initiatives for change in social and cultural areas, especially related to human rights issues, politics and democracy, and gender and sexual diversity. We support the youth movement in Indonesia and manage the knowledge on youth through developing centers of information, documentation and organizing capacity building for young people.
The Association for Advancement of Small Business (PUPUK)
PUPUK was established from initiation program of Small Industries Advancement (PIK) – West Java Chamber of Commerce (KADIN Jawa Barat), and the initiatives of three professional groups of Entrepreneurs, Academics, and Economic Activist began in 1979 in cooperation with a German institution, Friedrich-Naumann-Stiftung (FNSt). In 1988 declared independently with the goals to expanding the region scope and more comprehensive achievements and institutionalized into PUPUK, and was legalized as an Association. PUPUK provides technical assistance to empower small businesses and strengthen the ecosystem to stimulate new strong entrepreneurs in facing economic competition.
Advocacy Center for Disability, Women and Children (SAPDA)
SAPDA Foundation, stands for Advocacy Center for Disability, Women and Children, based in Yogyakarta, and established in July, 2005, is a non-governmental organization (NGO) with a vision of "the struggle to bring about change, justice, freedom, welfare & equality to fulfil and protect the rights of women, persons with disabilities and children in an inclusive society on the basis of equal human rights.
For more information, please contact:
Yesua YDK Pellokila | ACTION Project Manager, Hivos | ypellokila@hivos.org