In the fight to protect the Amazon, Indigenous Peoples are not only up against illegal land grabbers, loggers and other invaders of their lands who are not afraid to resort to violence. They are also faced with local, regional and national governments who foster a culture of impunity that has a devastating effect on Indigenous communities, their work and on the state of the Amazon rainforest.
We demand justice for the murders of Indigenous people that have gone unpunished over the last 17 years.
In the Brazilian state of Maranhão the consequences of impunity are particularly visible. A new investigation, launched by COIAB (Coordination of Indigenous Organizations of the Brazilian Amazon) in partnership with Hivos, shows the degree to which Indigenous Peoples lack access to the judiciary system. The report points out shocking omissions in preventing and investigating crimes against the Indigenous People of Maranhão.
Eloy Terena, Indigenous lawyer and legal advisor to COIAB, on the struggle of people in Maranhão:
"Dealing with the absence of the State is part of our day-to-day reality. We use our vehicles to monitor and surveil our lands, putting our lives at risk. What's left of the Amazon biome is on our lands and we have preserved it very well. This is part of our struggle and it's the reason we are exposed to threats from farmers, miners and even politicians."
The state of Maranhão
The investigating team focused its analysis on Maranhão because this is a region known for its high rate of socio-environmental conflicts in recent years. The state is profoundly impacted by environmental degradation and marked by violence against the lives, cultural forms of organization, and rights of Indigenous and traditional Peoples.
The report reveals that most cases of murders of Indigenous people dating from 2003 to 2019 are linked to land conflicts and remain unresolved. A monitoring project showed that by 2017, nearly 75 percent of the total Amazon rainforest in Maranhão had been cleared. Of the forest that remains, more than 70 percent is located within protected areas where more than 22 Indigenous lands have been or are being demarcated.
The inhabitants of these protected areas have been made more vulnerable by the federal government's refusal to comply with its duty to protect Indigenous lands. As a result, Indigenous Peoples have had to organize themselves to protect their territory. They monitor and protect their lands, identify criminal activities carried out by hunters, loggers, drug traffickers and other invaders, and report these violations. But this badly needed work has also increased their chances of falling victim to violence.
María Moreno de los Ríos Almandoz, Hivos' program manager of All Eyes on the Amazon, on the relevance of the report:
"With this report we want to emphasize the urgency that is needed to respond to the systematic violations of the human and territorial rights of Indigenous Peoples. Not only in the Brazilian Amazon, but in the entire Amazon basin. These violations can no longer be unseen. We must take action to stop environmental crimes and demand justice. That is our commitment as a program consortium. 26 local and international organizations are working together to report violations of the rights of Indigenous Peoples and local communities."
Murders left unpunished
At least 32 percent of the reported 57 murders of Indigenous people were in some way linked to the invasion of their lands and the illegal exploitation of natural resources. Our investigation team could only document six of these killings. There were no convictions in any of the cases. Our report shows that the documents we analyzed contained shocking omissions: no testimonies from Indigenous people were heard; no investigative actions such as preserving the crime scene, consulting experts, or search and seizure, were carried out; the fact that the cases involved violations of Indigenous rights was concealed, which causes a significant delay in investigative procedures.
This severe lack of due diligence is compounded by the fact that there's no government agency in Maranhão committed to documenting, registering, and classifying cases of murder and other acts of violence committed against the Indigenous Peoples of the state. This is crucial because the absence of information from authorities further obscures the reality that Indigenous people face in Maranhão. It additionally prevents the development of public policies to adequately address these issues.
Impunity in practice
The judiciary doesn't only foster a culture of impunity that hinders investigations of serious crimes and acts of violence. Our study shows that it also allows impunity to play a significant role in violating land rights. Local governments contribute to this. Municipalities in the state are among the actors that encourage the judiciary to prevent respect for Indigenous land rights. Disregard for these rights and the lack of access to the justice system are patent displays of inequality and reinforce a vicious circle of prejudice and repression.
Edilena Krikati, of the Coordination of Organizations and Articulations of Indigenous Peoples in Maranhão (COAPIMA), says the report represents the voices of those who cry out for justice. "It shows how much our leaders within the state have been criminalized, and it reveals how the state, responsible for protecting Indigenous lands, has failed in all spheres."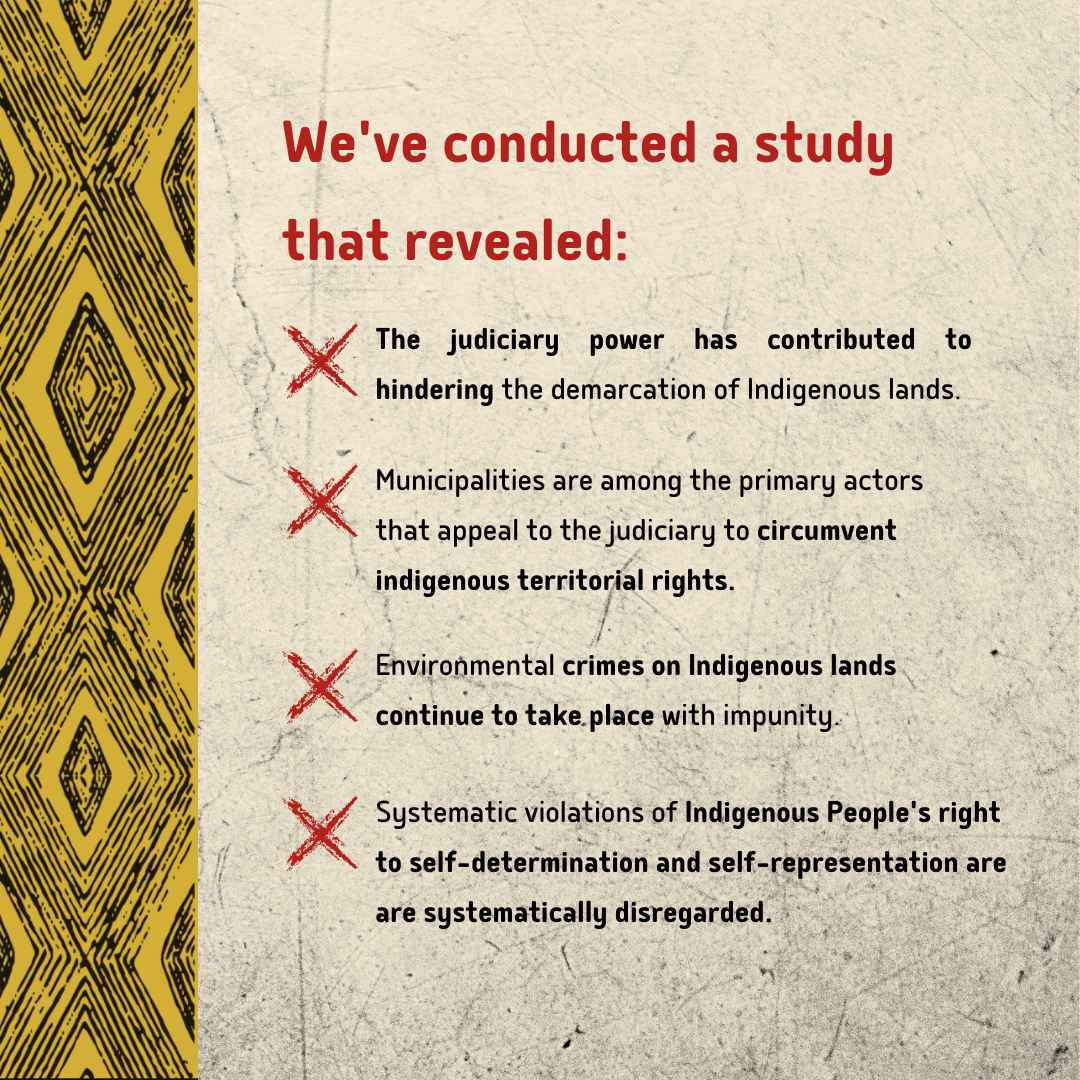 About the research
The study, Indigenous Peoples and access to the justice system in Maranhão, is the result of numerous conversations and lengthy research. It was carried out by the Coordination of Indigenous Organizations of the Brazilian Amazon (COIAB) and Hivos with the support of the Coordination of Indigenous Coalitions and Organizations of Maranhão (COAPIMA), Greenpeace Brazil, and the Coalition of Indigenous Peoples of Brazil (APIB).