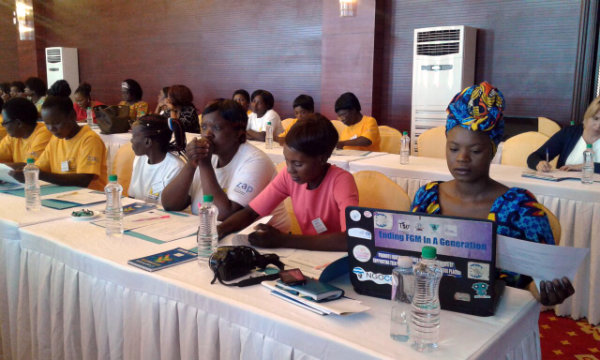 Buumba Malambo: the ups and downs of an African female leader
Twenty-four-year-old Buumba Malambo (above to the right) is one of the youngest Ward Councillors in Zambia. She is a subnational Ward Councillor of Magoba Ward of Kafue District in Lusaka province located 44 km from Lusaka, the capital of Zambia. Kafue District has a total population of 219,000, of which 108,939 are men and 110,061 are women.
Buumba Malambo is the first-ever female councillor of Magoba Ward in Kafue District.
During the 2016 Zambian national elections, Hivos' Women Empowered for leadership (WE4L) project partnered with the Zambia National Women's Lobby (ZNWL) in mentoring aspiring female candidates for councillor, mayoral and ministerial positions. They also worked with PANOS Zambia to monitor women's participation from a media perspective, as both citizens and contestants, in the 2016 tripartite elections.
The 2016 elections witnessed an increase in the number of female candidates elected in various districts in the 2016 elections – from 83 to 130 women councillors across urban and rural areas.
Most of the successful candidates, amongst whom  Buumba Malambo, had followed training given by the ZNWL, and partly funded by Hivos, in communication skills, issues-based campaign strategy and leadership skills. ZNWL continued to mentor the female councillors after the elections.
For popular Zambian culture and traditions, it is unheard of for a woman to lead, either as a Chief or Head Woman, or in politics and public administration. So when she ran for elections, Buumba faced serious challenges. This included the traditional perceptions and stereotypes of women in public leadership roles. She was humiliated and threatened. Some people called her a prostitute. Another challenge was a lack of resources to run a campaign.
But she persisted in her goal to stand up as a leader, inspired by the high levels of poverty amongst the people in her ward, the lack of schools that force children to walk several kilometres to go to school and the lack of basic health care services that result in high maternal and infant mortality in her village.
She also had the example of female politicians who are currently in leadership, like Minister of Agriculture Dora Siliya, Minister of Gender Victoria Kalima, Professor Nkandu Luo and others.
She won the 2016 elections by a landslide, beating all her 13 male opponents as she wrote history. But Buumba did not sit on her laurels as first woman Councillor for Magoba Ward. Not long after her inauguration, she announced her intention to contest the Deputy Council Chairperson's seat for Kafue District. And apart from serving as Councillor, she is a member of several other committees, such as the Ministry of Gender and Child National Coordinating Committee.
Buumba Malambo was born in 1991 in the mining town of Mufulira in Zambia's Copper belt, where she grew up and attended school. She is a member of the Tonga tribe and was brought up by an average Zambian family. After secondary school, she went to the University of Zambia (UNZA), where she obtained a Bachelor's Degree in Social work in 2014. During her study, Buumba Malambo started associating herself with Magoba Ward, a very rural place with limited developmental facilities. She chose to do her university attachment there.
In pursuit of her career, she became passionate about the welfare of women and children and founded a charitable organisation called Buumba Malambo Foundation to help them. The Foundation fights early marriages in rural areas, runs an HIV/AIDS project helping women and children who are HIV positive and assists children with school materials and clothing. Now, with the help of sponsors in Zambia and abroad, she is supporting 435 children.
It is hopeful to see a new generation of female aspirants in Zambia is promising to provide a future cohort of political and public administration leaders. After the elections of 2016, at least five female councillors were between 24 and 35 years old.
However, there is still a long way to go for more female representation in leadership. Research on gender and media monitoring by ZNWL and PANOS, in the framework of the WE4L programme, reveals that, with no quota system in place, political parties are not obliged to have women represented in their party structures or to even to support this. Within society, stereotypes against women, including cultural norms, have a very negative impact on women's ability to gain acceptance – and votes.  Finally, violence against women before and during the elections has tended to make women afraid of even daring to announce as potential candidates.
This needs to change.
Through the WE4L programme, Hivos and its local partners aim to ensure that women have equal opportunities and the capacity to fully and meaningfully participate in political and societal decision-making processes, and that women are recognised and supported by politics and society as leaders and agents of change towards economic development and progress for all citizens.