Building women leaders through She Leads
September 30, 2022
Our She Leads II program recently held a two-day Linking and Learning event in Harare, Zimbabwe, for partners and stakeholders. As we prepare for the closure of She Leads (Phase II), this gathering was an opportunity to reflect and share key takeaways and lessons from the women leaders who participated in the program.
She Leads was designed to promote women's full political participation in Zimbabwe in the light of the results of 2018's harmonized elections. Only about 30 percent of those elected to Parliament were women – far below the desired constitutional requirement.
Finding success
The multiple stakeholders at the Linking and Learning event were in themselves a testament to part of the program's success: government officials, organizational heads, and the women leaders who had benefited from the program.
How we support rightsholders in their efforts to claim the power, agency, and leadership necessary to drive change.
According to Sheila Chipamuriwo, who has worked with our partner Institute for Young Women's Development, the event helped her and other women leaders identify challenges and find ways to improve the number of women in politics, leadership and government. Having received training and practice in leadership through She Leads, they were able to share experiences at the event as leaders and aspiring leaders.
"We face a challenge of being looked down upon, and a lack of trust as women. But sitting here with other women leaders has offered a support system and provided a platform to regroup with new ideas," she said.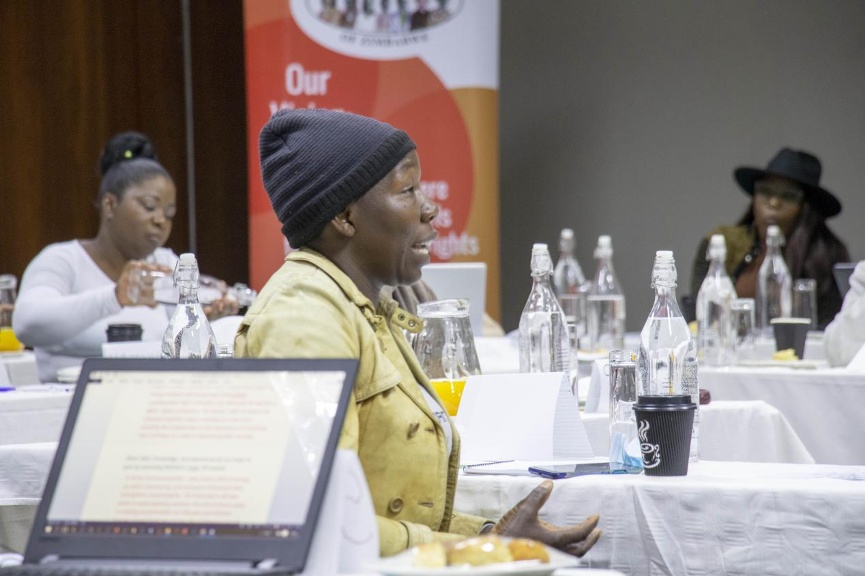 Knowledge sharing and developing confidence
The different women leaders at the event offered an opportunity to exchange information and best practices. And the presence of organizational leaders, media experts and Members of Parliament gave participants a chance to network, learn and develop new skills.
There's a huge morale boost from coming here.
Sheila feels that sharing ideas is critical in the fight against a patriarchal society. "While gathered here, we have taught each other about the differing cultural dynamics of leadership in the areas we come from," she explained.
"When we share these ideas, we strengthen each other. The magic is just standing up in a room full of your peers – people understand you much better. This all happened through this event. There's a huge morale boost from coming here and meeting comrades and friends who are pursuing similar goals. The learning experience is unlike any other," Sheila added.
Platforms to build all women
She Leads project manager, Tambudzai Madzimure, stressed the need to "continue building each other" individually and through platforms to fully achieve women's participation in politics and other positions of influence.
"This event was about coming together to talk to each other and learn. We identified areas that need collective support in order to help every woman across Zimbabwe who wants to become a leader. Inter-generational conversations are also crucial, which is why we must continue to build platforms with and for each other," Tambudzai said.